You will feel on top of the world on your wedding day at Sky View Lodge and Pavilion! This cabin and adjoining pavilion are situated inside Parkside Resort and boast incredible views and privacy, perfect for your special day.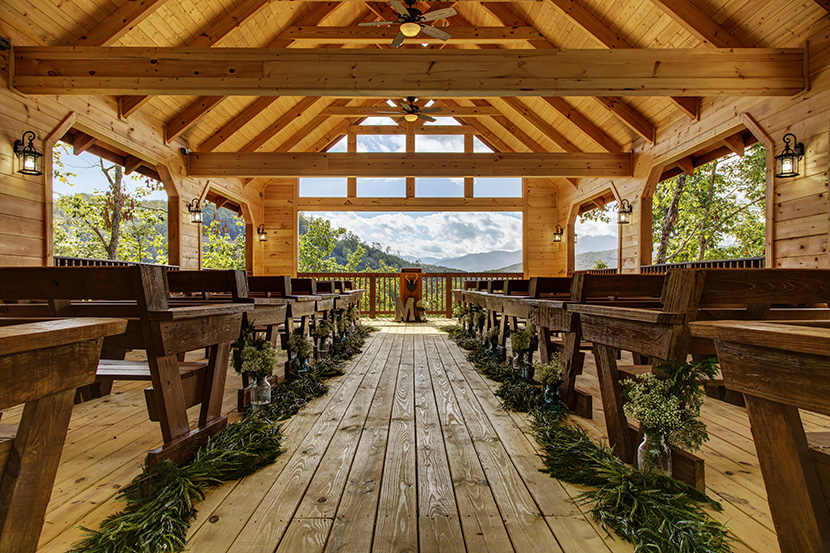 Sky View Pavilion is an open air venue with an incredible view of the Great Smoky Mountains, conveniently placed right next to a 5 bedroom luxury cabin, Sky View Lodge. When you drive up to this area, you truly feel surrounded by our enchanting mountains and being located at the end of the road, you have plenty of privacy to enjoy your loved ones on your wedding day.
The Pavilion at Sky View Lodge is a unique venue designed to accommodate tables for the bride and groom plus 73 guests, DJ space, a dance area, a cake table, a buffet and drink station, and a sign in table. The Pavilion features rustic lighting, ceiling fans, and beam work. Because the cabin is just next door, there are several options for your ceremony and reception at Sky View Lodge and Pavilion. After your ceremony in the Pavilion overlooking the Great Smoky Mountains, move outside or to Sky View Lodge for cocktail hour while we slip the Pavilion for your reception and then continue dancing the night away!
The convenience offered by this space is hard to beat! Sky View Lodge features 5 bedrooms and 5 bathrooms, sleeping a total of 14 guests. This cabin is perfect for you and your bridal party or closest loved ones. Each bedroom features a king size bed and flat screen TV with an en suite bathroom. The master bedroom additionally features an electric fireplace and walk in shower. With a game room, movie theater, hot tub, outdoor TV, and an outdoor fireplace, you and your guests are sure to relax overlooking the Great Smoky Mountains.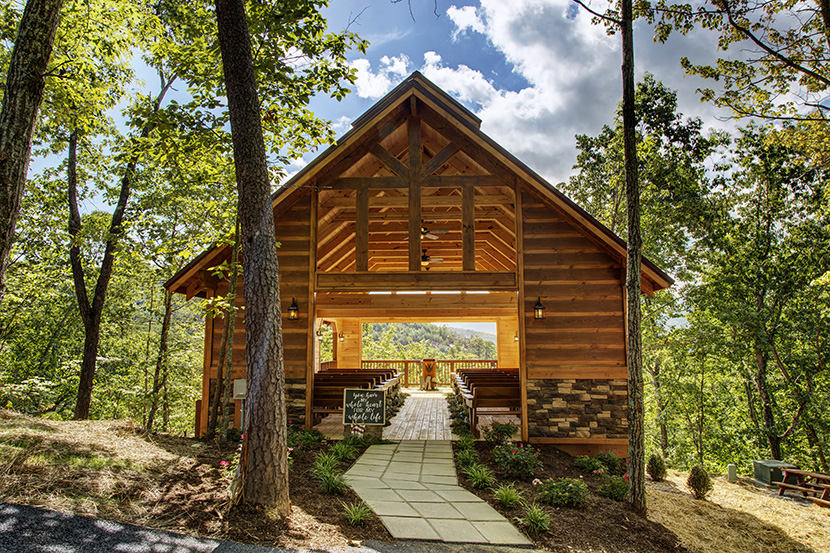 When it is time to get ready for the wedding, you are just steps away from the pavilion! Let the guys take over the game room and get ready in the basement while the ladies take over the top of the house to prepare the bride for her special day! Of course if you are expecting 75, there are plenty of additional cabins located within Parkside Resort for your guests to choose.
Sky View Lodge and Pavilion are located in Parkside Resort, where your guests will experience top notch customer service in luxury cabin accommodations just minutes from your venue. Parkside Resort features cabins from 1 to 12 bedrooms, and we offer blocks plus a group discount to our brides to ensure your guests get the perfect cabin for your wedding day. The cabins at Parkside Resort are sure to please even the pickiest of guests, featuring incredible amenities such as private home movie theaters, game rooms, arcade machines, private indoor pools, hot tubs, outdoor TVs, and so much more! Our well trained reservationists will help you and your guests find the perfect cabin to meet your needs. In addition to the cabins, your guests will have the peace of mind that comes with staying in a gated community and the resort offers endless entertainment! Parkside Resort features an indoor pool with two water slides, an outdoor pool with one water slide and Dive In movies, a 1,000 square foot arcade, a restaurant, a fitness room, an 18-hole putt putt course, several hiking trails and outdoor picnic areas, two playgrounds, and an on-site office and convenience store. Guests staying at the resort can also take advantage of discount ticket sales right in the front office to enjoy attractions in town. While your guests will be just 2.5 miles from the Parkway in Pigeon Forge and all of the attractions, they truly will never have to leave Parkside Resort!
If you are looking for an intimate mountain wedding experience with your closest friends and family, look no further! The sky is the limit at Sky View and you deserve nothing less than the best for your wedding day.
---
Book Skyview Pavilion
Please complete the form below and a member of our team will contact you shortly.