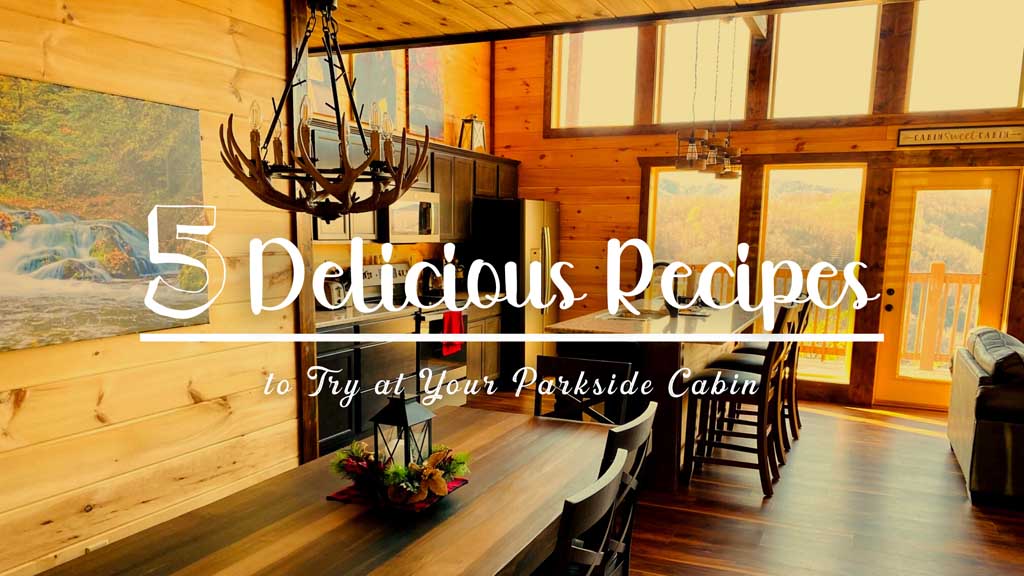 Have you ever dreamed of escaping to the Smoky Mountains with your family and enjoying some delicious and popular dishes from the region? Imagine yourself in a cozy, beautifully appointed Parkside cabin, nestled amongst the lush canopy, where you can prepare mouthwatering meals and create lasting memories with your loved ones. In this post, we have gathered five Smoky Mountain recipes that you can easily make in your luxury cabin kitchen. From pancakes to chowder, hearty Southern cooking to traditional age-old meals, these recipes will satisfy your taste buds and make you feel right at home in the heart of the Smokies.
Flapjack's Pancake Cabin Sticky Bun Pancakes Recipe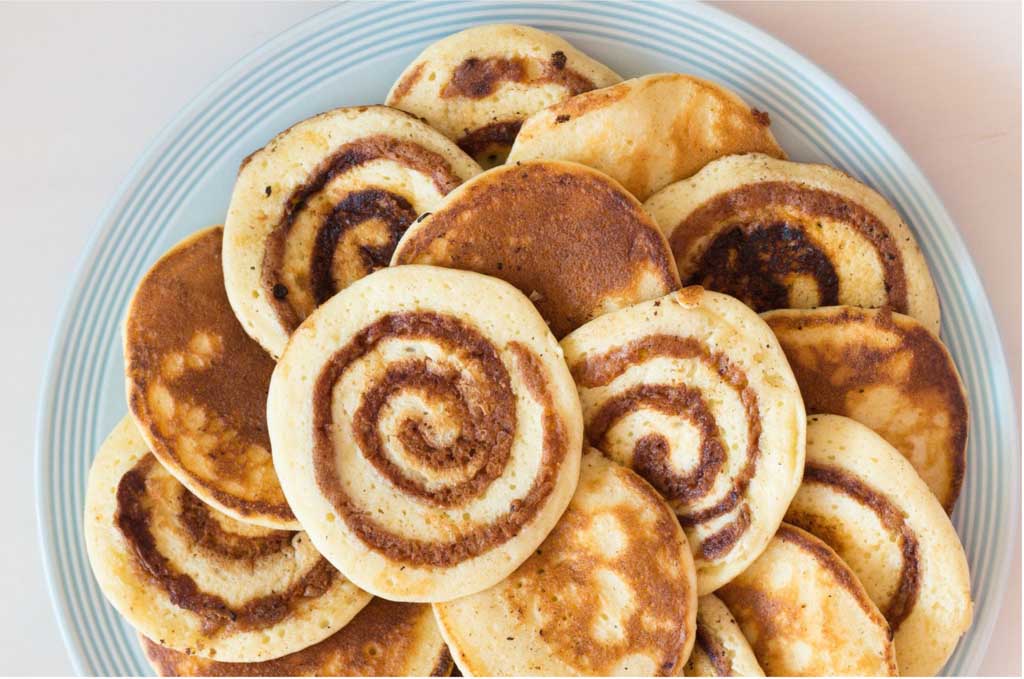 A Smoky Mountain Classic
Start your day with a delightful breakfast that combines two beloved classics: pancakes and sticky buns. Flapjack's Pancake Cabin Sticky Bun Pancakes are easy, quick, and incredibly satisfying. Here's how to make them:
Ingredients:
Cinnamon Sugar Paste:

1 1/2 cups brown sugar
1 cup softened margarine
2 tbsp cinnamon

Your favorite pancake batter
Cinnamon sugar paste mix
Chopped pecans to taste
Cream cheese icing to taste
Preparation:
Fill a pastry bag with the cinnamon sugar paste.
Pour pancake batter into a 4" to 6" pan.
After 1 minute, squeeze paste onto the pancakes in a spiral.
Sprinkle half of the pecans over the paste.
Continue cooking for 1 minute.
Flip the pancakes and cook until done.
Place the pancakes on a plate with the spiral side up.
Sprinkle with the remaining pecans and drizzle with cream cheese icing.
You can make this recipe in your cabin's fully-equipped kitchen, which has everything you need to prepare and serve your meals. Enjoy your pancakes with the family on your cabin's deck or patio, where you can admire the stunning views of the mountains in the golden morning glow.
Recipe Courtesy of: Flapjack's Pancake Cabin
The Old Mill Corn Chowder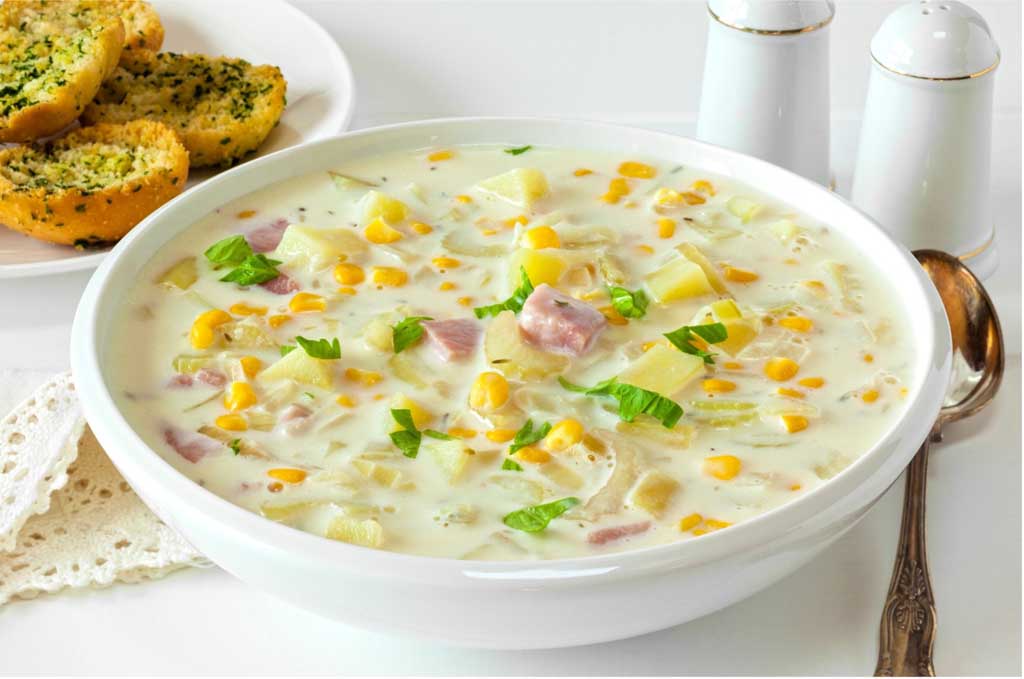 A Hearty Old Mill Staple
Looking for a hearty lunch option for a Smoky Mountain vacation? The Old Mill Corn Chowder is perfect. It's hearty, warm, and comforting, and it features one of the most iconic ingredients in the region: corn.
Ingredients:
2 cups chopped onion
2 cups chopped red and green bell pepper
2 tablespoons butter
2 cups chicken broth
2 cups water
1 cup clam juice
3 cups diced potatoes
3/4 cup cracker crumbs
1/4 cup Miller's Choice Unbleached Flour
Salt and pepper to taste
Pinch of garlic powder and onion powder
2 cups half-and-half
2 cups corn kernels
Instructions:
Sauté the onion, peppers, and butter in a large soup pot until they soften.
Stir in the chicken broth, water, clam juice, and potatoes. Simmer until the potatoes are tender.
Combine cracker crumbs, flour, salt, pepper, garlic powder, and onion powder. Whisk into the hot soup mixture until smooth.
Bring the chowder to a boil, stirring in the half-and-half and corn. Reduce the heat and simmer until thickened and well combined.
Enjoy this chowder in front of your cabin's firepit or fireplace, where you can cozy up with your family and share stories and memories as you savor this wonderful dish. You can also visit The Old Mill Restaurant or The Old Mill Pottery House Café & Grille nearby to taste their versions of this classic Southern chowder and many other regional favorites.
Recipe Courtesy of: The Old Mill
Pottery House Café Shrimp and Grits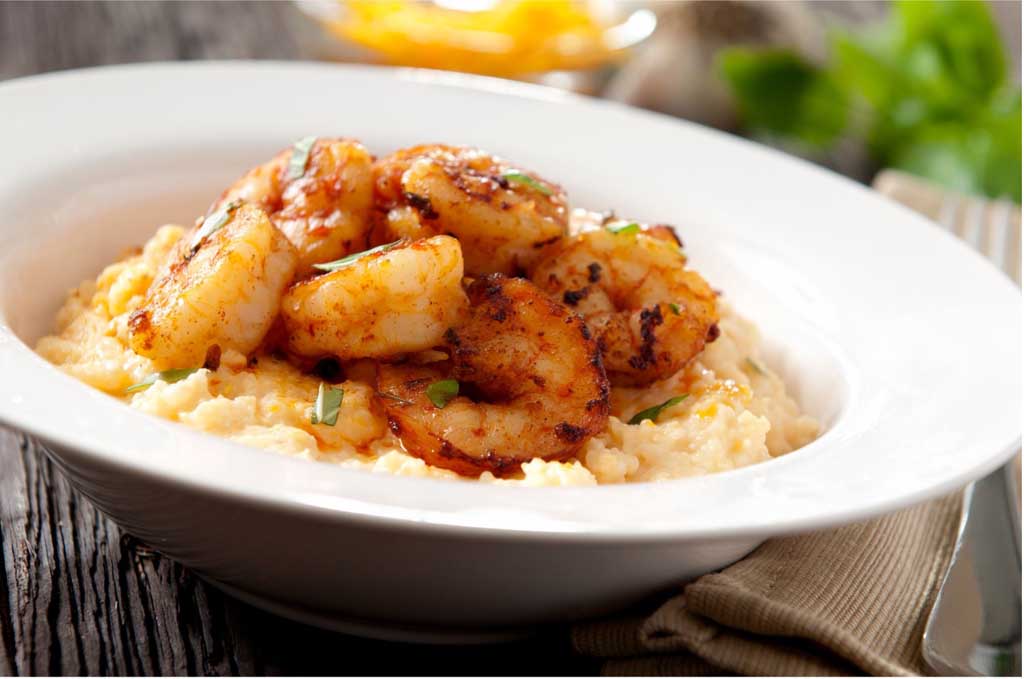 A Longtime Local Favorite
For a dinner that combines rich and flavorful elements, give Pottery House Café Shrimp and Grits a try. This delightful dish showcases one of the most beloved Southern culinary traditions. Here's how to make it:
Ingredients:
1 pound shrimp, peeled, deveined, and tails removed
2 tablespoons olive oil
2 cloves garlic, minced
Pinch of cayenne pepper
Salt and pepper to taste
2 tablespoons butter
1 cup finely chopped onion
1/2 cup finely chopped red bell pepper
3 cups water
1 cup heavy cream
1/2 teaspoon hot sauce, or to taste
1 cup The Old Mill Yellow or White Grits
1 to 1 1/2 cups shredded sharp cheddar cheese
1/2 cup grated Parmesan cheese
Instructions:
Preheat the oven to 375 degrees F.
Toss peeled shrimp with olive oil, garlic, cayenne, salt, and pepper – set aside for later.
Sauté butter, onions and peppers in a skillet until soft.
Add water, cream, and hot sauce to the skillet – stir to combine. Increase the heat and bring the mixture to a boil.
Reduce heat to a simmer and whisk in grits – cook until thickened.
Turn of the heat and stir in the cheeses.
Arrange the shrimp on top of the grits and bake in the oven until the shrimp have just cooked through, roughly 8 minutes.
Remove and serve.
Savor this dish in your cabin's dining area, where you can enjoy the luxury furnishings and décor with the whole family, creating a memorable culinary experience that fills the cabin with the delightful aroma of good old Southern cooking.
Recipe Courtesy of: The Old Mill
Old Fashioned Apple Barn Stack Cake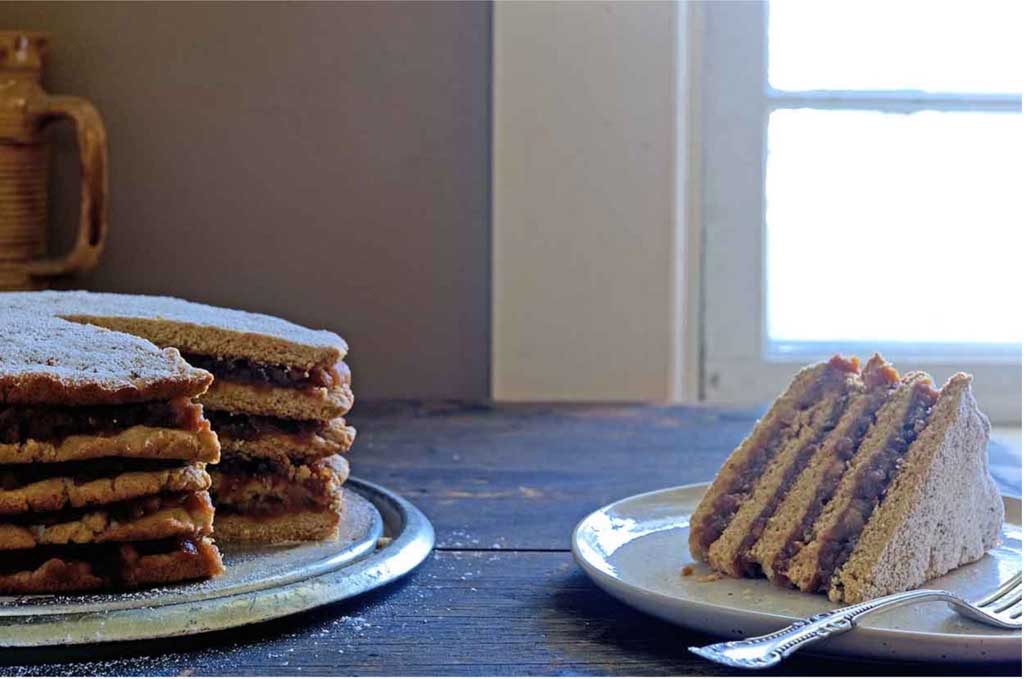 A Sweet Taste of History
A wonderful dessert option for a Smoky Mountain vacation is the Old-Fashioned Apple Barn Stack Cake. This classic dessert, often called the Tennessee Mountain Cake, is sweet, moist, and spiced, featuring the region's abundant and delicious apples. Here's how to prepare it:
Ingredients:
Cake Stacks:

2 cups sugar
1 cup butter or shortening
2 eggs
2 cups sifted all-purpose flour
1 teaspoon baking soda
3 teaspoons baking powder
1 teaspoon salt
1 teaspoon vanilla
1/2 cup buttermilk

Apple Filling:

1 pound dried apples
1 cup brown sugar
1 cup white sugar
2 teaspoons cinnamon
1/2 teaspoon allspice
Instructions:
Cream sugar and butter together. Add eggs one at a time.
Sift flour, soda, baking powder, and salt. Add alternately to the batter with buttermilk; add vanilla.
Chill the dough for 3 to 4 hours.
As the dough chills, wash the apples – cover with water and cook until tender.
Mash apples – add sugar and spices. Cool.
Remove dough from fridge. Divide the dough into 6 or 7 parts and roll out each part on a well-floured board.
Bake the layers until slightly browned.
Spread each layer with cooled apple filling and let stand in a covered container.
Utilize the spacious kitchen and dining areas to create this cake, getting the whole family involved in the baking process. The cake can be enjoyed in your cabin's living room or home theater, where you can watch your favorite shows or movies on the flat-screen TV. You can also explore the nearby Apple Barn Cider Mill & General Store for fresh apple products and souvenirs to make your stay even more delightful.
Recipe Courtesy of: Apple Barn Cider Mill
Dollywood's Famous Cinnamon Bread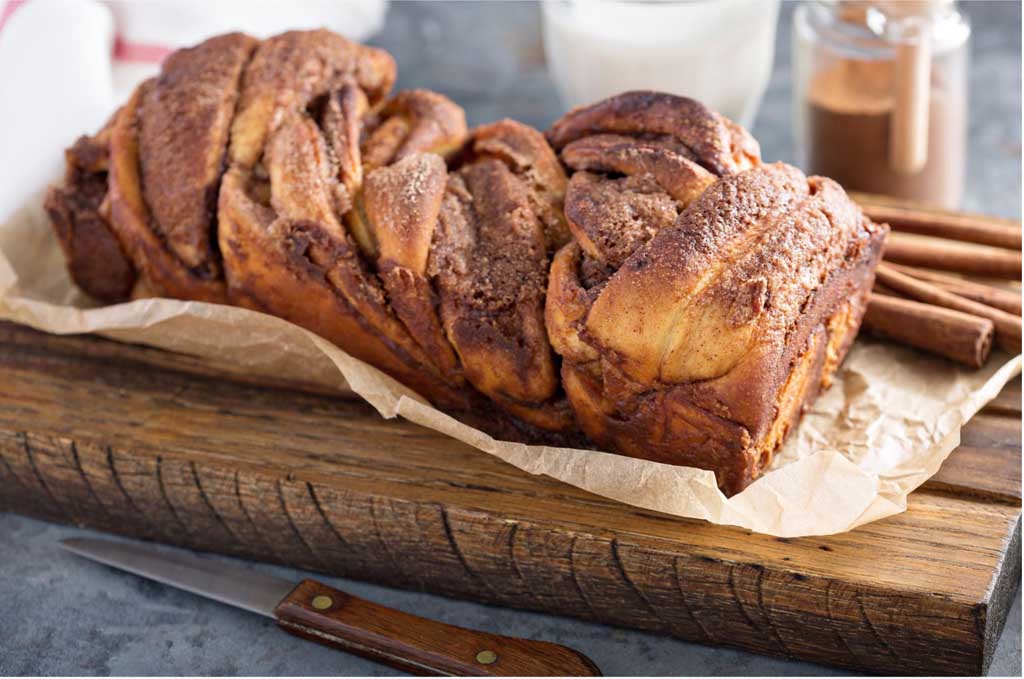 A Must-Try Snack Inspired by a Popular Attraction
Don't miss the opportunity to indulge in Dollywood's Famous Cinnamon Bread, a soft, buttery, and cinnamon-infused treat inspired by one of the most popular attractions in the Smoky Mountains. Here's how to enjoy it:
Ingredients:
For the Dough:

1/2 cup warm water
3/4 tsp. active dry yeast
1 tbsp. plus a pinch of granulated sugar
1 1/2 cups bread flour
1/2 tsp. salt
2 tbsps. unsalted butter, melted and cooled
Cooking spray

For the Topping:

1/4 cup granulated sugar
1/4 cup packed light brown sugar
1 tbsp. ground cinnamon
6 tbsps. unsalted butter, melted
2 tbsps. light corn syrup

For the Glaze:

1 1/4 cups confectioners' sugar
Pinch of salt
2 tbsps. unsalted butter, melted
3 to 5 tbsps. milk
Instructions:
Dough

In a small bowl, mix warm water, yeast and a pinch of sugar. Let it sit until bubbly (5-8 minutes).
In a large bowl, whisk bread flour, one tablespoon of sugar and salt.
Add yeast mixture and melted butter to the flour mixture. Knead until smooth and elastic (8 minutes).
Transfer to a greased bowl and cover with plastic wrap. Let it rise until doubled (1.5 hours).
Spray a baking sheet with cooking spray. Punch down the dough and knead a few times.
Cut in half and shape into two loaves (3×6 inches). Place them on the baking sheet and spray with cooking spray. Cover with plastic wrap and let them rise until puffy (30 minutes to 1 hour).

Topping

In a small baking dish, whisk granulated sugar, brown sugar and cinnamon.
In another small baking dish, whisk melted butter and corn syrup.
Preheat oven to 350°F and line two loaf pans with parchment paper.
Cut four slashes on each loaf and dip them in the butter-corn syrup mixture. Coat them with the cinnamon sugar and place them in the loaf pans.
Drizzle any remaining butter-corn syrup mixture and sprinkle any remaining cinnamon sugar on the loaves.
Bake until light brown (25-30 minutes) and let them cool on a rack in the paper (15 minutes).

Glaze/Dip

In a bowl, mix confectioners' sugar, salt, melted butter and three tablespoons of milk until smooth.
Add more milk if needed to thin the glaze/dip.
Drizzle on the warm loaves or serve on the side for dipping.
Indulge in this delightful bread in your cabin's kitchenette or breakfast bar while taking in the stunning Smoky Mountain scenery. If you prefer not to bake, you can visit Dollywood itself, which is only 15 minutes away, to savor their famous Cinnamon Bread along with all the park's thrilling rides, shows, and festivals.
Recipe Courtesy of: Dollywood
A Smoky Mountain Feast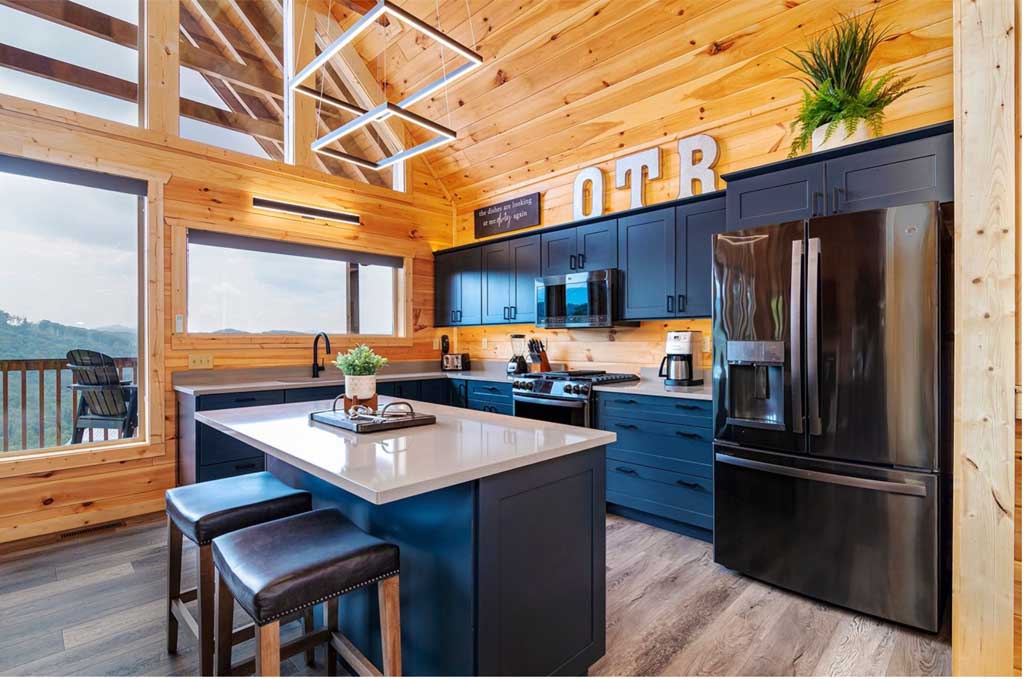 These recipes, ranging from breakfast to dessert, are perfect for a family vacation in the Smokies, offering a taste of the region's authentic and cozy cuisine. By choosing Parkside Resort for your Smoky Mountain accommodations, you'll have access to a fully-equipped kitchen to create these dishes. In addition to culinary convenience, Parkside offers a range of benefits and amenities, including a firepit, luxury furnishings, incredible views, a safe location, a wide selection of cabins, a hot tub, an onsite eatery, two pools (indoor and outdoor), a private 18-hole putt-putt course, and an onsite convenience store. Whether you're planning a romantic getaway, a family reunion, or a group retreat, there's something for everyone. Don't miss the opportunity to enjoy the best Smoky Mountain recipes in your luxury cabin. Book now and get ready for an unforgettable vacation.
Call us today at 888-908-6066 or visit our website to learn more about our amazing accommodations!