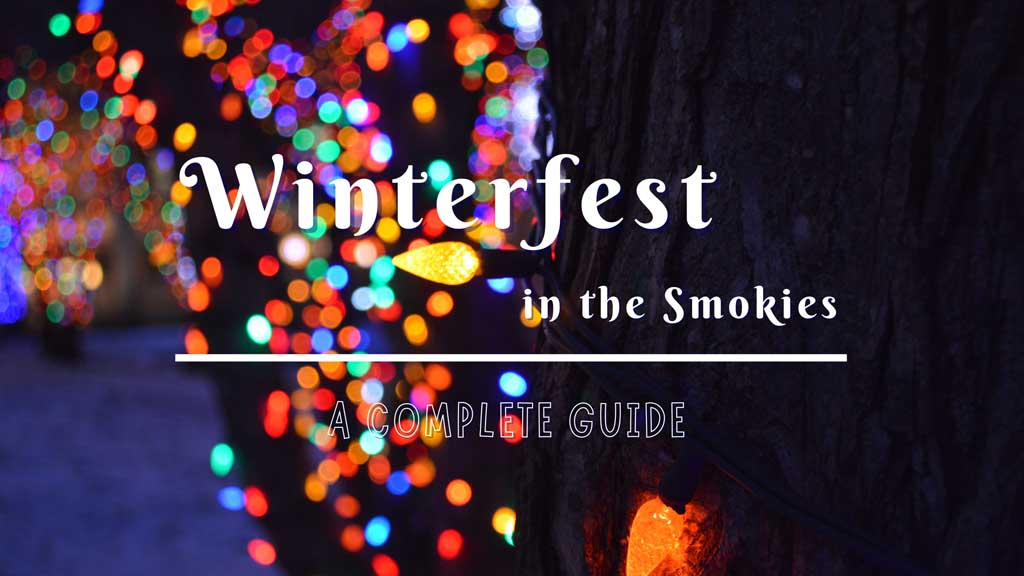 Almost 35 years ago, the clever folks of Sevier County devised a plan to increase tourism and encourage community involvement during the off-season. An accumulation of ideas, creativity and determination led to the opening of the very first Pigeon Forge Winterfest in 1989. Thanks to this festive and innovative idea, the winter season has become one of the busiest and most successful times of the year for the Smokies in terms of tourism – and for good reason. This dazzling and seemingly endless collection of holiday light displays spans over three cities, encompassing visitors in millions of sparkling lights and miles of garland and other holiday décor. Having started as a humble attempt to liven up the Smokies during the winter season, has since become one of the largest holiday attractions in the Southern United States and welcomes visitors from all over the world looking for a festive celebration like none other.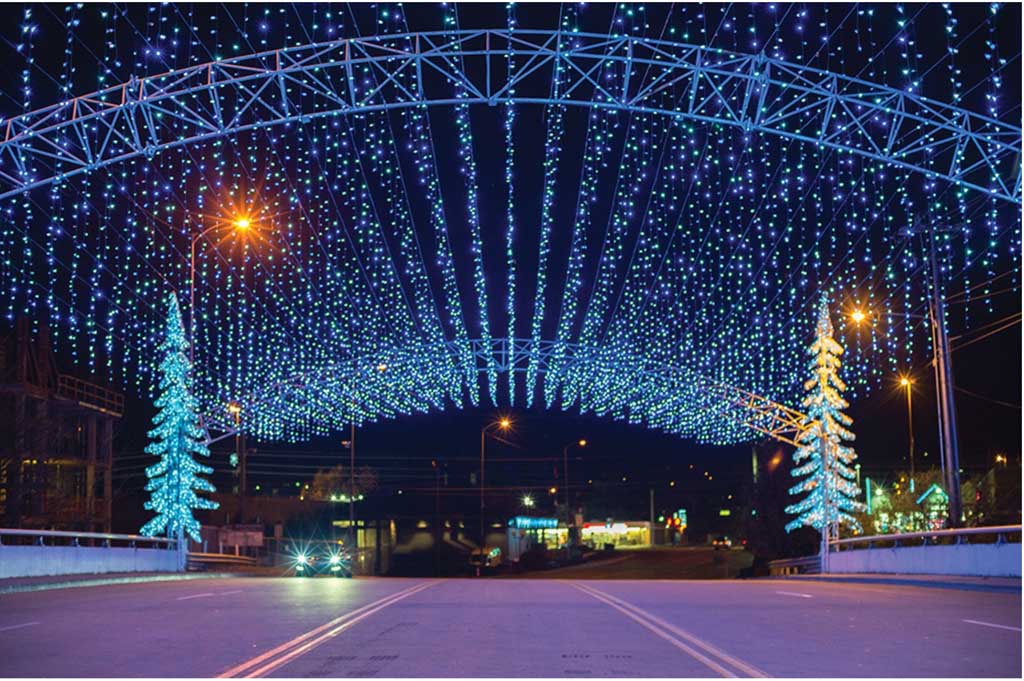 New Additions
This year marks the opening of the largest Winterfest to date. Earlier this year it was announced that a whopping $1.5 million investment had been made by the city of Pigeon Forge in order to expand the Winterfest offerings. Starting this year, the Winterfest Wonders of Light Walking Trail will cover a six-mile distance, along which many new and dazzling displays will reside. Spanning the length of the Riverwalk path (a paved path running along the Little Pigeon River and ending at The Island), this incredible journey will take you through various beautiful light shows and spectaculars that will have you in the holiday spirit in no time. This out-and-back trail has several entry points with parking nearby, is wheelchair accessible and dog-friendly as long as they remained leashed – meaning everyone in the
family can enjoy!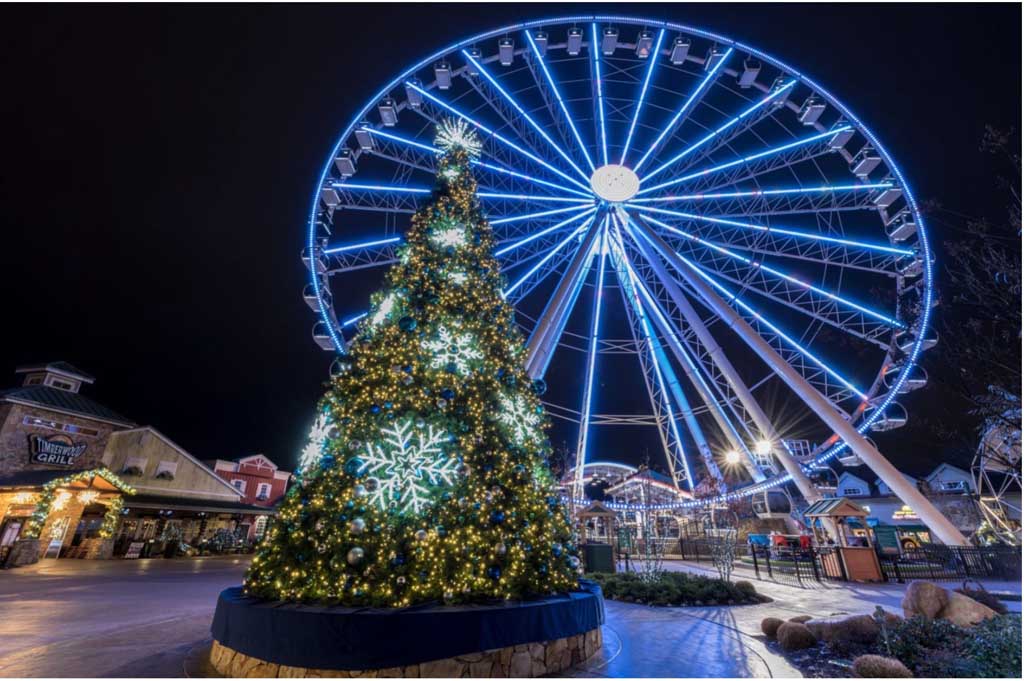 The Lights
Over the years, more than 2 million visitors from outside of Sevier County have made their way to the Smoky Mountains in order to partake in the Winterfest celebrations. With millions of lights transforming the cities of Pigeon Forge, Gatlinburg, Sevierville and the small towns nestled around them, the Smokies become a vivid and colorful winter wonderland and one of the largest holiday light events in the country. In the city of Pigeon Forge alone there are over 40 light displays to take your breath away, including but not limited to a 52-foot long caterpillar tunnel, magical animated scenes, soaring pigeons, patriotic tributes, Smoky Mountain scenery, dazzling holiday tableaus and even Old Man Winter himself. Even after exploring the Parkway and walking trail, if you're still craving more holiday cheer and sights, than make your way down to The Island in Pigeon Forge for an overload of Christmas joy. And it goes without saying, but if you're visiting the Smokies during the holiday season, then a visit to Dollywood to partake in a Smoky Mountain Christmas is a no-brainer.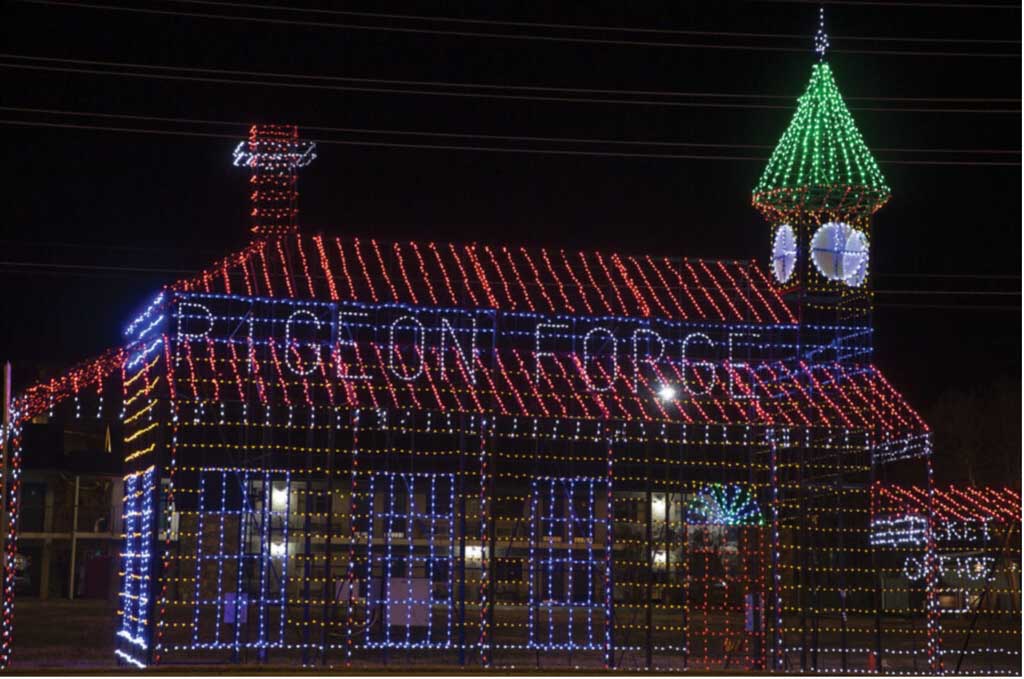 Moving on to Gatlinburg, as you travel down the parkway, you will be stunned at the canopy of twinkling lights hanging over head and sending a glow into the Smoky Mountain evening. For a truly breath-taking view of the parkway and its sparkling décor, grab a ride up to the Gatlinburg SkyLift Park where you can enjoy a bird's eye view of the city's decked out streets while also enjoying the festive decorations at the summit as well. If you're looking for an all-day attraction that includes some of the best vantage points in the area, then you'll also want to plan a trip to Anakeesta during your Winterfest escapade. Start the day at Breakfast with Santa, then wander down walkways aglow with synchronous music and light displays, enjoy some holiday shopping and close out the night with a climb to the top of AnaVista Tower for an unbeatable view of a decked-out Gatlinburg over 600 feet below. With cozy Christmas décor around every corner and festive activities for everyone in the family to enjoy, a trip to Anakeesta is the perfect addition to your Winterfest adventure.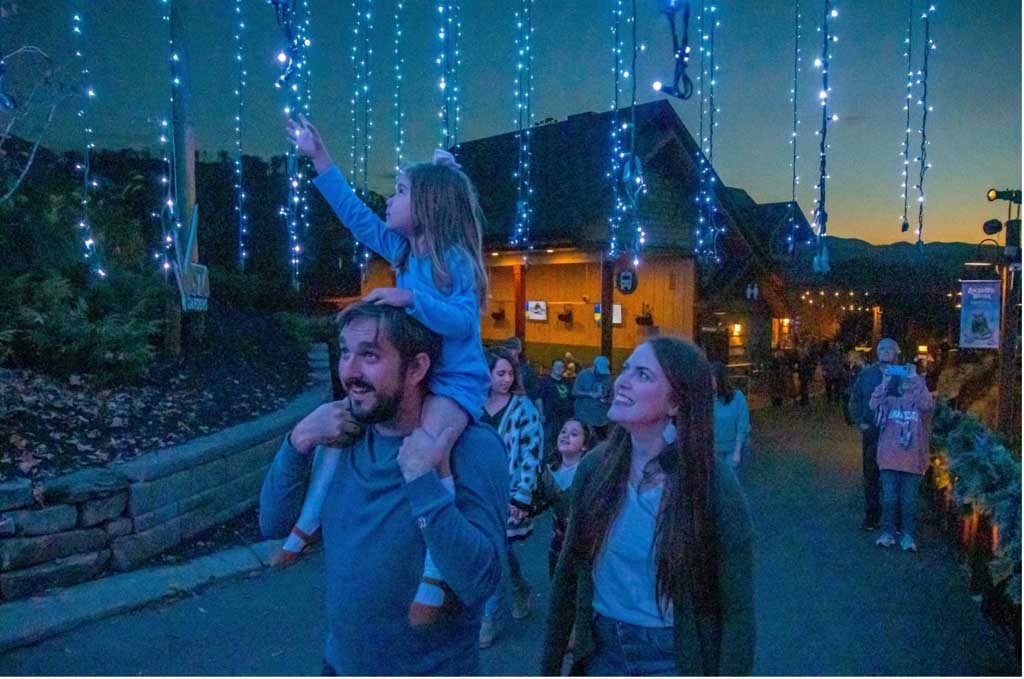 The final municipality to get involved in the Winterfest celebrations is Sevierville. Though a smaller community than its sister cities, Sevierville's Winterfest displays are no less magical than those found in Pigeon Forge and Gatlinburg. From stunning bridge displays to twinkling snowflake trees and waving snowmen, it'd be a shame if you missed out on Sevierville's Winterfest while exploring all the holiday offerings the Smokies have to give. Though boasting the least number of light displays when compared to its Winterfest counterparts, Sevierville is host to one of the largest and most technically advance drive-through lights shows in the country, Shadrack's. When you buy a ticket to Shadrack's Christmas Wonderland or Shadrack's Super Sized Christmas Adventure (an all-new experience), you're signing up for an immersive light show that stretches over a mile long. With new displays added every season, Shadrack's ensures that visitors will be dazzled year after year of visiting this holiday attraction.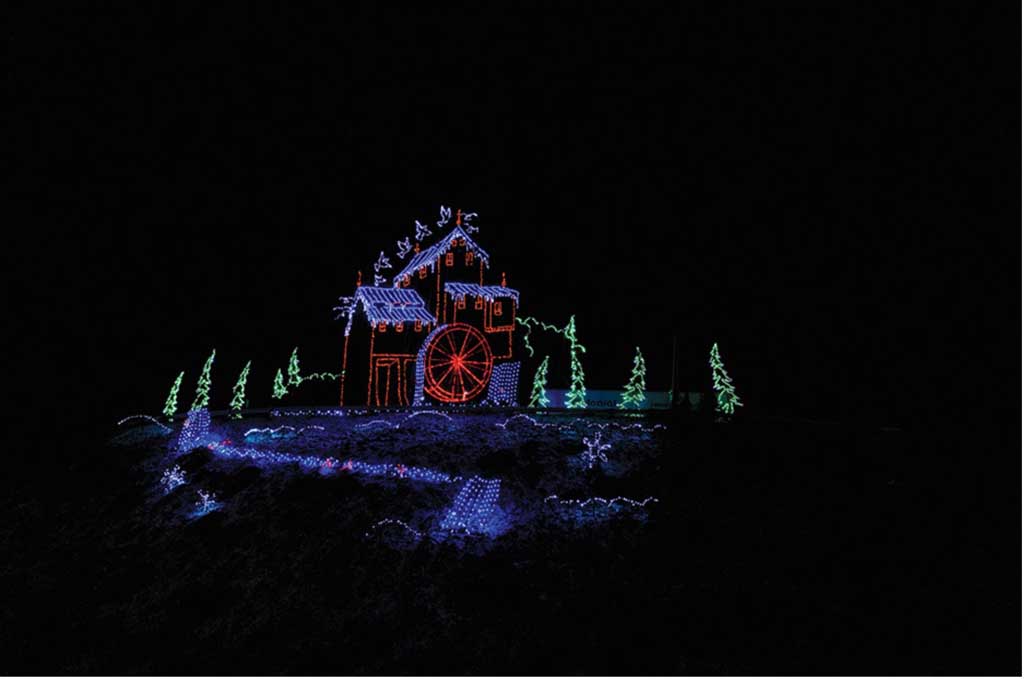 The Parades
What better way to kick off the month of Christmas than with a few holiday parades! In the beginning of December, Gatlinburg and Sevierville put on jolly holiday parades to welcome the month of festivities and celebration. Starting on December 2nd, Gatlinburg will hold their annual Fantasy Of Lights Parade in the center of town. Be sure to arrive early so you can find parking and snag the perfect spot on the Parkway for watching the parade. The festivities will begin at 7:30 and will run through the heart of downtown, complete with marching bands from all over the east, massive themed balloons, dancers, musicians, colorful floats and so much more! Be sure you bring your holiday cheer and a Santa hat with you to enjoy the merriment. The next day, if you are still looking for some holiday cheer, head down to Sevierville to enjoy their Christmas parade as well.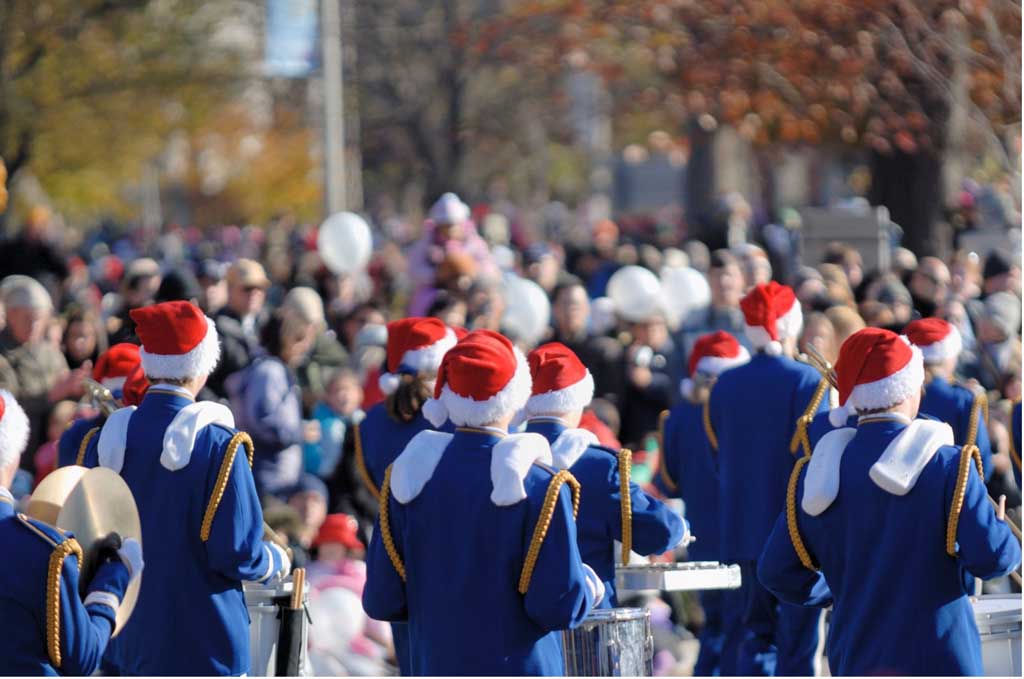 A Cozy Christmas Retreat
To make a wonderful holiday trip absolutely perfect, make sure to reserve a cabin at Parkside Resort for your yuletide stay. Between the cozy yet luxurious accommodations, oodles of fantastic amenities and convenient location (we're only minutes from the festive fun), there's no better place to stay in the Smokies! After spending the day exploring all the great sights, treats and activities that Winterfest has to offer, head back to your picturesque mountain cabin to enjoy a hot cup of coco while the little ones muse over which lighting displays were their favorites of the night. While we can't tell you what to do or where to go first during this year's Winterfest, we can guarantee you one thing, it'll be a holiday celebration like you've never experienced before!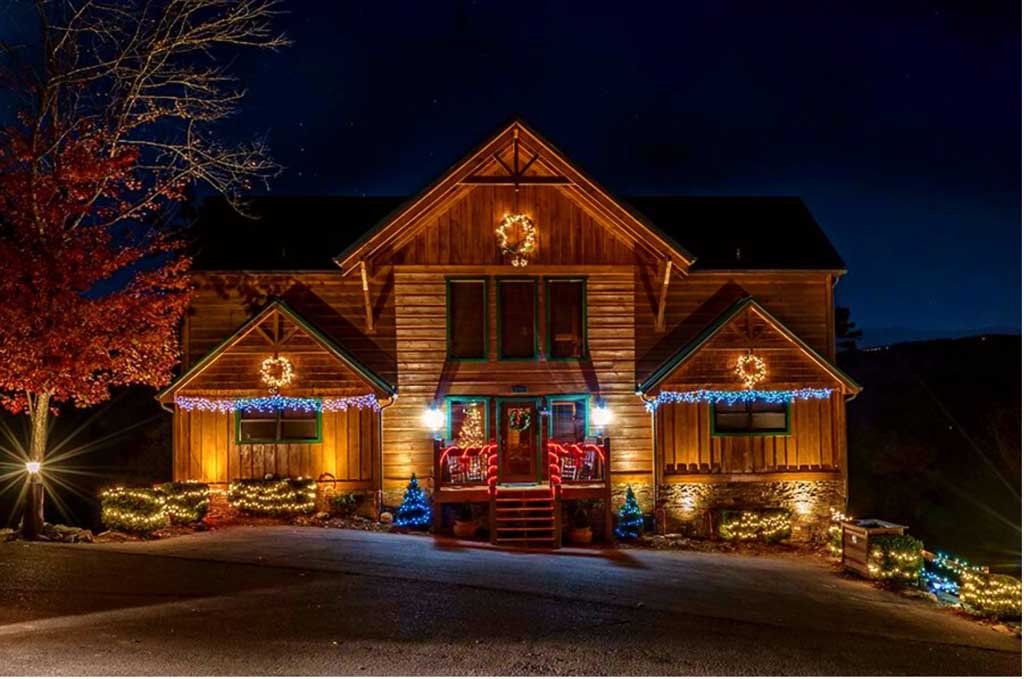 The Winterfest 2022-2023 festivities have already begun and will continue through February 19th, 2023 throughout the towns of Pigeon Forge, Gatlinburg and Sevierville. Call us today at 888-908-6066 or visit our website to learn more about our amazing accommodations!