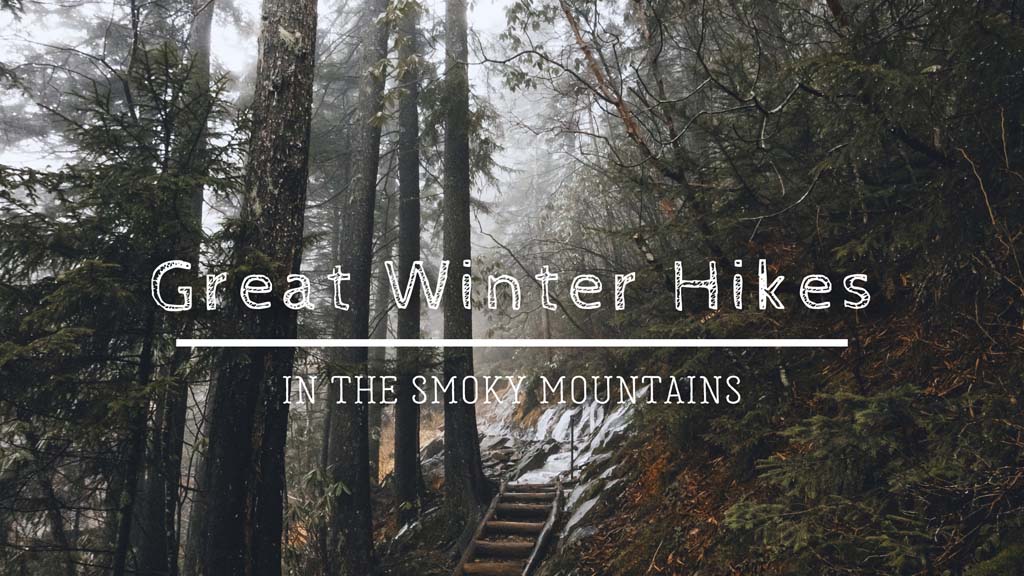 Five Great Winter Hikes In The Smoky Mountains
Imagine a scene so breathtaking, it looks as if it's been delicately painted by Mother Nature herself. Rays of sunlight sparkle off the crystalline vegetation, seemingly suspended in time due to their icy encasements, and vistas – complete with snow-capped evergreens and lush clouds leisurely rolling past – sit unobstructed, just waiting to be admired. Although such a vision may sound like the stuff of fantasy novels and dreamscapes, this whimsical living tableau can be experienced right here in the Smoky Mountains! Though the majesty of The Great Smoky Mountains National Park can be enjoyed and marveled over at any time – winter brings a new kind of magic to the park that can only be experienced during those frigid months.
Due to the parks wildly varying elevations and climate types, exploring the Smokies during the winter months can mean a variety of weather conditions – from balmy afternoons ranging in the 70's, to temperatures in the teens accompanied by frozen trails and snow drifts as high as your waist. With such a wide variance in weather conditions, the need for specialty gear as well as physical prowess and limited trail accessibility in some locations in the park – many amateur adventurers prefer to save their exploring for once spring arrives. However, while winter brings with it its own unique challenges, there are benefits to visiting the Smokies during this season. From smaller crowds that are fewer and farther between, to a lack of deciduous foliage revealing distinct rock formations, and the remnants of human settlers long since passed, there are many unexpected perks to visiting during this time of year. Not to mention getting to see the numerous stunning panoramas only visible during the winter, when vegetation has gone dormant and cleared the way for views like no other. A wonderful way to experience the Smokies in all its frosty glory, is to load up your pack, grab the trekking gear and embark on a winter hike. But with so many trail options and conditions to consider, it can be daunting deciding where you want to go first. To help determine which trail is perfect for your winter hike through the Smokies, continue reading to learn about five of the best winter hikes in the park!
Laurel Falls Trail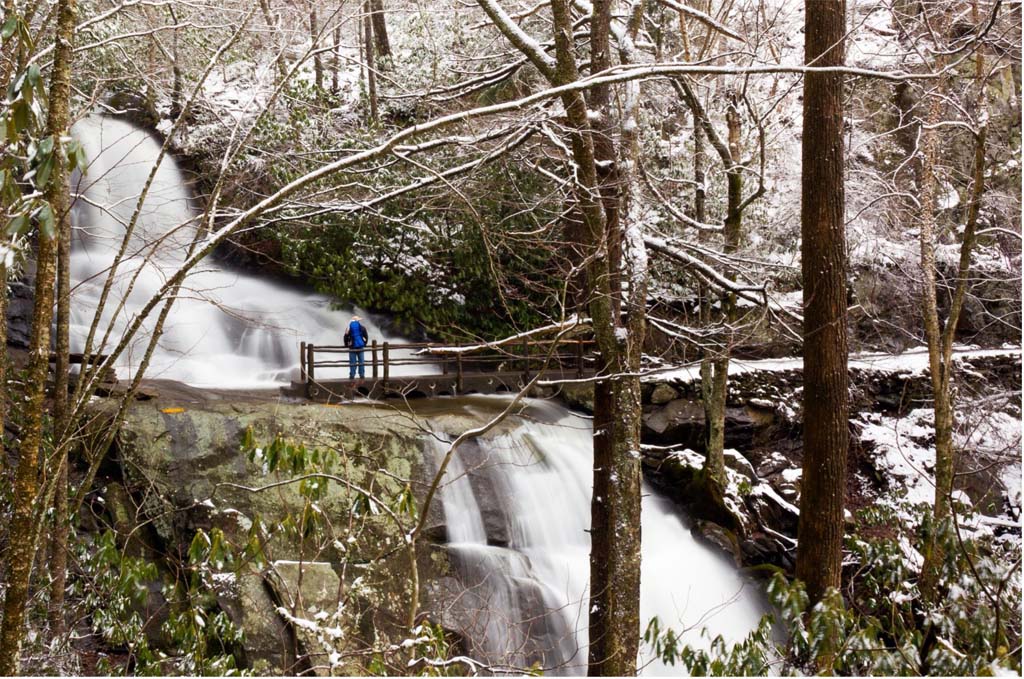 Difficulty: Moderate
Elevation: 400 feet
Length (roundtrip): 2.6 miles
Time Required: Roughly 2 hours
One of the few paved paths in the park, Laurel Falls Trail is an excellent trail to take the family on if you're hoping to enjoy a relatively short and easy winter hike in the Smoky Mountains. This trail is also one of the most popular in the park, with limited parking where the trailhead is located and many eager onlookers crowding the stunning 80-foot-high waterfall – hoping to get their photo with the natural water feature as the backdrop. By exploring Laurel Falls during the winter, you'll have more time and space to leisurely make your way up and back down the 2.6 miles path, though we do recommend coming earlier in the morning to nab a parking spot. Due to the difficulty level of this trail being so approachable, there will still be visitors attempting to complete the hike, regardless of what the weather is doing.
Enjoy snow dusted undergrowth and frozen streams decorating the edges of the trail as you head up to the impressive Laurel Falls surrounded by verdant laurel, an evergreen shrub that lends its name to the falls. Be careful though, the rocks and boulders surrounding the waterfall and riverbanks can be very slick, especially so when covered in ice, and people have been known to be injured or even killed falling from said rocks. Also note, that while this path is paved, it is rough in various spots along the trail and is therefore not suitable for strollers, nor is it handicap accessible, even during the balmiest of days.
Rainbow Falls Trail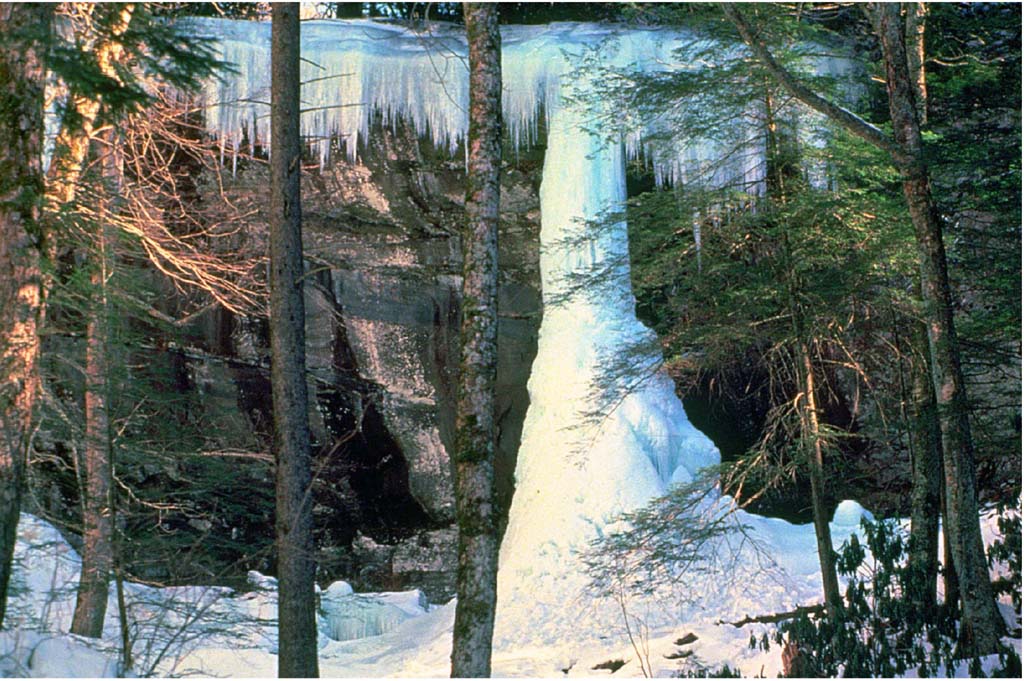 Difficulty: Strenuous
Elevation: 1,700 feet
Length (roundtrip): 5.4 miles
Time Required: Roughly 3.5 hours
Not for the faint of heart during the winter season, Rainbow Falls Trail offers eager explores with a challenge and a chance to put your winter trekking gear to the test. This strenuous path climbs a total of 1700 feet in roughly three miles and is full of incredible sights, from babbling creeks, roaming wildlife, cascading waterfalls and breathtaking views through the trees (a benefit of visiting in the winter). Though the trail is in excellent condition, the path has many moss-covered rocks, roots and icy patches dotting the way so be sure to watch your step, don the proper footwear, and use trekking poles for extra stability. At the end of this demanding hike, you'll reach the stunning sight of Rainbow Falls plunging down an 80-foot descent, covered and flanked by dazzling ice formations if it's been cold enough for an extended period of time. Though it's tempting to clamber over snow capped rocks in order to get closer to the falls, refrain from doing so for the sake of your safety. Remember, you still have to hike back over two and a half miles once you've reached your destination – falling and injuring yourself for the sake of a perfect selfie, will make the trek back that much harder.
Alum Cave Trail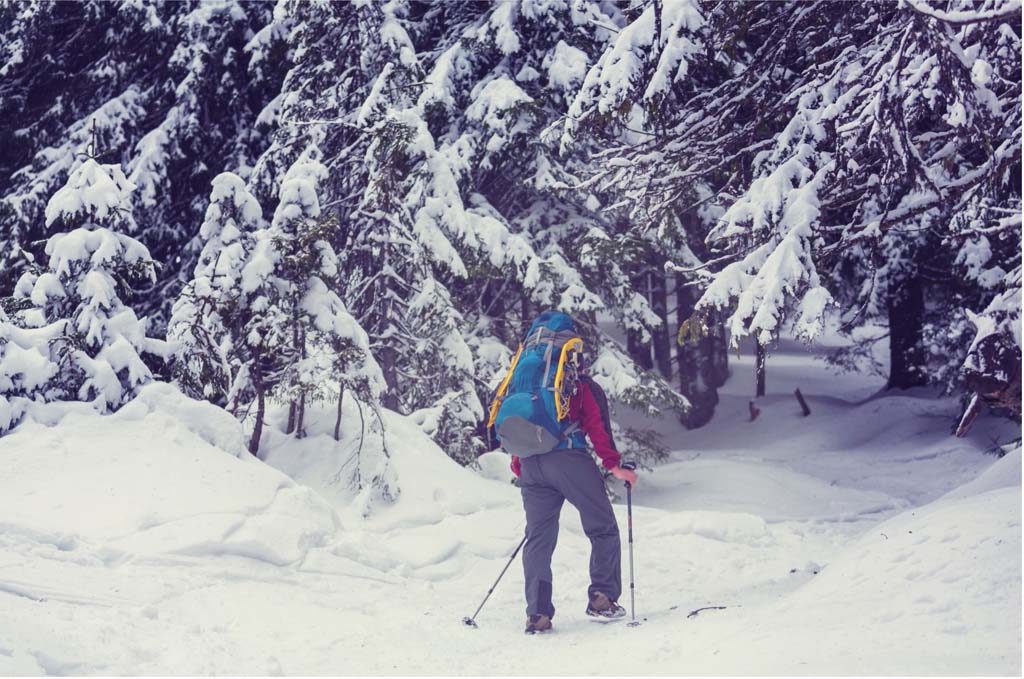 Difficulty: Moderate to Strenuous
Elevation: 3,000 feet
Length (roundtrip): 11 miles
Time Required: Roughly 7 hours
This trail, the longest one on our list, is a challenging but worthwhile trek with incredible views as your rewards for reaching the end of the trail before heading back down. The Alum Cave Trail is a very popular trail, starting at Newfound Gap Road and actually intersecting with Rainbow Falls Trail (a trip we just discussed) and is considered a favorite for those hiking up to Mt. LeConte's summit for the first time. Another great feature of this path are the various landmarks dotted along the way, making for great photo opportunities, resting spots and turnaround points if the weather shifts or you're simply wearing out. Towards the beginning of this day trek (only 1.4 miles in), hikers will reach Arch Rock, a black slate pillar formation, arching over the path and creating a narrow tunnel that must be traversed through. Roughly half a mile down the trail is a rocky outcropping known as Inspiration Point where you can spot the Eye of the Needle formation (if the timing and cloud coverage is in your favor, that is) as well as the rugged valley down below.
At the 2.3-mile marker you will come upon the Alum Cave Bluffs, a landmark that is iconic to the Smokies and offers a dry resting spot, wonderful views and some great ice formations if it's cold enough. Typically, this is often the point where more casual adventurers head back, however the best vistas can be found on the remaining 2.7 miles of the trip to the summit of Mt. LeConte. Although tricky and arduous, especially during the winter months, Alum Cave Trail is a fantastic option for the more seasoned hikers out there, looking for a challenge and their own slice of the Smoky Mountains to enjoy.
Metcalf Bottoms Trail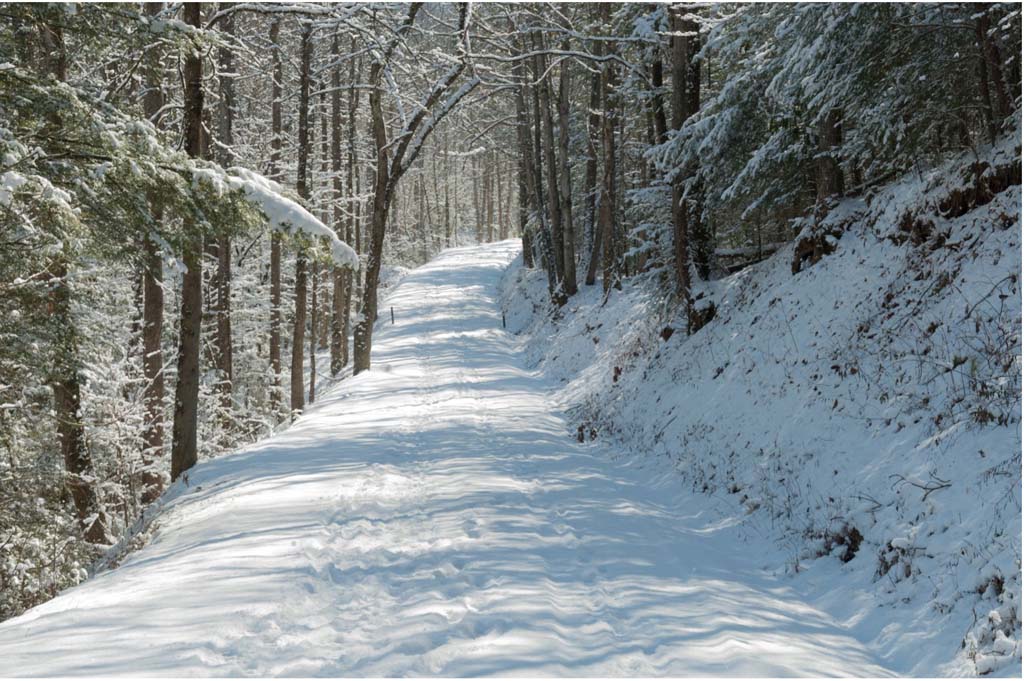 Difficulty: Easy
Elevation: 187 ft
Length (roundtrip): 1.2 miles
Time Required: Roughly 45 minutes
If you're looking for a winter hike that is suitable for the whole family and won't take the entire day to complete, then you need to check out Metcalf Bottoms Trail. This highly traveled path starts roughly five miles from the Wear's Valley entrance at the Metcalf Bottoms Picnic Pavilion (which is open all year, if you're thinking a picnic lunch might be nice). However, due to seasonal road closures, you'll have to get to the parking lot from either the Townsend or Gatlinburg park entrances this time of year. Once there however, you can begin your laidback trek to the historic Little Greenbrier School and Cemetery, a little over a half mile down the path. The walk to get there is relatively easy to complete, only raising 200 feet in elevation, and though there is the occasional rock or root obscuring the path, the trail is level and easy to traverse.
Enjoy the several babbling creeks you'll pass, quaint log bridges, wandering wildlife and a well-preserved historical landmark at the end of your trip. After soaking up some of the history of the Smokies, you can either turn back for a short and sweet 1.5 mile hike or continue on to the Walker Sister's Cabin for another history lesson and a round trip of about 4.5 miles. Regardless of what you choose, either trek is perfect for families with little ones or members that have physical limitations and need a more laid-back hike. And the best part, because this trail is at a lower elevation than some of the others we discuss in this list, you don't have to worry about ice or snow making travel difficult! Just be sure to arrive earlier in the day because even during the winter, Metcalf Bottoms Trail is a popular choice among tourists and locals alike!
Schoolhouse Gap Trail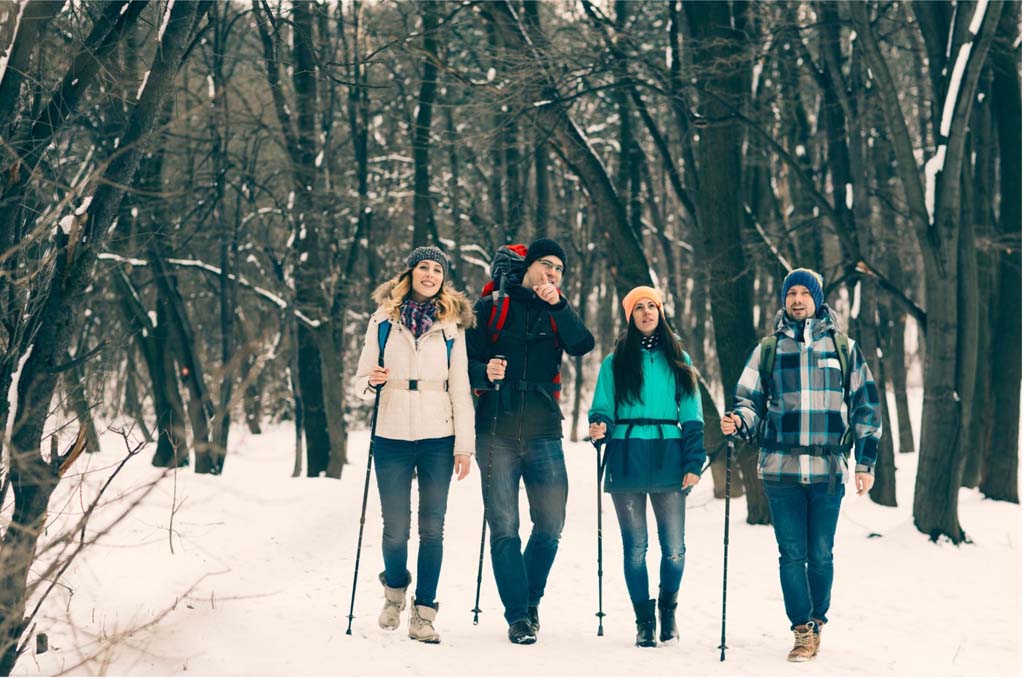 Difficulty: Easy to Moderate
Elevation: 515 feet
Length (roundtrip): 4.1 miles
Time Required: Roughly 2 hours
If you're someone who enjoys the journey as much (if not more than) the destination itself and are looking for a hike that's more relaxing than it is strenuous – than Schoolhouse Gap Trail is the perfect winter hike for you! This heavily wooded path is a destination point for many wildflower lovers, birdwatchers and wildlife enthusiasts during the spring and summer months. However, during the winter, the scenery changes drastically and turns into a quiet frosty retreat. If weather permitting, you can take a turnoff roughly halfway through your hike -just past the Turkeypen Ridge split at the sign marked "no horses" – to head towards Whiteoak Sinks to catch a view of the small waterfall and bat cave (be sure to maintain the required distance so as to not disturb the bats' hibernation). Though a relatively simple trip all around, with only a few moderate inclines here and there, don't forget to watch your step – this trail tends to be muddy and can become quite slick during the winter months. And brush up on your bear safety before heading out – this is bear country and is their home before it is your playground – if you see a bear during your hike, know what to do and exactly what not to do. Doing so will ensure that you return home unharmed and ready for another chilly adventure.
A Few Reminders
The most important thing to remember when planning and enjoying your winter hike through the Smokies, is that safety is key. Make sure you pack the correct supplies; a trail map of the park, plenty of layers, water and food, as well as well-fitted hiking shoes and other winter gear necessary for keeping you safe. Though it's exciting to get that perfect angle for an epic photo, be aware of your surroundings (such as moss-covered rocks, steep drop-offs and roaming wildlife) and remain vigilant – no picture is worth your safety or life. And always be on the lookout for wildlife around you, review what to do if you cross paths with a bear or other predators and maintain a respectful distance. As long as you are prepared, take your time, and listen to your body's limitations, your winter hike through the Smoky Mountains will be an adventure to remember (and for all the right reasons)!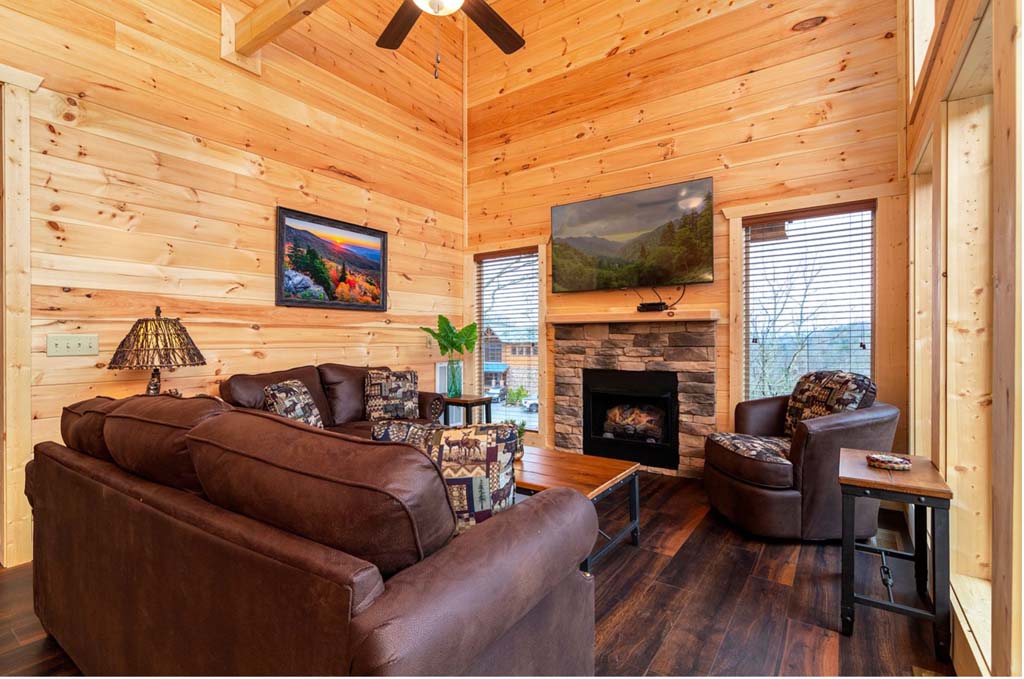 Need an incredible place to stay during your visit to the Smokies? Check out Parkside Resort for the newest luxury cabins in Pigeon Forge and the surrounding area. To learn more or to book our premium accommodations, call us at 888-908-6066 or visit our website today!