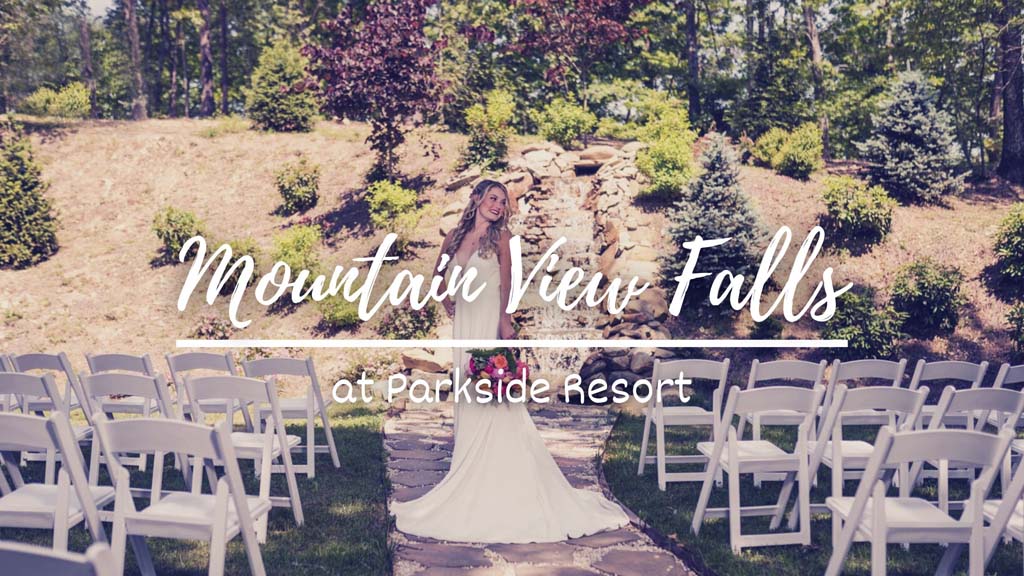 It finally happened. The love of your life got down on one knee and asked to spend the rest of their days with you in tandem, through the good and the not-so-good, and you promptly said yes. You've found that fairytale ending you were always dreaming of, and now it's time to find a venue as equally enchanting to celebrate your happily-ever-after! Mountain View Falls at Parkside Resort, nestled in the verdant forest of the Smoky Mountains, is a magical spot that is ideal for hosting intimate events and crafting new memories to be cherished forever. With such a beautiful love story to commemorate, it only seems right to select a venue as stunning and lush as Mountain View Falls to host your nuptials.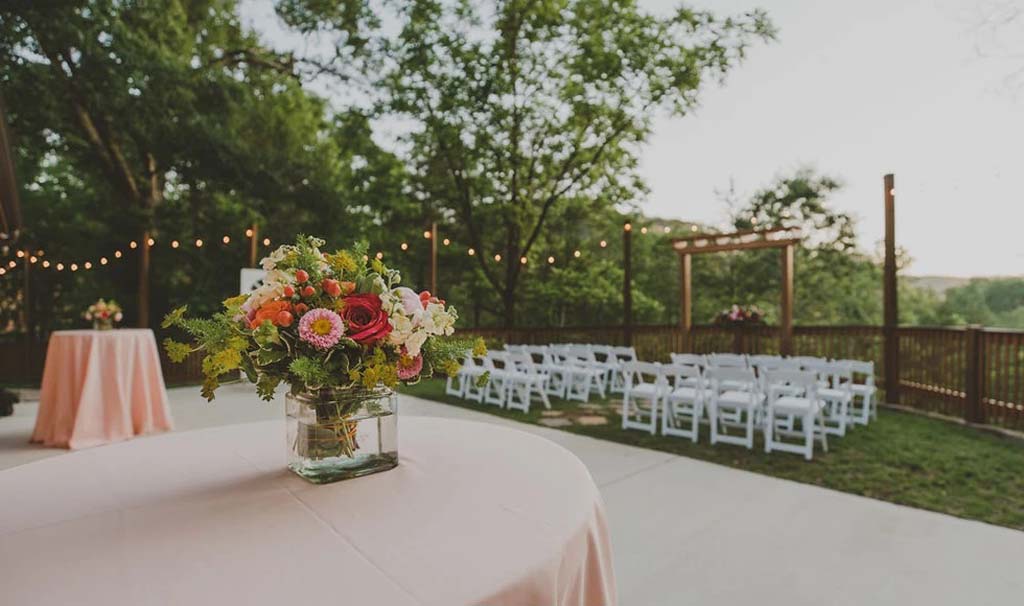 Capitalizing on the natural beauty of the Smoky Mountains, Mountain View Falls Wedding and Event Venue is our largest venue on site, and our only outdoor event space. Capable of hosting up to 90 guest, Mountain View Falls is the ideal location for larger groups and those looking to have charming, picturesque wedding surrounded by the crisp woodland air. Complete with a quaint stone pathway and our very own mountain waterfall, this stunning site offers soon-to-be newlyweds the perfect backdrop for exchanging their vows and sharing that first married kiss.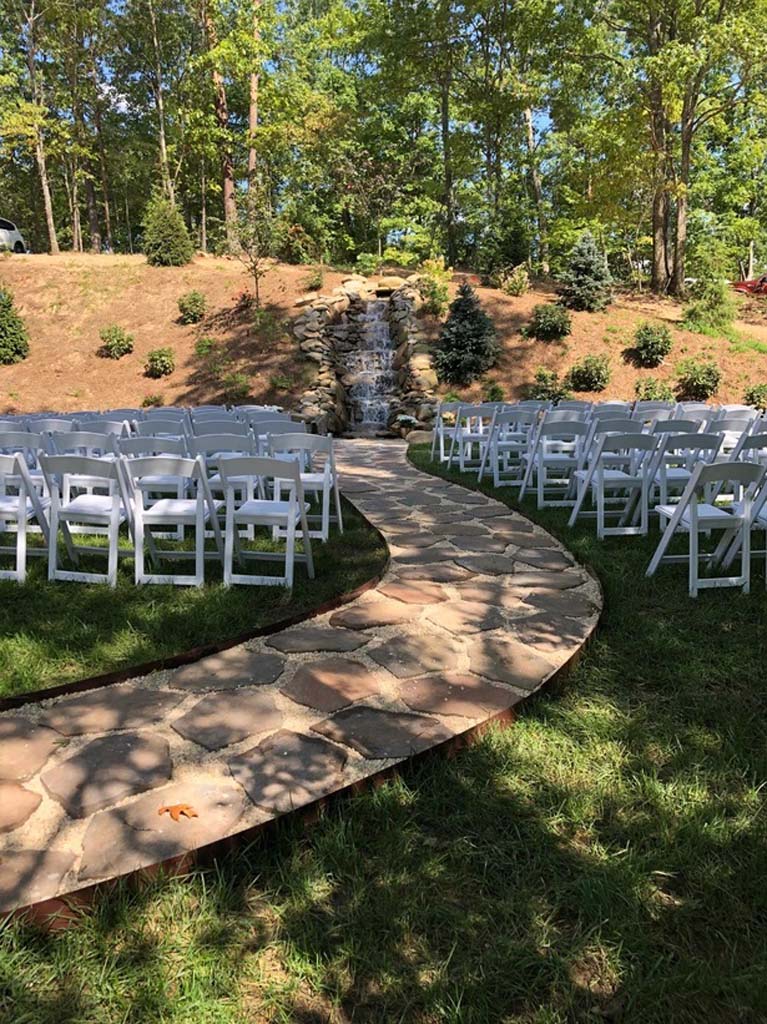 Before the big event kicks off, enjoy some uninterrupted time with your closest friends and family as you get ready together in our beautiful bridal suite (an exclusive perk for those who book Mountain View Falls for their wedding). Once ready, be sure to snap some heartwarming "first look" photos utilizing one of the almost countless spots at the Resort that will make a fabulous backdrop for this touching moment. Not to mention after the big event, you'll have all sorts of delightful locations to choose from for photos with family and friends. With wooded pathways, serene water features, unique rustic décor and breathtaking vistas overlooking the Smokies, the opportunities to capture your day beautifully, are endless.
After you've tied the knot and the official wedding photos have been snapped, you'll head over to our spacious outdoor patio (complete with bistro lighting for a whimsical effect) to mingle and enjoy a Smoky Mountain cocktail. As you accept well-wishes and compliments as a couple from those in attendance, your caterer can add the finishing touches to dinner in our fully-equipment and roomy catering kitchen (another perk of selecting this venue). This space is perfect for prepping a rehearsal dinner, cocktail hour, the reception meal and (of course) dessert – and comes complete with a private entrance, full-size appliances, warmers and even an automatic ice machine!
Dinner will be served in our luxuriously designed reception hall, capable of housing your entire party and decked out with an in-house sound system, a flat-screen tv for displaying slideshows and videos, hard-wood floors, warm wood detailing, a fireplace, air conditioning and private restrooms. The space has everything you need in order to throw a wonderful reception, all under the same roof. Once dinner has concluded, the tables and chairs can be cleared away, revealing a spacious dance floor, just waiting for someone to bust a move on! Dance to your favorite tunes, laugh with your loved ones and simply enjoy each other's company on this very special day.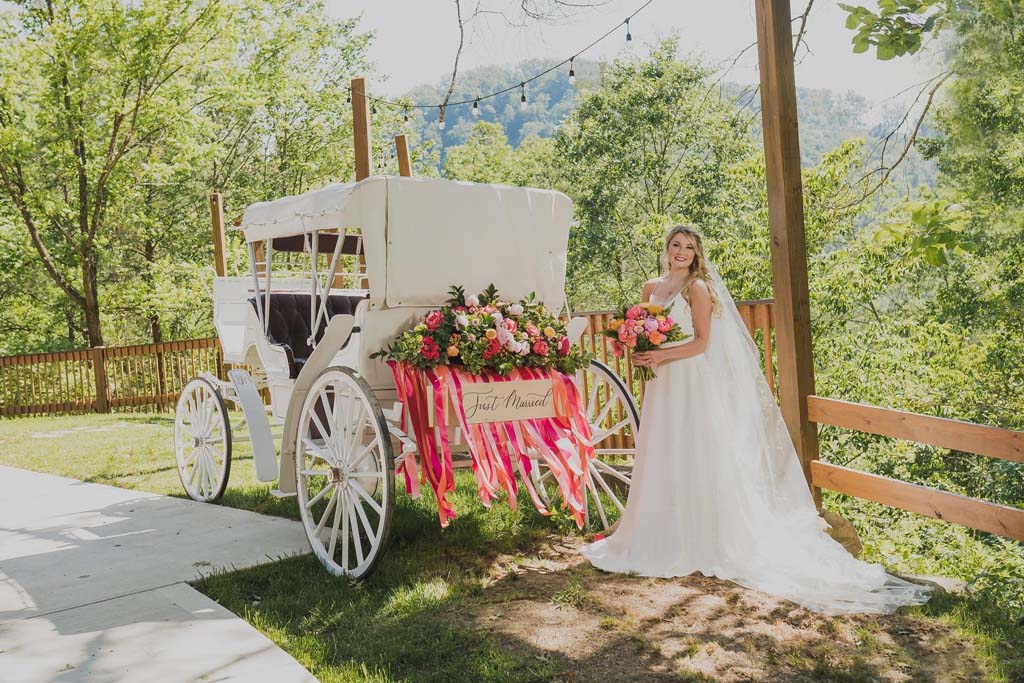 If the idea of piecing together your special day is a daunting one and causing you to break into a cold sweat, have no fear! We are proud to say that Parkside Resort offers some of the best wedding packages available in and around Pigeon Forge. Our packages are customizable based on your needs and vary depending on which venue you choose and the length of your stay with us. Our full wedding packages include multi-day access to the venue (no worrying about when the next wedding party will arrive or if there's enough time for the best man to tell one more embarrassing story from your college days) as well as a romantic night in one of our gorgeous honeymoon cabins. When combined with our expert reservationists and event coordinators, a wide selection of event rental items on site (including tables and chairs) and our overall dedication to making your big day perfect – it's not hard to see why many a happy couple have chosen Parkside Resort as the place to say "I Do."
If you're searching for the perfect venue to host an enchanting Smoky Mountain wedding – that offers amazing accommodations, unbeatable convenience and an unforgettable experience for both you and your guests, look no further than Mountain View Falls at Parkside Resort! A day as important as your wedding day deserves the perfect setting, and here at Parkside we are ready to provide just that!
Visit our events website to learn more about Mountain View Falls and our other amazing venues or give us a call at (888) 908-6066 to get started!
Book Mountain View Falls Wedding Venue