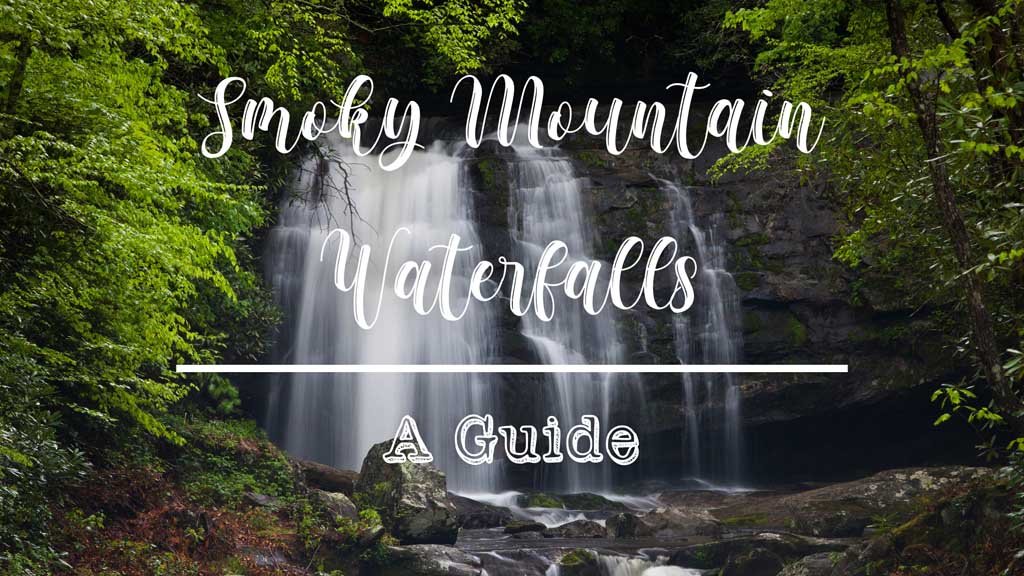 The Great Smoky Mountains National Park is an abundance of wilderness beauty and stunning natural formations, which explains why it is the most visited national park in the country. One feature that brings many a curious explore to the Smokies is the more than a hundred waterfalls scattered across the park's thousands of acres. From gently cascading falls buried deep amongst the wilds to rushing plunges that cover the scene in a blanket of mist and take your breath away with their sheer power and brilliance, and everything in-between can be found in the Smokies. Though in order to witness the glory of these waterfalls for yourself, some hiking will be required but don't worry – several of the most popular falls are easily accessible for most. If you are wondering which falls to explore during your next visit to the Smokies, keep reading!
Popular Waterfalls
Abrams Falls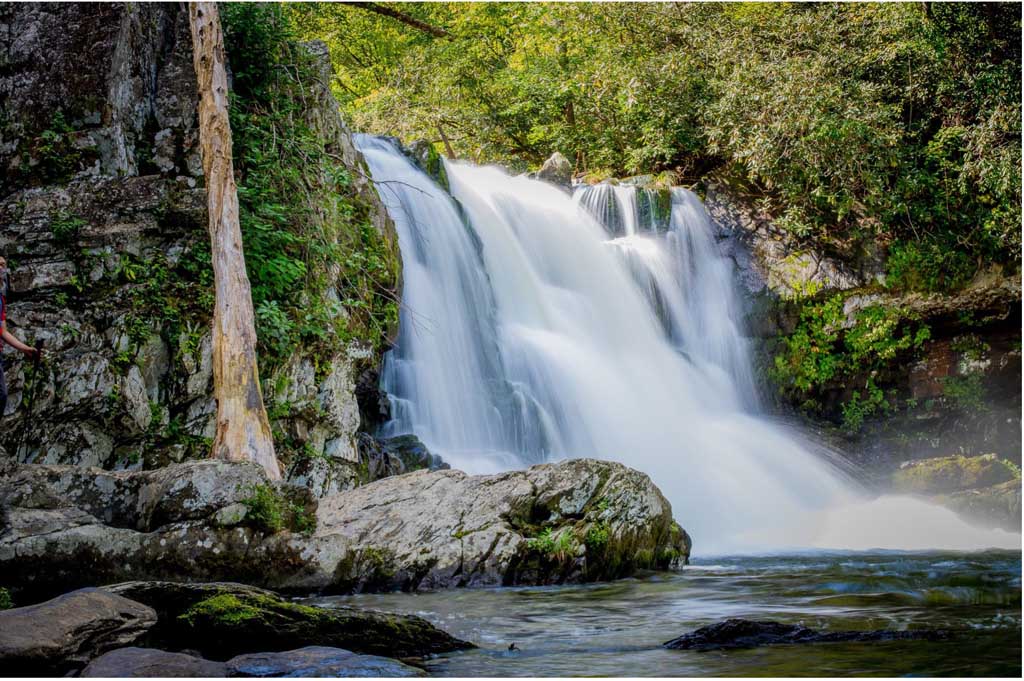 Though only 20-feet high, Abrams Falls makes up what it's lacking in height with sheer power with tons of water cascading over a sandstone brink into a deep pool below. One of the most renown falls in the park, this torrent of white water was named after Cherokee Indian Chief Oskuah, who also went by the moniker of Abram and who's village once resided a couple of miles downstream. The hike to reach Abrams Falls is five miles roundtrip through moderately difficult terrain and can take roughly four hours to complete. Please note, that for your own safety, swimming or climbing on rocks near the waterfall is dangerous and can have fatal consequences.
Laurel Falls
Arguably one of the most popular waterfalls in the park, Laurel Falls is stunning 80-foot-high cascade of rushing water, surrounded by beautiful evergreen mountain laurel in which the feature gains its name. Beginning at the Laurel Falls trailhead, the trip to get to this waterfall is roughly 1.3 miles along a partially paved path rated at a moderate difficulty. Keep in mind that due to its popularity, finding a parking spot near the trailhead during the warmer seasons can be quite the challenge.
Ramsey Cascades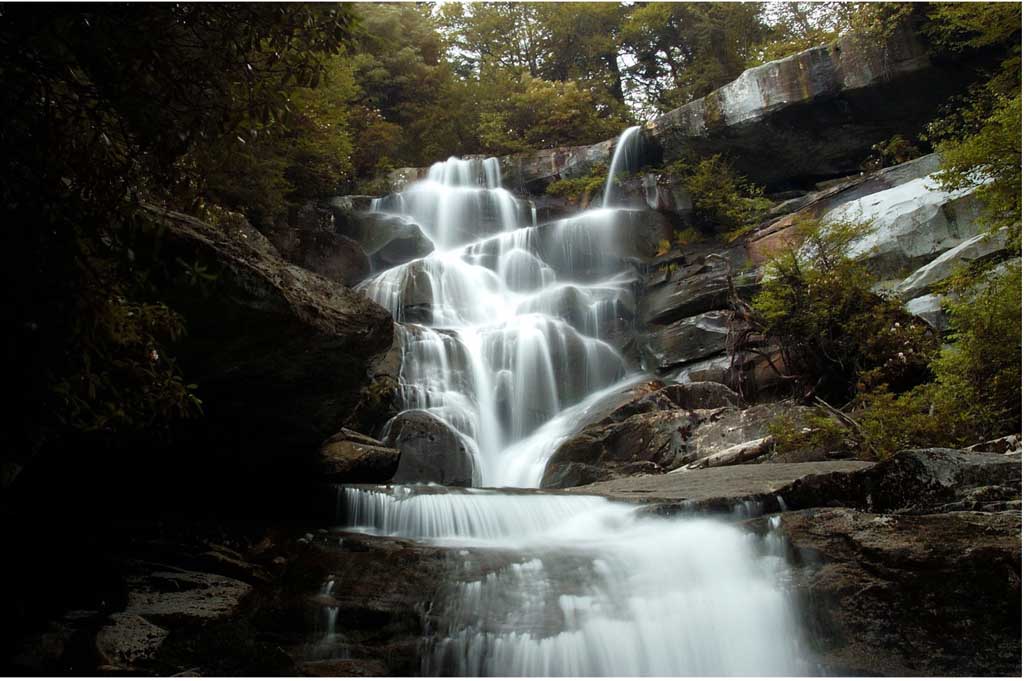 At 100- feet tall, this spectacular plunge is the tallest waterfall in the Smoky Mountains National Park and a must-see for waterfall chasers and hiking enthusiasts alike. Bordered by old-growth hardwood forest and canyon walls, Ramsey Cascades looks like the scene from a story of enchantment and fairies. The trailhead is located roughly 1.5 miles from Greenbrier Cove and is considered one of the hardest falls to get to in the park. The path to get to this waterfall is a roughly 8-mile roundtrip hike (taking on average five to seven hours to complete) through strenuous terrain and gaining over 2000 feet in elevation.
Grotto Falls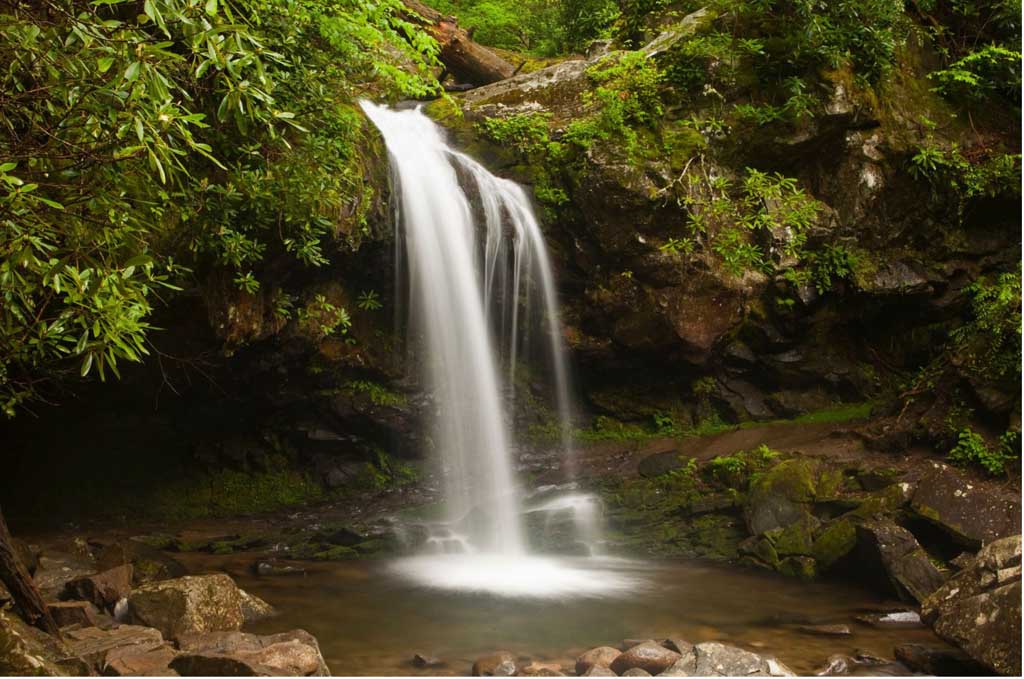 Take the Trillium Gap trail through a meandering old-growth hemlock forest to reach this 25-foot waterfall. Unique for being the only waterfall in the park that you can walk behind, Grotto Falls offers cool respite to tired hikers during the summer as well as salamanders native to the region. This 3-mile roundtrip hike is considered moderate in difficulty due to an elevation climb and takes two to three hours to complete.
Rainbow Falls
Plunging a staggering 80-feet, this secluded and gorgeous waterfall is the tallest single-drop waterfall in the Smoky Mountain National Park. Rainbow Falls gets its name from the rainbows often spotted in the ever-present mist surrounding the rapids. The falls can be reached via a 5.5-mile roundtrip trek on a moderately challenging path – the trailhead can be accessed from the Roaring Fork parking area.
Mingo Falls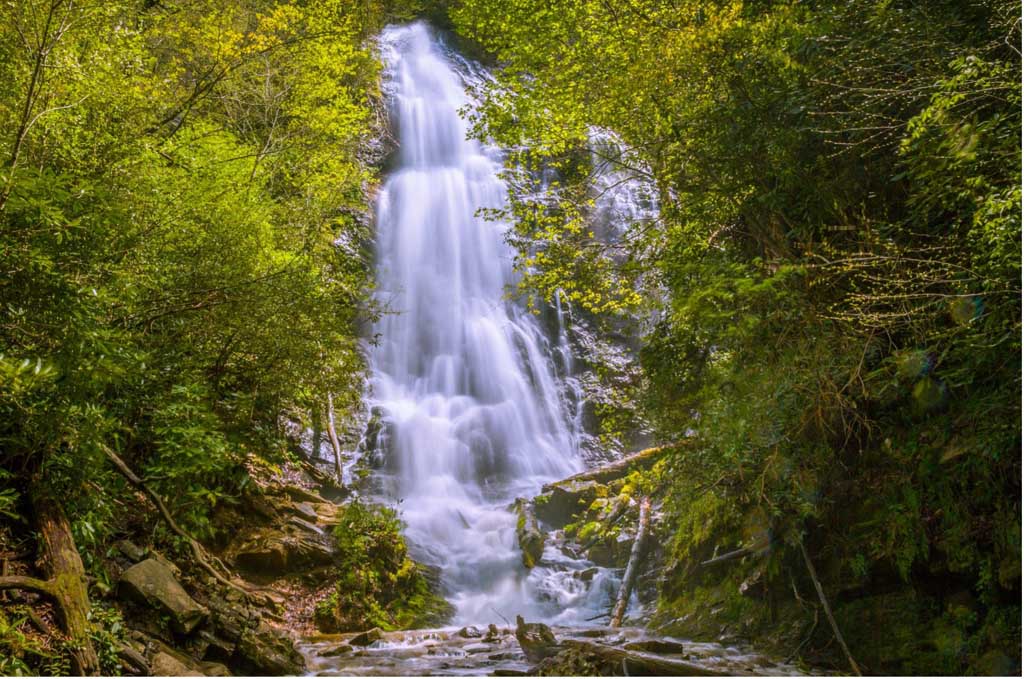 Though, technically not a Smoky Mountain waterfall because of its location being in the Qualla Boundary just outside of the park's boundaries' – Mingo Falls is not to be missed! At 120-feet-tall, this stunning downpour is one of the tallest falls in all the southern Appalachians and rather simple to get to. Take a short, but moderately difficult, 0.4-mile trek up 161 grueling steps to reach a shimmering cascade of dozens of small falls creating a breathtaking curtain of water and enveloping the scene in mist. To reach Mingo Falls, take the Pigeon Creek trail at Mingo Falls Campground, roughly five miles away from the Oconaluftee Visitor Center.
Cataract Falls
Located not far from the Clingmans Dome, the trip to Cataract Falls is considered one of the easiest hikes in the park, coming in at a little more than a mile roundtrip. This partially paved path is rated easy in difficulty level, remaining relatively flat the entire way to the charming 25-foot waterfall. Cataract Falls is one of the Smoky Mountain falls that flows year-round, though they are particularly impressive after a heavy rain.
Deep Creek's Waterfall Loop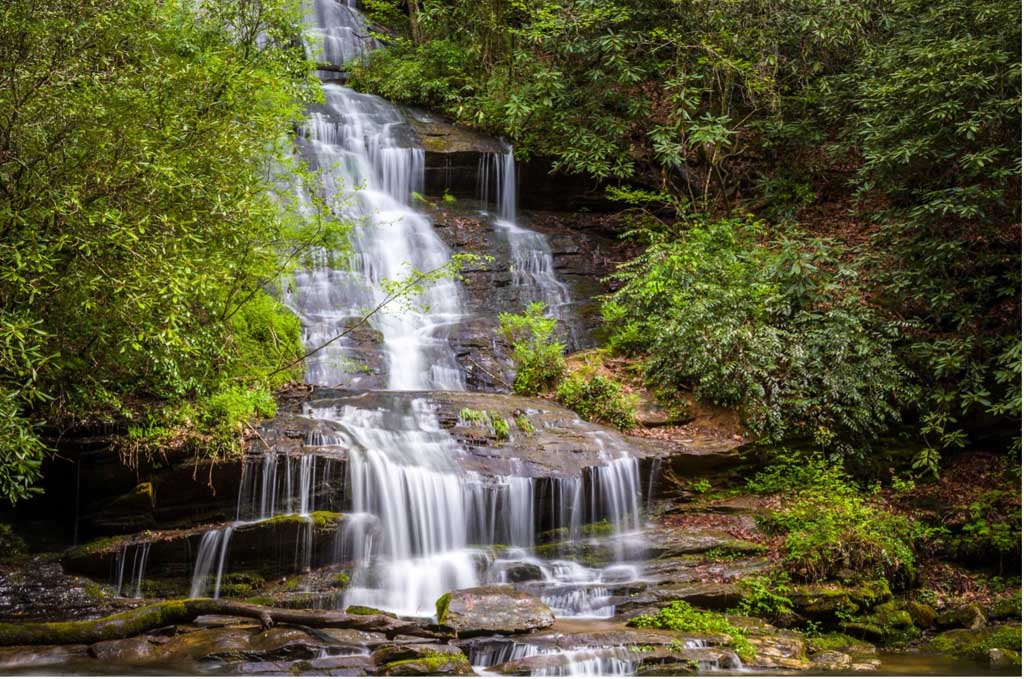 Consisting of three waterfalls, Indian Creek Falls, Tom Branch Falls and Juney Whank Falls, this roughly 2.5-mile hike is simple and with a high payoff. Starting at the Deep Creek Trailhead (which can be accessed from the Deep Creek campgrounds), take the easy and wide path to the first stop, Toms Branch Falls cascading more than 60 feet into the stream below. Another half mile along the trail and downhill to a cove, reveals the torrential beauty of Indian Creek Falls. Continuing onwards for less than a mile, on what is the most difficult portion of the trek, will bring you to Juney Whank Falls, a split-level waterfall that (when combined) plunges more than 90-feet down the cliffside. Please note that, while strongly discouraged by the National Park, Lower and Upper Deep Creek are both popular tubing sites. This means that you will have to compete for room on the trails as well as attempt to capture photos that are free of innertubes and strangers.
Off The Beaten Path
Fern Branch Falls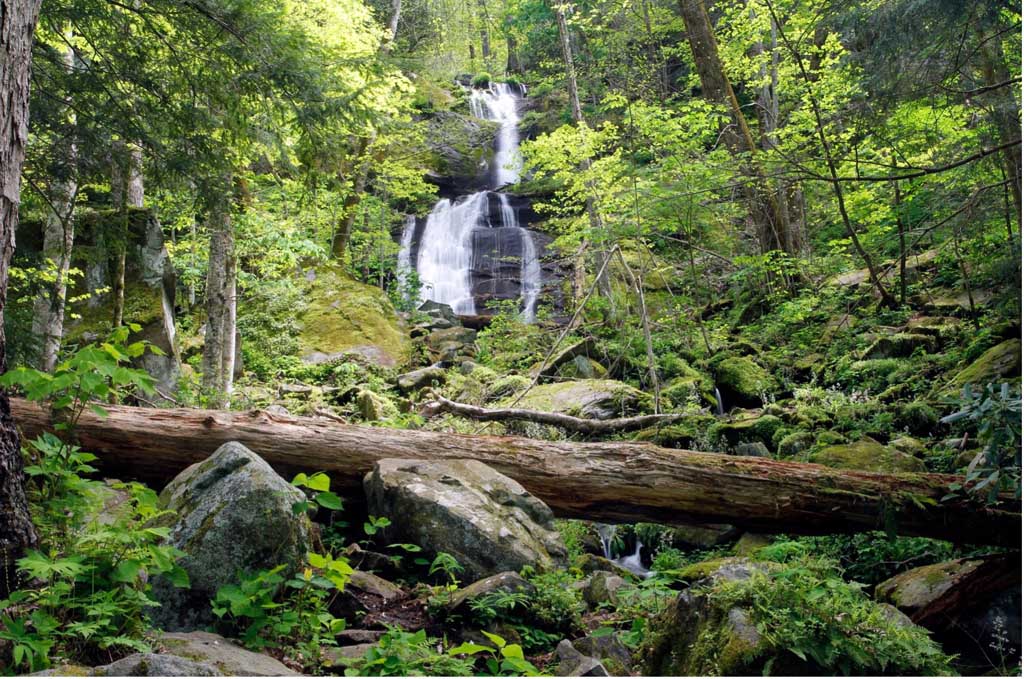 A much lesser-known waterfall, this 40-foot waterfall can be found along the Porters Creek Trail and is renown for the breathtaking beauty surrounding it. Depending on the time of year during your visit, Fern Branch Falls will vary from a trickle to a healthy flow of water, but regardless of season, it will be a beautiful sight and wonderfully tranquil. Be sure to stop and check out the Messer barn (a well-preserved example of a cantilevered barn) as well as the historical hiking cabin!
Meigs Falls
Noted as being one of the easiest falls to reach via vehicle, Meigs Falls is a lovely cascade that's easy to miss if you aren't actively searching for it. If there are members of your party that are unable to hike due to age or physical limitations, be sure to stop at the turnout on Little River Road found between Sugarlands Visitor Center and Cades Cove. Especially impressive after a heavy rainfall or during the winter, Meigs Falls are great for a short, easy stop on your Smoky Mountain adventure. Please note that the viewpoint is some distance away with no trail leading to the base of the falls.
Spruce Flats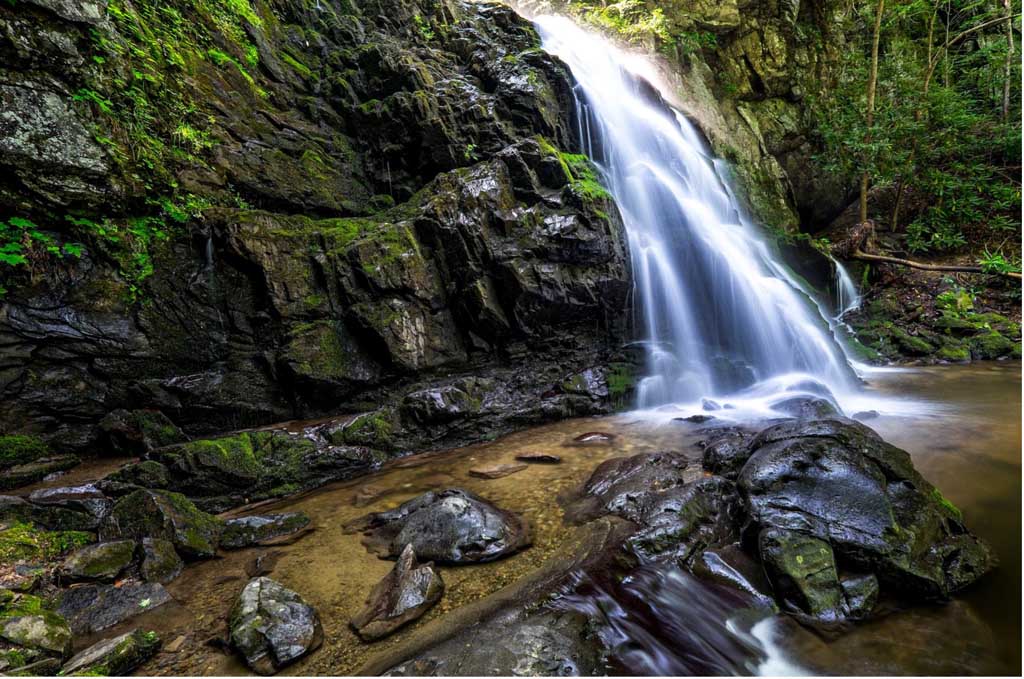 This hidden gem of a waterfall can't be found on any official map of the national park, but years of waterfall chasers and other outdoor adventurers making the trip to the falls has created a desire trail, making the journey far easier. Spruce Flats, argued as being the most magnificent falls in the park by some, is a beautiful three-tiered waterfall standing at 30-feet tall and spilling into a peaceful pool below. Roundtrip to the falls is just under two miles long and is considered an easy to moderate hike. Keep in mind that the path can become uneven and rocky in spots so it is recommended that you wear good-quality, appropriate hiking shoes.
After Chasing Waterfalls
After an incredible day of chasing waterfalls and creating priceless memories with those you care for most, head back to your luxury cabin rental at Parkside Resort. Enjoy an amazing home-cooked meal, prepared in your fully equipped kitchen, as you look over the incredible Smoky Mountain horizon from the comfort of your wrap around porch. When the sun finally sets on your wonderful day, maybe continue the fun with movie night in the home theatre or cooking some smores over the outdoor firepit. At Parkside Resort, you'll experience exceptional comfort, wonderful convenience and unparalleled customer services as you enjoy your Smoky Mountain adventure. So tell us, which waterfall will you be visiting first?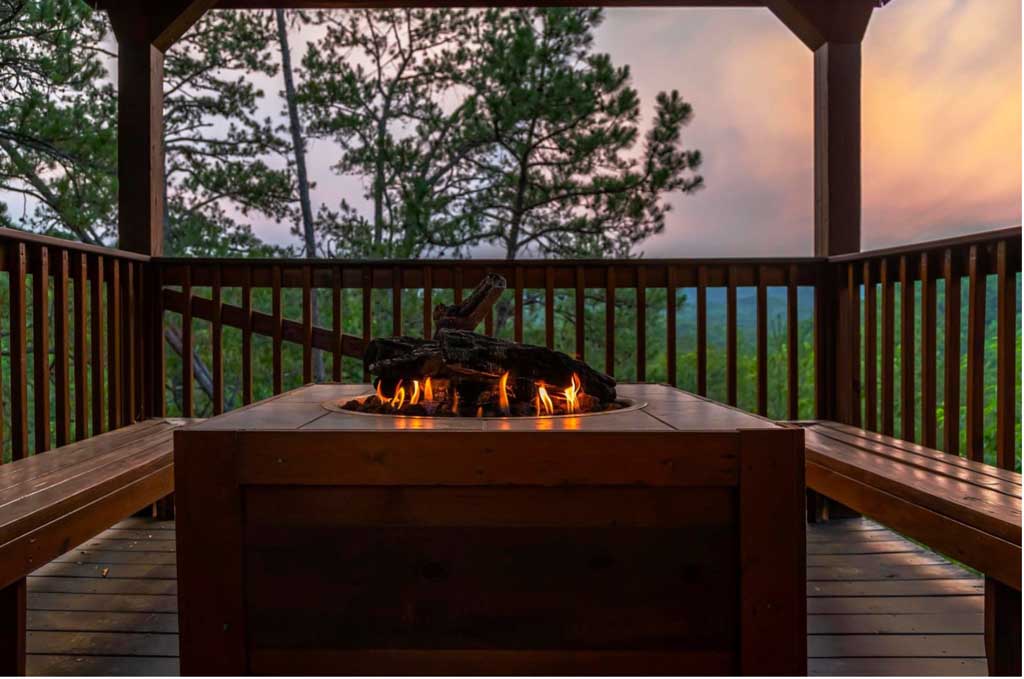 Call us today at 888-908-6066 or visit our website to learn more about our amazing accommodations!