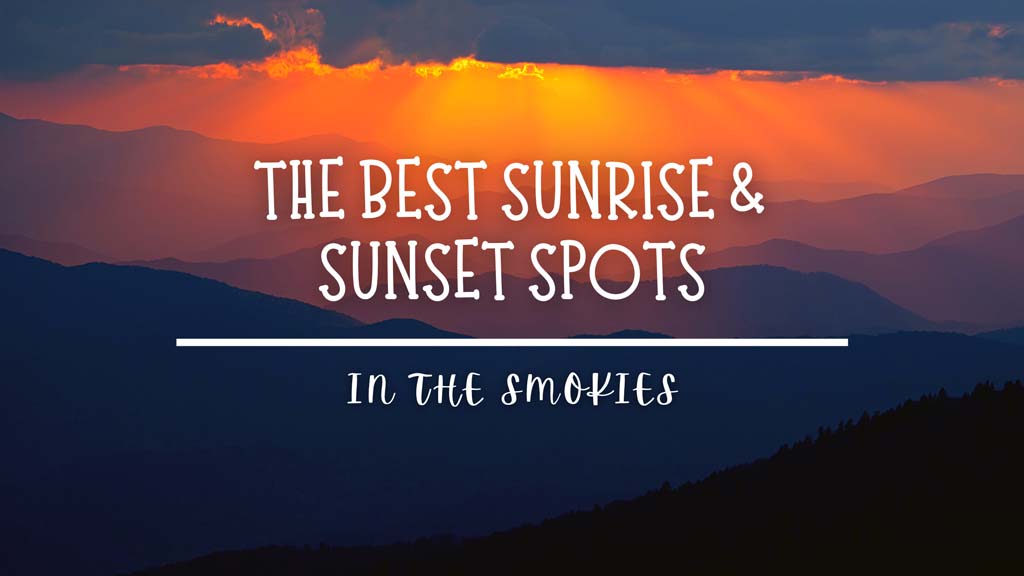 Imagine: the crisp mountain air filling your lungs as you look over the stunning sight of crimson, gold and rose colors splashed across a silvery sky, like a painted masterpiece brought to life. Now add to this daydream the auburn and amber foliage of fall and some wispy, low-hanging mist so iconic to the Smokies, and you have yourself a typical Smoky Mountain sunrise or sunset. Both the beginning, as well as the ending, of a fall day (or any time of the year) in the Smoky Mountains is a sight to behold and should each be experienced once. However, we are quite aware that not everyone is fond of early morning alarms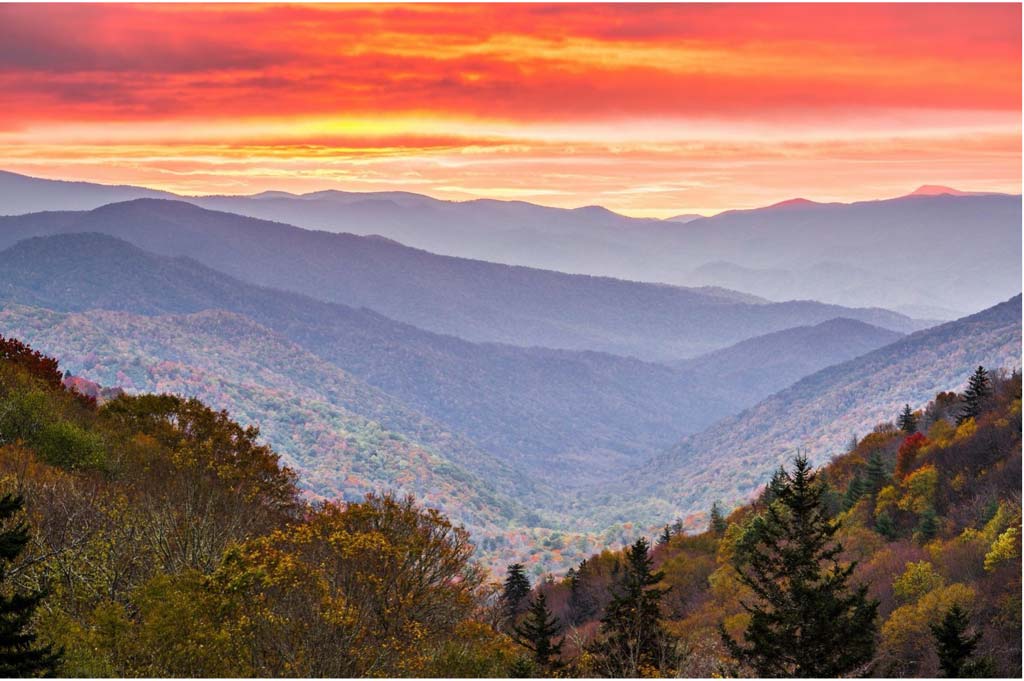 while others need to be in bed at a time that makes late night gallivanting impossible. Luckily, with our list of places perfect for autumn sunrise or sunset viewing spots, you'll be able to find a wonderful adventure to partake in this fall, regardless of whether you are early to rise or early to bed.
Sunrises
Oconaluftee Valley Overlook: This viewpoint is easy to access and provides early morning adventurers with a stunning scene of symmetrical mountain layers – bathed in a myriad of colors – making for a breathtaking sunrise photo of the Smokies. This spot is very popular with photographers looking for a "show-stopping" capture, so be sure to get there a little bit early. There's no hiking required to get to this spot, just follow the well-known Newfound Gap Road, pull into a parking spot when you reach the overlook and get ready to be amazed!
Cades Cove: For a quiet and peaceful sunrise viewing, take a leisurely drive out to Cades Cove (a roughly eleven-mile motor trail inside the Smoky Mountains National Park). Gaze at the sight of gently rolling hills, verdant valleys, and historic structures of a bygone age nestled in the shadows of the Smokies, slowly become illuminated in a tawny glow. This already serene location reaches a whole new level of tranquility in the early morning hours, just as the sun ignites the sky in magnificent color, and the world around you begins to wake. Note: this location is closed to vehicle traffic on Wednesdays (until October) in order to allow bikers full access to the trail.
Gatlinburg Scenic Overlook – Located just off of the Gatlinburg Bypass, this conveniently located viewpoint provides a great view of the gorgeous sunrise lighting up the sky above Gatlinburg. Watch as the sleepy mountain town, and world around it, begins to awaken as the sun stains the sky with brilliant hues. Be sure to snap plenty of photos and make sure to arrive ahead of time so that you can determine your ideal spot before the main event.
Gatlinburg SkyLift Park: During September and October, the Gatlinburg SkyLift Park holds their very own Smoky Mountain Sunrise event for visitors to enjoy the sunrise like never before. While this event does require a ticket to gain access to, talk about a great way to kick off your day exploring everything the Smoky Mountain region has to offer! Roughly an hour before dawn, ride the ski lift up to the longest walking suspension bridge on the continent to enjoy an unforgettable experience. Make sure to purchase your tickets in advance so you don't miss out on this magical experience!
Sunsets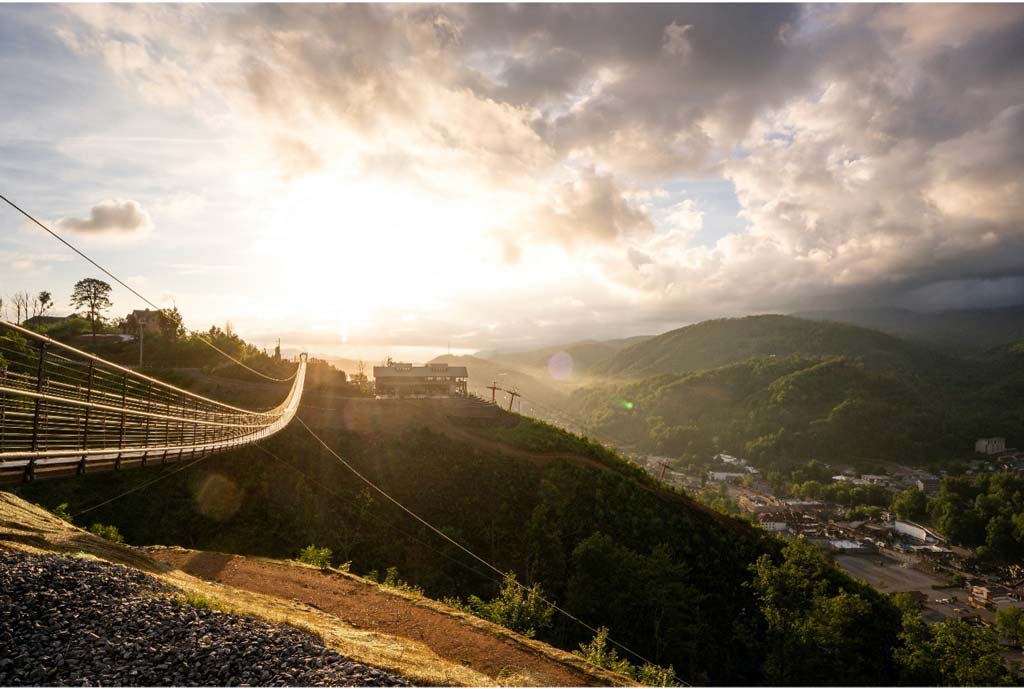 Anakeesta: The highest point in Gatlinburg, this theme park nestled at the top of a mountain, is a great location to watch the sun sink out of sight. Grab a custom cocktail and snack at The Bar at The Top Of The World for an incredible front row seat to a spectacular Smoky Mountain sunset. Or maybe a comfy rocking chair circled around a communal firepit, sounds more like your speed? Regardless, there's a perfect sunset lookout spot for you at Anakeesta.
Great Smoky Mountain Wheel at The Island; Soaring up to 200 feet high, this attraction is not only the tallest ride in the Southeast, but also offers an unbeatable panorama of the Smoky Mountains for (up to) eight guests per enclosed gondola. This is a great option for watching the sunset with the family, no need to worry about kiddos wandering off – bored of waiting for the main event or having to hike your way back to the car in the dim.
Morton Overlook: located on the Tennessee side of Newfound Gap Road (just off Highway 441), this outlook offers a breathtaking setting for your sunset photo session. Depending on the time of year, you can actually watch the sun sink below the horizon while being aligned perfectly between mountain peaks, making for a stunning photo opportunity. Since this overlook is a very popular option for sightseers and professional photographers alike, you'll want to ensure you get there at least an hour (some claim you need at least two hours) before sunset so you don't waste precious minutes looking for a parking spot.
Swinging Bridges Overlook: Near mile maker 14 on the beautiful scenic Newfound Gap Road on the North Carolina side of the park (not too far past Morton Overlook), this viewpoint is easy to get to and has plenty of parking available. Marked as "Swinging Bridges Quiet Walkway Trailhead" on Google Maps, it is a great pulling-off point for explorers wanting a great outlook without a ton of walking or hiking involved. Please note, that while using a GPS map system before hand to determine routes is perfectly acceptable, you do not want to rely on such a system inside the park. Due to poor cell signal, relying on Google or GPS to navigate the mountains is not recommended, instead, come prepared with paper maps. No need to put a damper on your perfect day by getting lost in the dark on the side of a mountain…
Both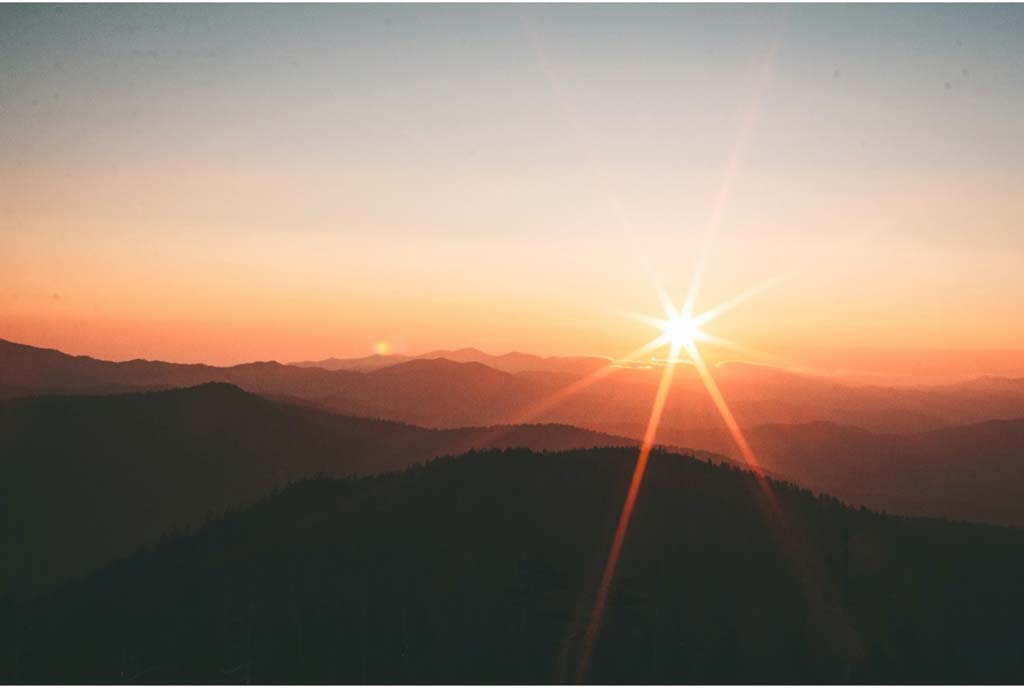 Clingmans Dome: This location offers stunning views of the Smokie Mountains and (on a clear day) even further, so it's no surprise that the Clingmans Dome is one of the most popular spots for sunrise or sunset watching. If you're hoping to catch a beautiful sunrise at Clingmans, you don't even leave the car! Park in the east-facing parking lot, get comfy and wait for the show. However, if you're aiming for a sunset viewing, you will need to walk the half-mile of paved trail in order to reach the Dome itself. Though a bit of work, this hike is well worth it for the unparalleled views you'll receive at the end of your trek as the sun slips away and night falls. The Clingmans Dome is also very popular with photographers attempting to capture a flawless Milky Way photo, so it might not be a bad idea to hang around for a while after that sunset to partake in a little world-class stargazing as well.
Your Parkside Cabin – Nestled in its own swath of peaceful forest, just minutes away from Smoky Mountain National Park, Parkside Resort's myriad of luxury cabins all offer stunning views of the beautiful sunrise and sunset, without ever having to leave the comfort of your abode. If the only thing keeping you from seeing the Smoky Mountains bathed in new or dimming rays is getting out of bed or staying out too late, then the perfect solution is to just stay in! Set an alarm for ten minutes before dawn, brew a fresh cup of coffee and curl up with a blanket out on the porch while you watch the sunrise. And the same goes for the evening. Gather around the deck-side firepit with your loved ones and a glass of wine or moonshine (when in Rome right? Or should we say Pigeon Forge?) to enjoy a breathtaking end to a wonderful autumn day.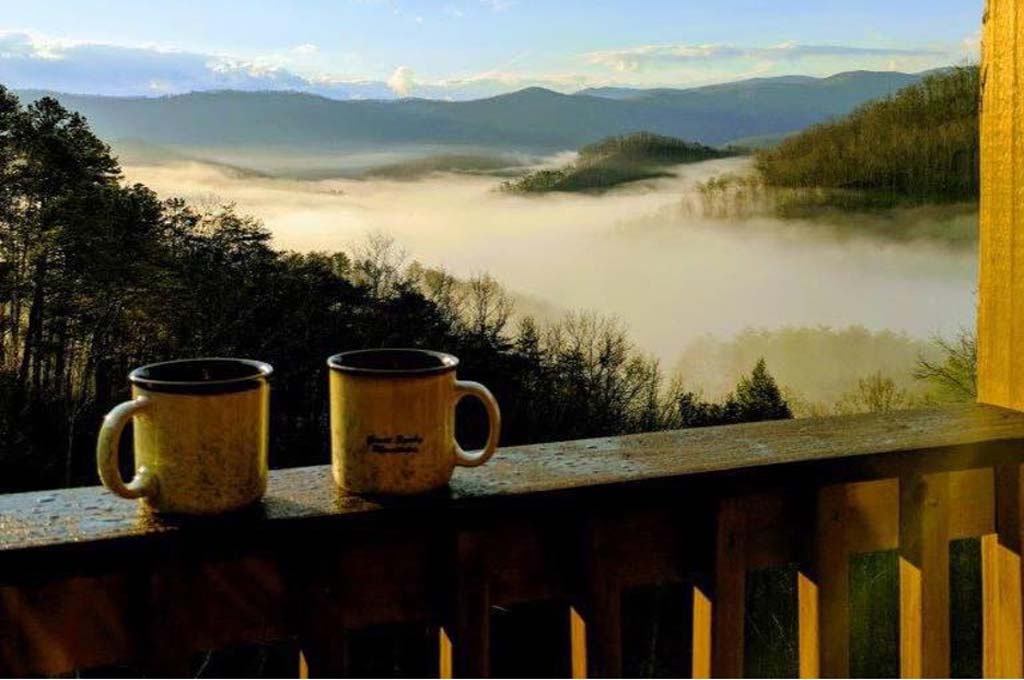 Call us today at 888-908-6066 or visit our website to learn more about our amazing accommodations!