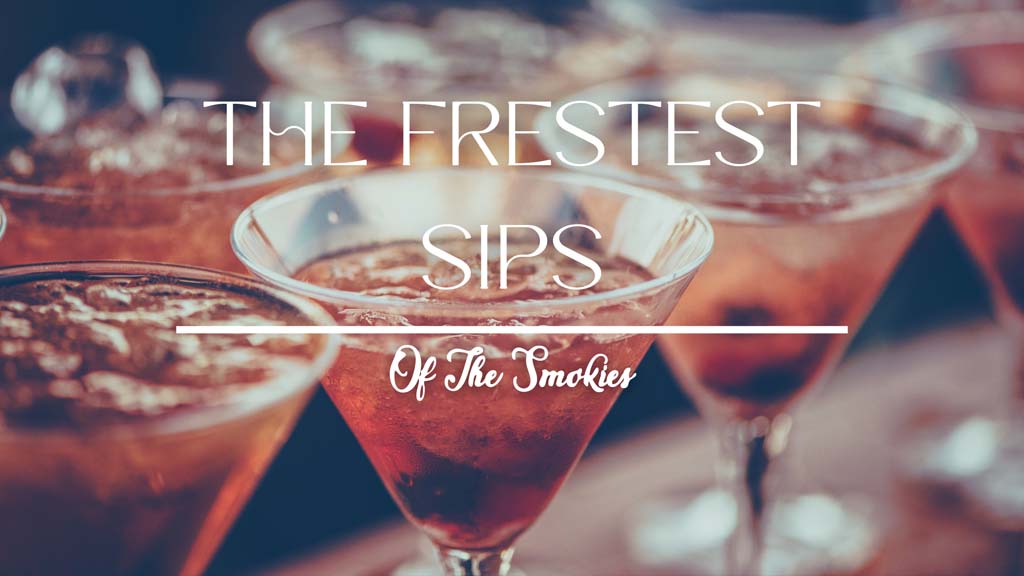 In the past year, the Smokies has welcomed several new drinking destinations. Some of these locations have already made their mark, while others are yet to open their doors, and thanks to this flurry of activity, excitement awaits in the Smoky Mountain libation scene. Whether you're planning a girl's trip, a college reunion, or a summer getaway with the family, there's a perfect Smoky Mountain watering hole out there, just waiting to be discovered. Keep reading to learn about the newest and freshest sips that have arrived in the Smoky Mountains in 2023.
Tennessee Stud Cider Co.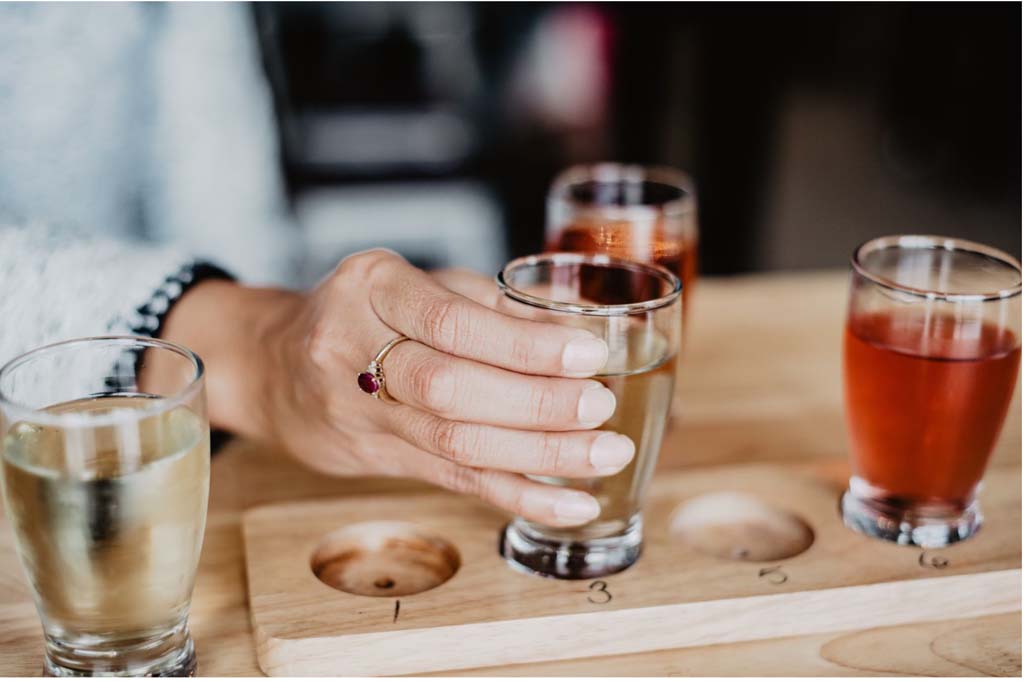 Enter a world of crisp and refreshing flavors at the Tennessee Stud Cider Tasting Room, located inside the Reagan Terrace Mall in Gatlinburg. This charming establishment is a recent branch-off of Yee-Haw Brewing, a local brewery in the area. Tennessee Stud Cider Co. has taken the cider world by storm, resulting in a new tasting room where you can explore their wide selection of ciders. With its old-world décor and attention to detail, this place offers a delightful experience for cider aficionados and curious sippers alike. As soon as you step in, the inviting atmosphere, friendly staff, and knowledgeable service will make you feel right at home. They offer an impressive and unique selection of handcrafted ciders made from carefully selected ingredients. Each sip is a memorable experience, whether you prefer a lightly-sweet, super fruity, or creamy cider. Don't forget to visit this charming pit-stop and grab a couple of bottles of Tennessee Stud cider to commemorate your Smoky Mountain adventure!
Red Jasper Beer Garden
Sometimes the crowds can become overwhelming when visiting the Smokies, especially during the summer months, and finding a quiet retreat may seem impossible. But what if we told you that the perfect oasis awaits just off Wears Valley Road in Sevierville? Red Jasper Beer Garden is an absolute must for anyone looking for a tranquil place to enjoy a cold beer with friends while immersing themselves in the natural beauty of the region. This delightful joint, formerly known as Friendly Falls, has recently been reopened under new ownership, with improvements and new additions to celebrate the Garden's revival. Situated next to a stunning private waterfall, Red Jasper Beer Garden offers breathtaking scenery, a peaceful vibe, and plenty of space to roam and play. The excellent selection of beer, cider, and non-alcoholic drinks ensures there's something for every thirsty member of your party. Additionally, the Garden hosts rotating food trucks and vendors, offering a varied selection of tasty treats that change daily. Whether you're seeking a moment of solitude or a delightful gathering with friends, Red Jasper Beer Garden provides the perfect spot to relax, enjoy excellent brews, and soak in the quiet beauty of the Smoky Mountains. Don't miss out on this newly rediscovered hidden gem, where tranquil nature, cold drinks, good eats, and great company converge.
The Pines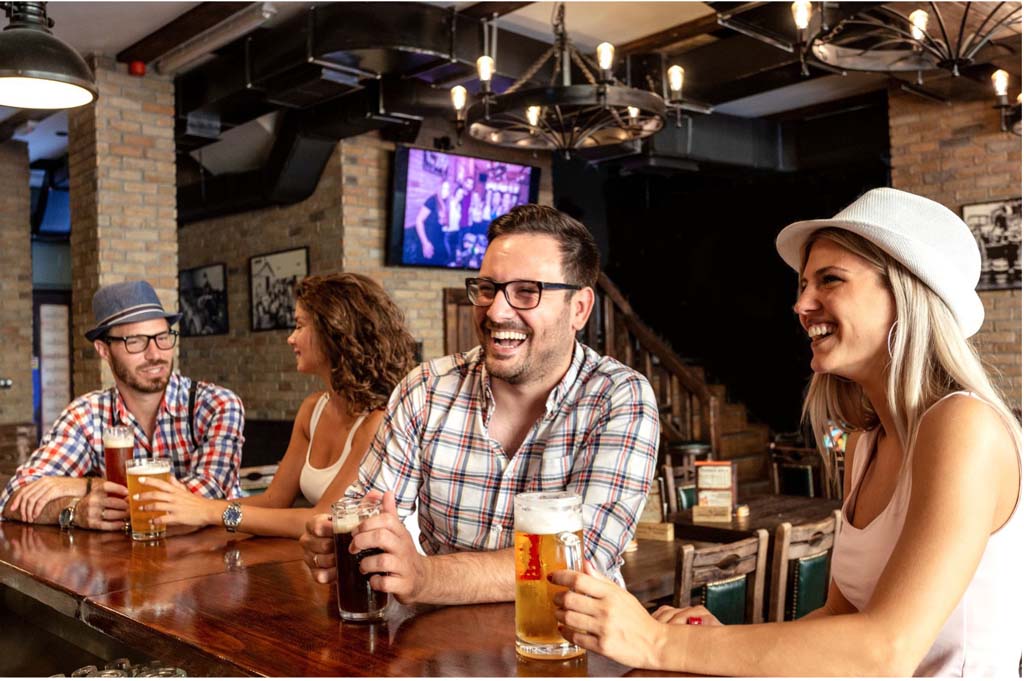 Indulge your senses and immerse yourself in local history with a custom cocktail at The Pines Downtown, located in Sevierville, TN. Housed in the historic Pines Theatre, established in 1944, this charming establishment offers both visitors and longtime residents a delightful evening out and a nostalgic trip down memory lane. Beyond fantastic décor and vibes, you can also savor a selection of specialty drinks like the Fiddle and Bow, made with house-made Spicy Tequila, or the Stardust, featuring Tanqueray Gin and Smoked Blood Orange Juice. As you sip on your drink, be sure to treat yourself to some delicious bar food essentials such as crispy fried pickles, loaded tater tots, and zingy buffalo wings. The laid-back environment sets the stage for an evening of laughter, camaraderie, and friendly competition. You can enjoy activities ranging from duckpin bowling and Dutch shuffleboard to trivia and karaoke nights. The Pines Downtown seamlessly combines unique history, great food, imaginative drinks, and retro entertainment to create an experience you won't soon forget!
The Neighborhood Beer House
For a refreshing spot that is both family and dog-friendly, make a trip to The Neighborhood Beer House in Sevierville. It is the ultimate destination for beer enthusiasts, offering more beer and ciders on tap than any other watering hole in East Tennessee. With over fifty taps to choose from and carefully curated craft beers from local and regional breweries, there's something to quench everyone's thirst. Sip and savor the hoppy IPAs, rich stouts, and refreshing ciders by ordering a flight of drinks. Don't forget to pair your beverages with tasty bites. Whether you're a beer connoisseur or seeking a new experience with your loved ones, The Neighborhood Beer House provides quality brews, delicious food, lively music, and laughter among friends.
Iron Forge Brewing Company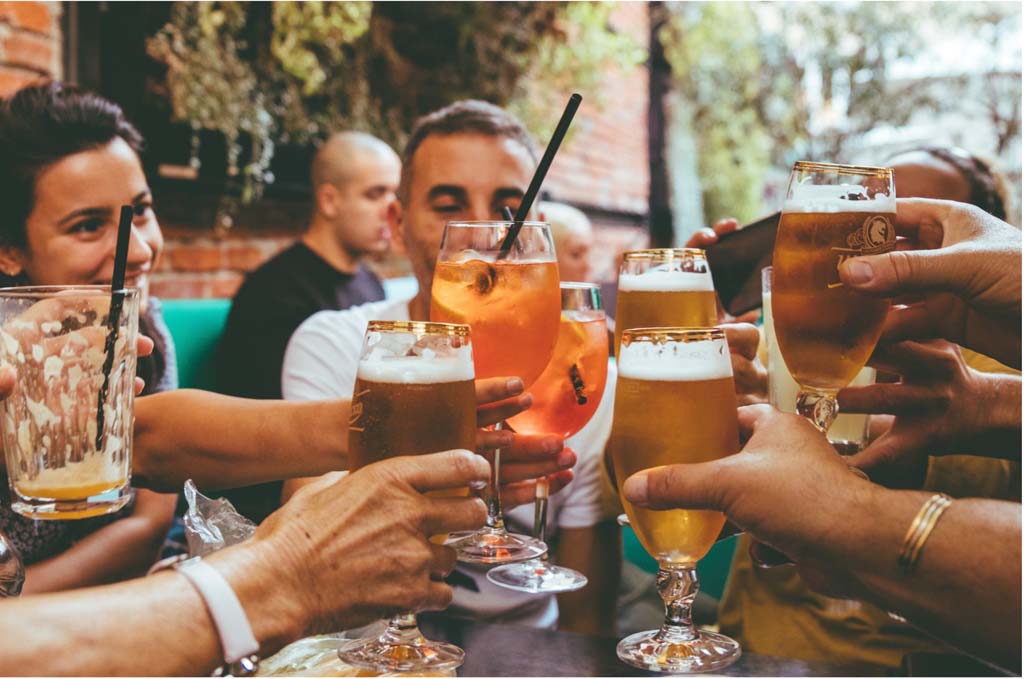 Another family and pet-friendly location on the fresh sip list is Iron Forge Brewing Company. It is nestled along the beautiful Little Pigeon River in Sevierville, TN, offering breathtaking views and a sense of serenity alongside your ice-cold lager. With a commitment to excellence, Iron Forge Brewery serves up a delightful selection of handcrafted brews, including seasonal and limited-edition varieties that will captivate your senses. If you're in the mood for something other than a stout, fear not! Iron Forge Brewing Company also offers tasty cocktails, dinners, and appetizers. Between the fantastic drinks and goodies, stunning views, indoor and outdoor seating options, live music, and friendly staff, this brewery has something for everyone. Whether you're looking for a fun night out with friends or a relaxing afternoon with family, Iron Forge Brewing Company is the perfect spot to unwind, enjoy great beer, and create lasting memories.
Company Distilling
Company Distilling in Townsend, TN, is a must-visit destination for craft spirits served with a side of peaceful serenity. The distillery is set along the Little River, with the Townsend greenway running along the front of the 13.5-acre property, providing a beautiful backdrop for your experience. Take the time to explore Company Distilling's production area, bottle and retail shop, and bar. The cozy and inviting tasting room offers portfolio tastings and signature cocktails. Enjoy award-winning spirits as the knowledgeable staff guides you through the different libations and answers any questions you may have. The outdoor patio is the perfect spot to relax, sip on a refreshing drink, savor a delicious meal, and take in the stunning mountain views. Overall, Company Distilling is a top-notch distillery that offers a unique and memorable experience for anyone who stops by.
Jason Aldean's Rooftop Bar (Coming Soon)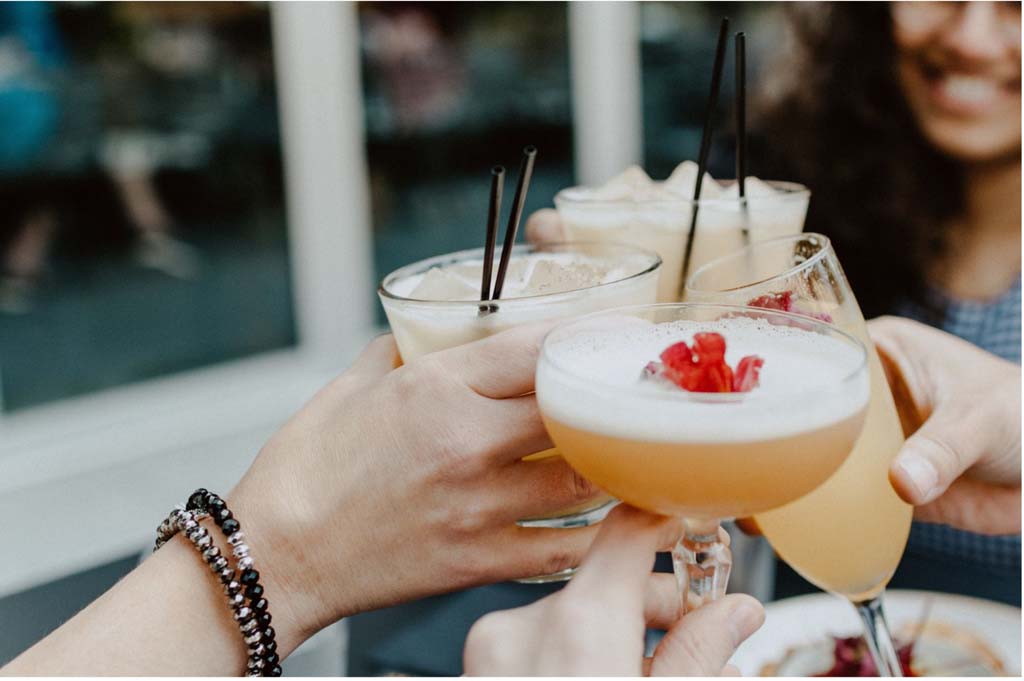 Set to open very soon in Gatlinburg, TN, Jason Aldean's Kitchen and Rooftop Bar will be the second location of the popular restaurant and bar. The new location, currently under construction, will be conveniently situated on the Parkway between the Ole Smoky Barrelhouse and Ben & Jerry's. The restaurant will feature a menu of Southern homestyle cooking, including signature dishes like Nashville hot chicken and shrimp and grits. The rooftop bar will serve up fresh and tasty mixed drinks under the beautiful Smoky Mountain sky. Although the opening date for the restaurant has not been announced yet, it is expected to be any day now.
1919 Society (Coming Soon)
The 1919 Society is a new prohibition-style speakeasy set to open later this year in Sevierville, TN. Located inside a historic, two-story bank vault, this establishment promises to transport patrons back to the roaring twenties with its vintage theme and atmospheric drink menu. Visitors can expect a one-of-a-kind experience where they are transported through time once they step through the threshold of this gold-age destination.
The Yard Milkshake Bar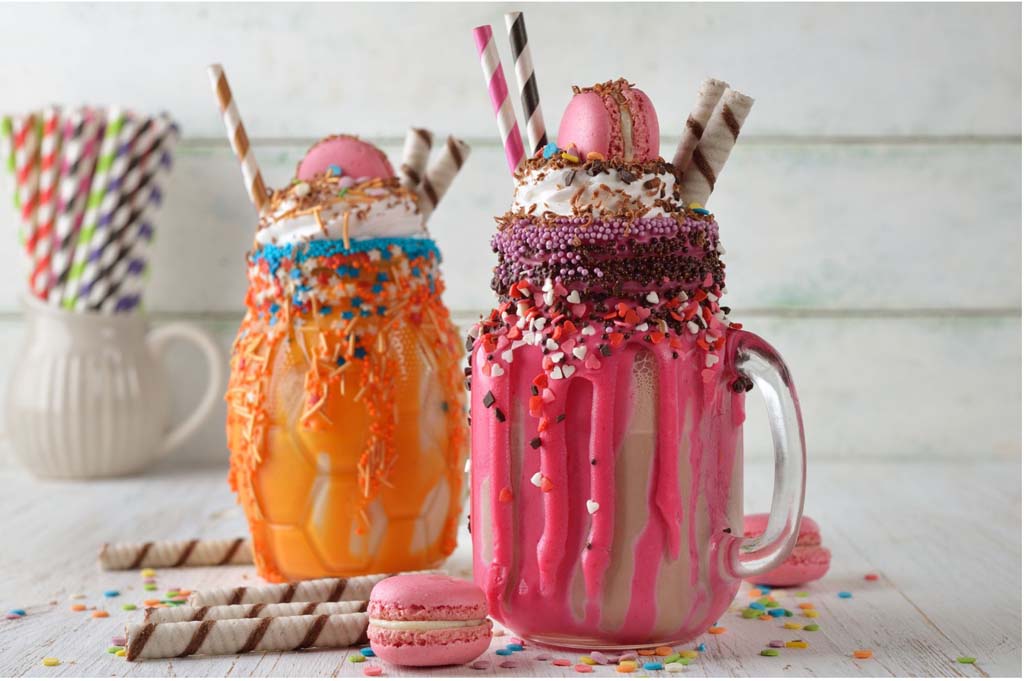 If you have a teetotaler in your group who wants to partake in the fun drinks without reducing inhibitions, make your way down to The Yard Milkshake Bar at The Shops at Lumberjack Square in Pigeon Forge. This custom milkshake shack is the perfect non-alcoholic treat destination for anyone with a sweet tooth! The Yard's colorful and enticing menu features an array of creatively crafted milkshakes that defy the laws of gravity and make your mouth water. Indulge in epic milkshakes topped with a tower of goodies like cookies, brownies, and candies, or try a variety of edible cookie doughs and treats. There's a uniquely mouth-watering treat for everyone in the party to enjoy!
When The Bar Closes
After an unforgettable day of exploring the newest and freshest sips in the Smoky Mountains, it's time to grab an cab or rideshare back to your cozy cabin at Parkside Resort. Whether you've immersed yourself in the world of crisp ciders, savored exceptional brews, indulged in custom cocktails, or enjoyed delectable milkshakes, we're confident you'll be ready to call it a night in the comfort of your private mountain retreat. Once you get in, take a moment to relax on the porch, enjoying the starry night sky or try warming up by the crackling fire or in the bubbling hot tub before hitting the hay. And if you wake up feeling a little weary, fear not! The on-site general store has your back with pain relievers and ice-cold water to start the new day. So, what are you waiting for? You have a Smoky Mountains libations trip to plan!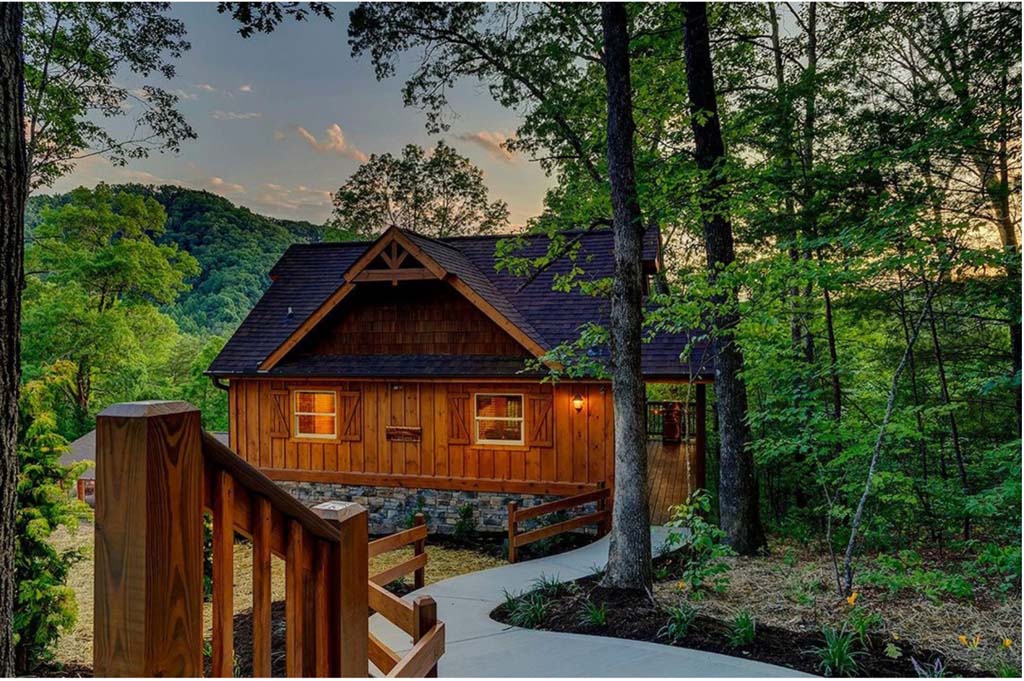 Still looking for the perfect accommodations during your Smoky Mountain bar crawl? Check out Parkside Resort for the newest luxury cabins in Pigeon Forge and the surrounding area. To learn more or to book our premium accommodations, call us at 888-908-6066 or visit our website today!