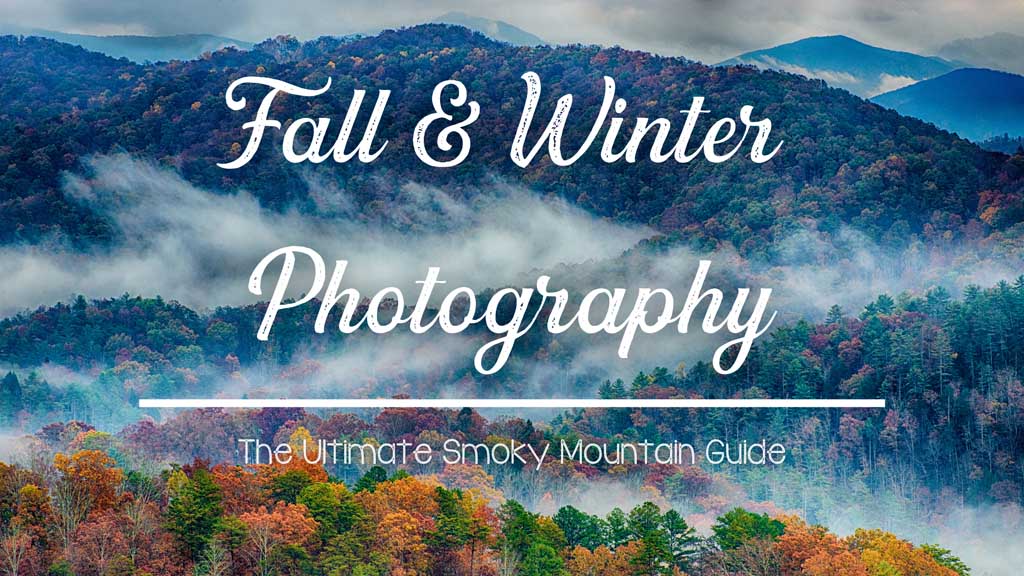 Nestled along the border of North Carolina and Tennessee, the Great Smoky Mountains are a breathtaking natural wonder all year round. But it's during the fall and winter seasons that this pristine wilderness transforms into a photographer's wonderland. Picture this: vast expanses of dense forests turning every shade of red, gold, and orange in autumn, and snow-draped peaks and crystalline icicles glistening under the winter sun. If you're passionate about photography, the Smokies in the fall and winter are where your camera need to be this year.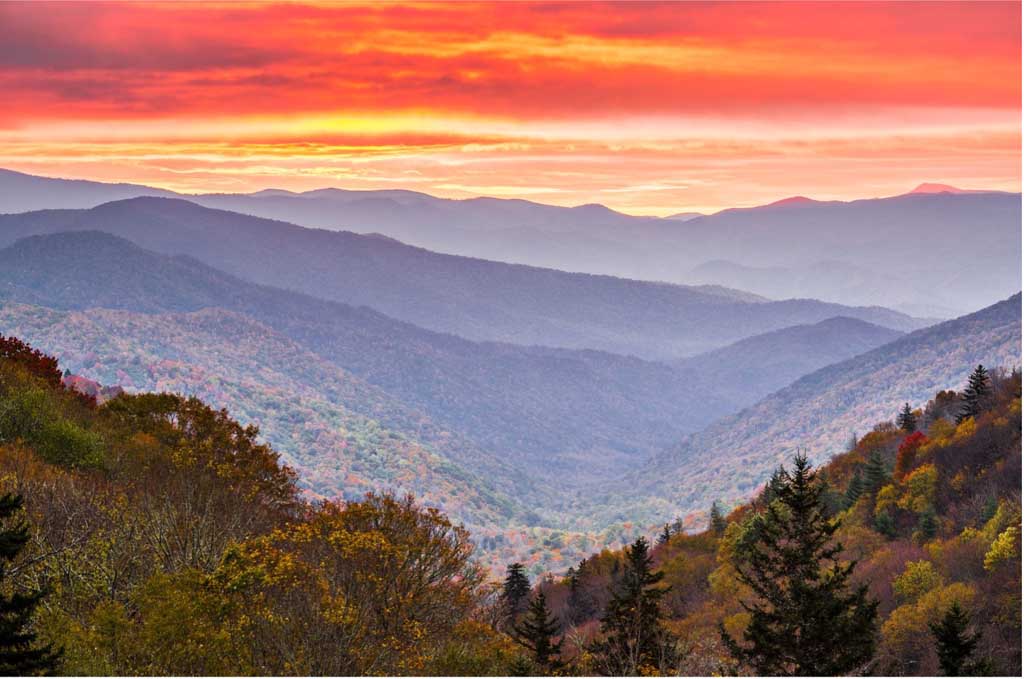 To get you started, we've put together a brief guide of the best tips, tricks and locations to capture the essence of the Smoky Mountains during these magical seasons. From vibrant fall foliage to serene winter landscapes, we've got you covered! Whether you're a seasoned pro or just passionate about photography, you'll find valuable insights to make your Smoky Mountains photography truly exceptional.
Fall Foliage Photography Locations
The Smoky Mountains are a world-renown destination for capturing the vibrant colors of autumn. The ideal time of year to witness the Smoky Mountains draped in its full array of brilliant fall colors is from late September to early November, depending on the elevation and weather conditions of where you are in the park. The colors usually peak around mid-October, but you can find pockets of color throughout the season, in the lower elevations. The park has more than 100 native tree species, most of them deciduous, that create a stunning display of gold, red, yellow, and orange you won't want to miss. Some locations in the Smoky Mountains for fall foliage photography we suggest visiting are:
Cades Cove: When the first hints of autumn paint the Smokies, Cades Cove comes alive with vibrant colors. An 11-mile loop road takes you through this historic valley, surrounded by mountain views and teeming with wildlife. The best time for fall foliage here is late September to early November, with mid-October being the best time to capture this fiery display. You can drive, bike, or take a leisurely hike to explore this incredible setting, complete with quiet nooks and moments seemingly frozen-in-time, just waiting to be captured. Be prepared for some crowds during peak season.
Clingmans Dome: For a truly elevated perspective of the fall beauty, head to Clingmans Dome, the highest point in the park at 6,643 feet. While a bit more challenging to access, the panoramic views are worth every effort. A half-mile steep hike takes you to the observation tower, where you can capture 360-degree views of the surrounding mountains and valleys. The best time for fall foliage here is similar to Cades Cove, with mid-October as the peak time to visit. Be warned however, due to the higher elevation and resulting weather conditions, the road to Clingmans Dome can sometime close due to safety concerns, so check ahead of time.
Mount Le Conte: To truly immerse yourself in the fall colors, and break a sweat, embark on a journey up Mount Le Conte, the third-highest peak in the park. With several trails to choose from, you'll encounter waterfalls, cliffs, and enchanting old-growth forests along the way. The Alum Cave Trail is a favorite amongst locals and travelers alike, passing by landmarks like Arch Rock, Inspiration Point, and Alum Cave Bluffs. Plan your visit from late September to early November, and keep your eyes open for the dazzling display of autumn hues.
Winter Landscape Photography Locations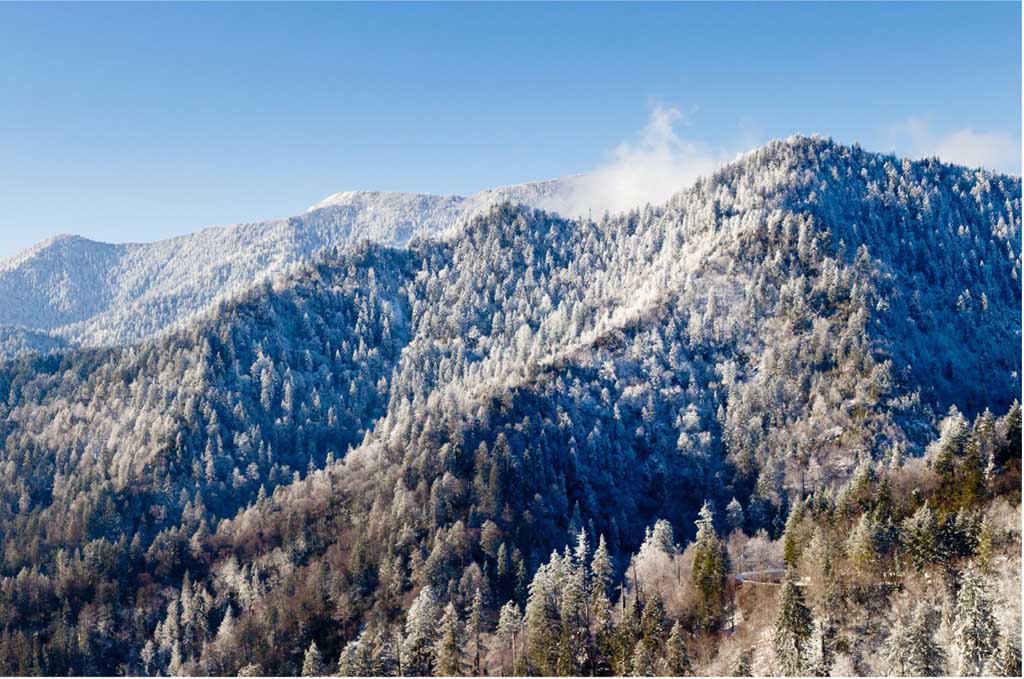 The optimal time to visit the Smoky Mountains for winter landscape photography is from late December to early March, when the snowfall is most likely and the temperatures are low enough to create frosty conditions. However, you should also be prepared for road closures, icy trails, and unpredictable weather. If you're wanting to capture waterfalls and streams incased in sparkling sheets of ice, you should venture out after an extended cold spell when the temperatures drop below freezing for several days in a row. This will create ice formations and icicles that add interest and texture to your photos. However, due to weather and seasonal closures, several roads and trails are closes during the winter months, make sure to plan accordingly! For some easier to get to – but just as stunning – locations for amazing winter landscape photography in the Smokies, check out the following:
Newfound Gap Road: This scenic drive is an excellent choice for capturing winter landscapes in the Smoky Mountains. Along the way, you'll find picturesque spots such as Collins Creek, Newfound Gap, and the Mingus Mill. These areas offer unique opportunities to photograph the tranquil beauty of the mountains and valleys of the area during the winter.
Oconaluftee River Overlook: This pristine river, spanning ten miles with an elevation change of over 2,000 feet, offers captivating winter photography opportunities. The Oconaluftee River Overlook provides a fantastic view of the river valley and the surrounding mountains, creating a breathtaking scene (especially during sunrise and sunset).
Laurel Falls: Laurel Falls, one of the park's most popular waterfalls, is a unique winter photography subject. Accessible via a 2.6-mile roundtrip paved trail, this 80-foot waterfall is particularly striking in the winter when it partially freezes and is surrounded by glistening snow. Though a bit of a trek, winter is one of the only times during the year that you might find yourself alone while making your way down the trail and to the falls – we recommend you take advantage of it!
Essential Photography Gear & Tips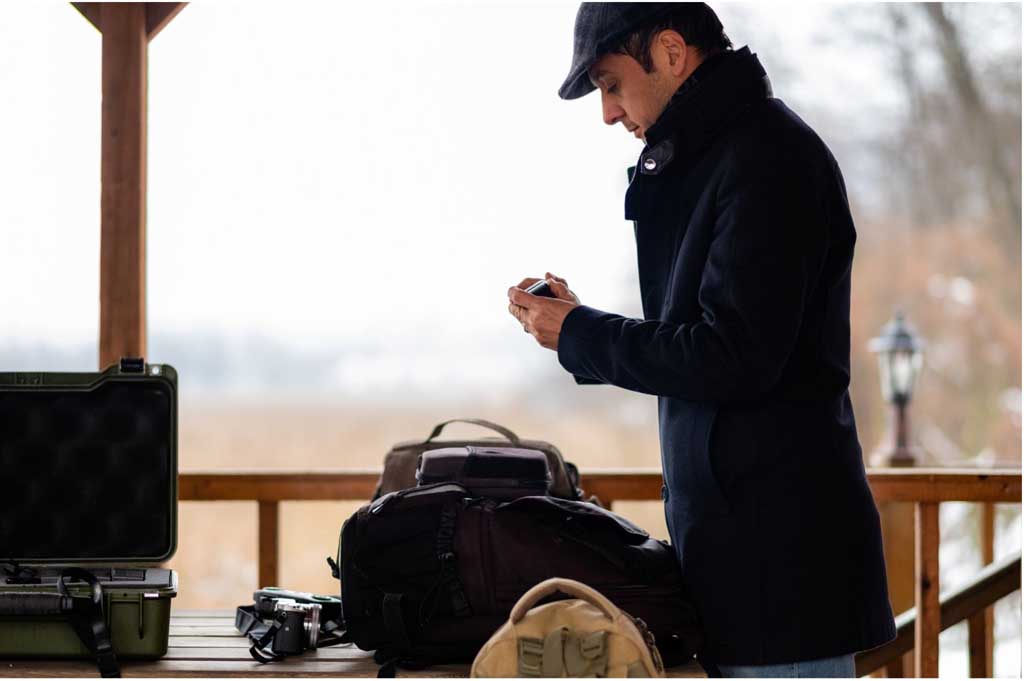 Wide-Angle Lens: For landscape photography, a wide-angle lens is your best friend. It allows you to capture the magnificence and beauty of the scenery, from vast mountain vistas to intimate forest details.
Telephoto Lens: If you want to zoom in on distant subjects like wildlife, waterfalls, or mountain peaks, a telephoto lens is essential. It also helps isolate your subject from the surroundings.
Tripod: The most crucial accessory for steady shots, especially in low-light conditions. A tripod helps avoid blurry photos and enables slower shutter speeds and smaller apertures for enhanced depth of field.
Polarizing Filter: This filter enhances colors and contrast in your photos, reducing glare and reflections, especially from water, snow, or ice.
Neutral Density Filter: Ideal for creating long exposure effects, such as silky smooth water or blurred clouds. It reduces the amount of light entering your lens.
Remote Shutter Release: Prevent camera shake and vibrations, particularly during long exposures and when using a tripod and a neutral density filter.
Rain Cover: Protect your camera and lens from the unpredictable and harsh mountain weather. You don't want to risk damaging your equipment or missing a shot due to rain, snow, or mist.
Extra Batteries and Memory Cards: Cold weather can drain batteries faster, so ensure you have sufficient spares. Likewise, have enough memory cards to store all your photos without the risk of running out of space.
Staying Safe During Cold Weather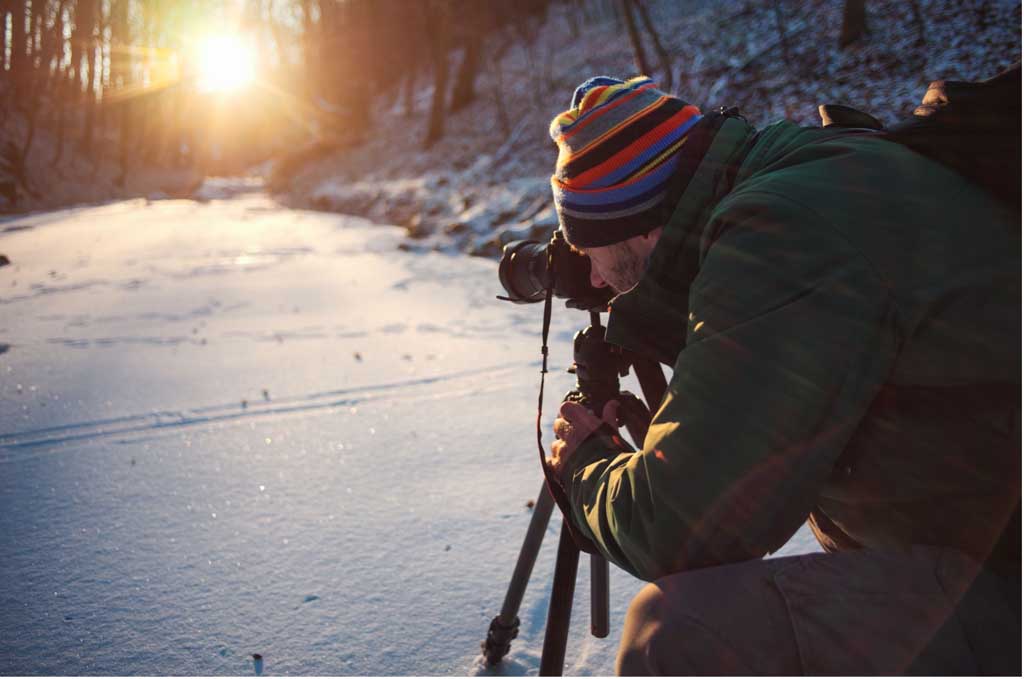 Capturing the beauty of the Smoky Mountains during the fall and winter is exhilarating, but safety is crucial:
Dress warmly and in layers, including gloves, scarves, and boots.
Protect your camera and lenses from moisture and condensation with a waterproof bag.
Be cautious of slippery surfaces and avoid touching metal objects with bare hands.
Plan your trip, check the weather forecast, and carry emergency supplies.
Take breaks, keep warm, stay hydrated, and be mindful of your physical condition.
Pictures That'll Last A Lifetime
The Smoky Mountains come alive with color in the fall and offer a serene, snow-covered tableau come the winter. To capture the essence of these seasons, it's essential to choose the right locations and carry the proper photography gear. Doing so will result in stunning photographs that will last a lifetime and be the perfect reminder of your time in these smoke-covered peaks. The Great Smoky Mountains National Park is an expansive canvas for photographers, whether you're capturing the vibrant hues of autumn or the tranquil winter landscapes.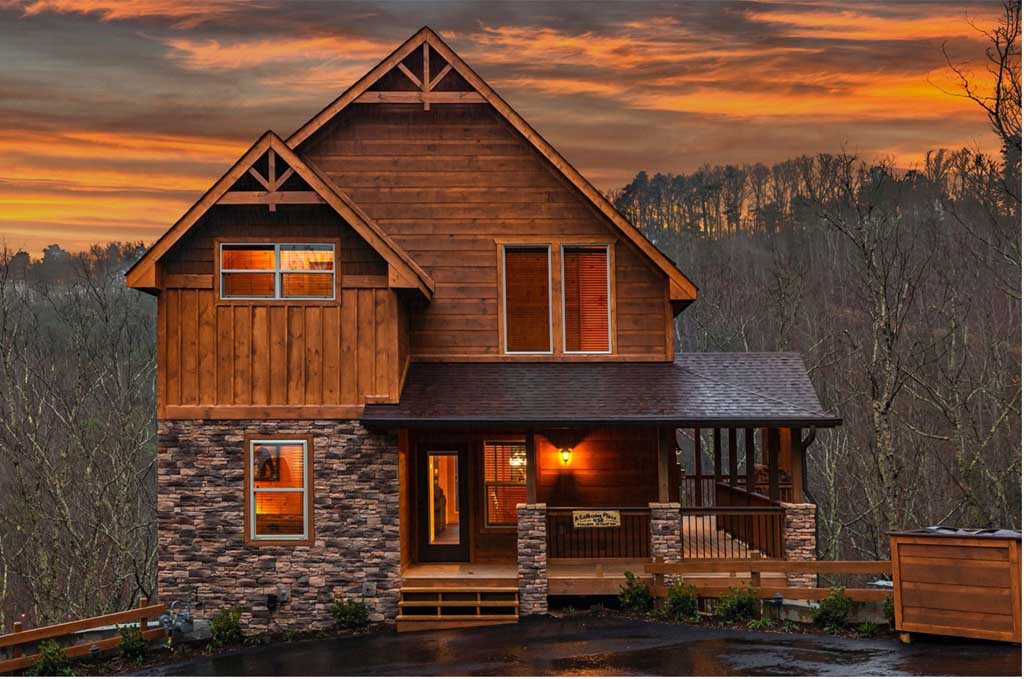 Make your visit to the Smoky Mountains even more extraordinary by staying in absolute luxury at Parkside Resort, just minutes away from the Parkway in Pigeon Forge. Our fully equipped and beautiful appointed cabins offer the perfect blend of lavishness, relaxation and close proximity to the breathtaking scenery of the Smokies. Regardless of whether you capture that legendary shot or not, by booking your stay with Parkside, we can guarantee that your stay will be something magical. Remember, the magic and beauty of the Smoky Mountains are calling – are you ready to capture it?
Call us today at 888-908-6066 or visit our website to learn more about our amazing accommodations!