Why You Should Have Your Fall Wedding At Parkside Resort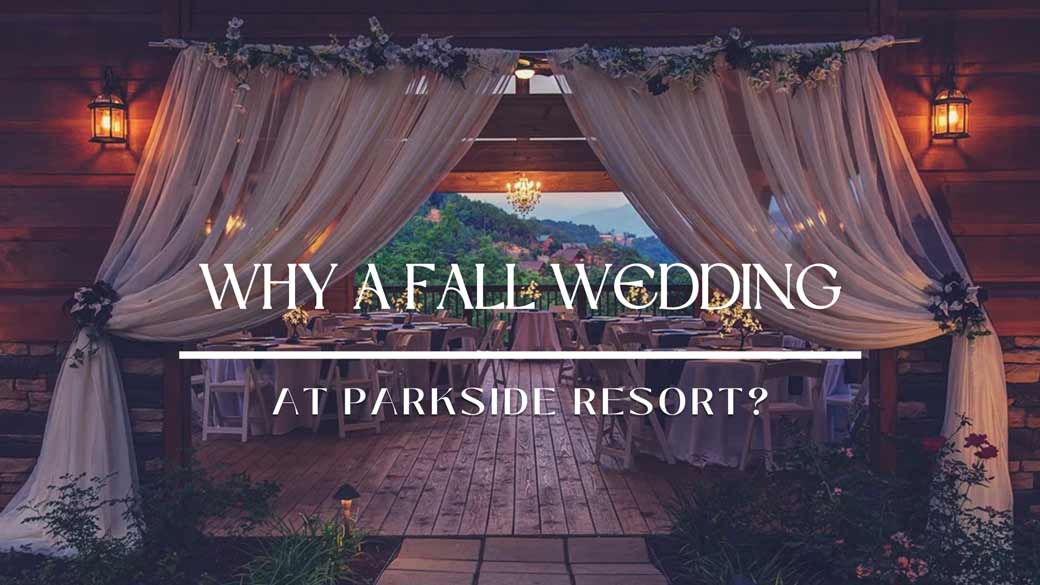 Every year, the Smoky Mountains welcome thousands of lovebirds to its rustic beauty to tie the knot and, come the autumn season, you can't go a mile down the road without passing a ceremony or reception! With breathtaking scenery (that fall foliage is marvelous), a vast selection of excellent wedding vendors, and a seemingly endless list of activities and adventures to choose from, the Smoky Mountains is the perfect wedding destination. However, with the region being so popular with soon-to-be spouses, finding the venue that fits all of your needs while matching your matrimonial vision can feel next to impossible. Luckily, here at Parkside Resort we have venues that, while all lavish and stunning, are able to fulfill all sorts of different wedding day requirements. Read on to find out why Parkside Resort is the perfect place for your fall-time wedding.
3 Beautiful Venues:

Smoky Mountain Pavilion: This location sets the stage for a truly magical mountain wedding and getaway. With customizable packages that include lodging at our two adjacent luxury lodges, you can house everyone in your wedding party, right on site. Enjoy this stunning open-air venue with direct balcony access to splendid mountain views, including glass garage doors for a built-in rain plan. Capable of accommodating up to 70 guest, this gorgeous pavilion is perfect for ceremonies and receptions alike. Complete with dance floor, catering nook, private restrooms, charming tea and bistro lighting and simple yet gorgeous design, this venue is perfect for making marital memories!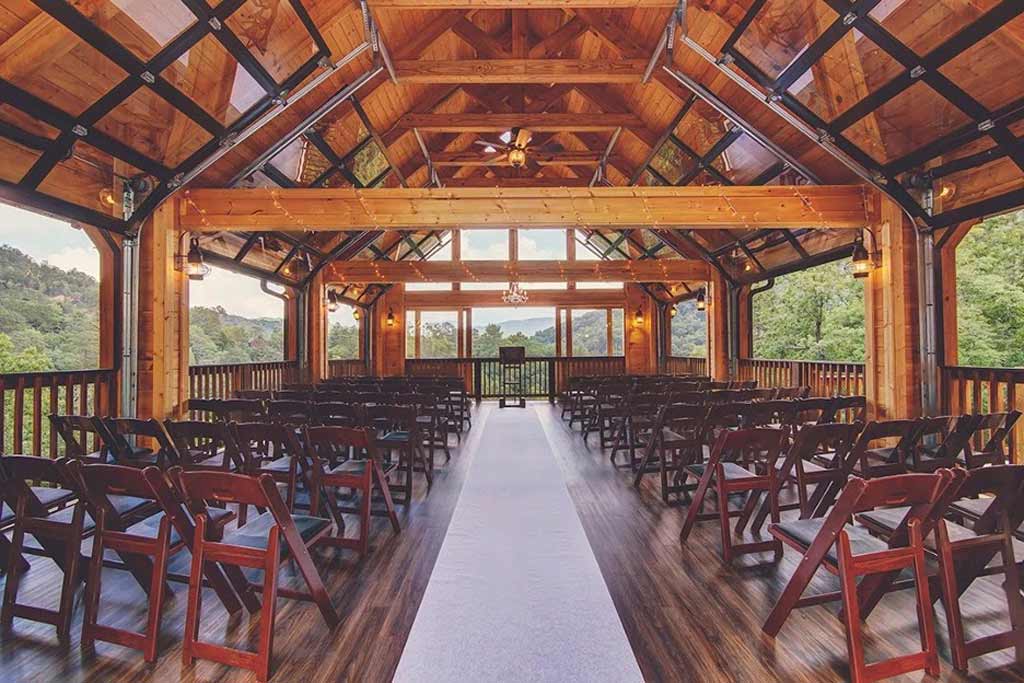 Sky View Pavilion: Perfect for more intimate weddings, this charming open-air pavilion is tucked away on its own private section of the resort and is seemingly nestled in the sky. Enjoy breathtaking vistas and crisp mountain air in this venue designed with both ceremonies and receptions in mind. Complete with rustic stable lights casting a warm glow off the wood exterior and strings of fairy lights hanging from the rafters, this enchanting forest retreat is able to host up to 50 guests for hours for making magical memories.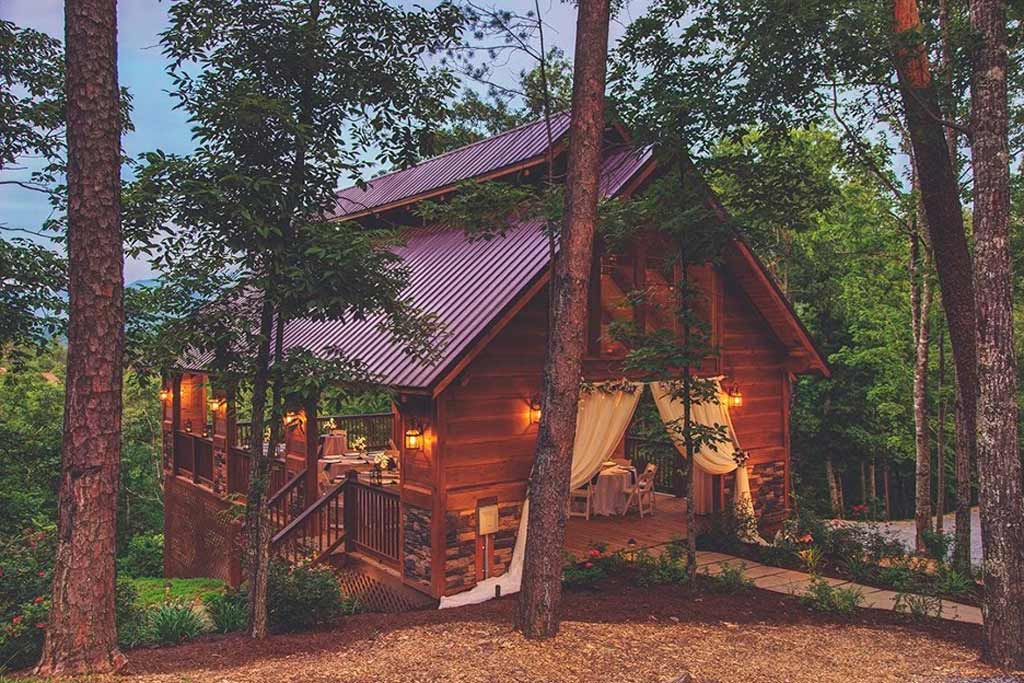 Mountain View Falls: Our only outdoor space and the largest venue on-site, this lovely location truly capitalizes on the natural beauty of the Smoky Mountains. If you have a larger group attending your special day, this is the venue for you! Capable of hosting up to 90 guests, our very own mountain waterfall complete with a quaint stone pathway offers the perfect backdrop for the exchanging of vows. After you've tied the knot with your special person, enjoy cocktail hour on the spacious outdoor patio (with bistro lighting for a whimsical effect) and a mini photo shoot under the wooden arbor, framing the stunning mountain foliage. Finally, finish out the celebration in the luxurious reception hall for a night of good eats, dancing, laughter and priceless moments!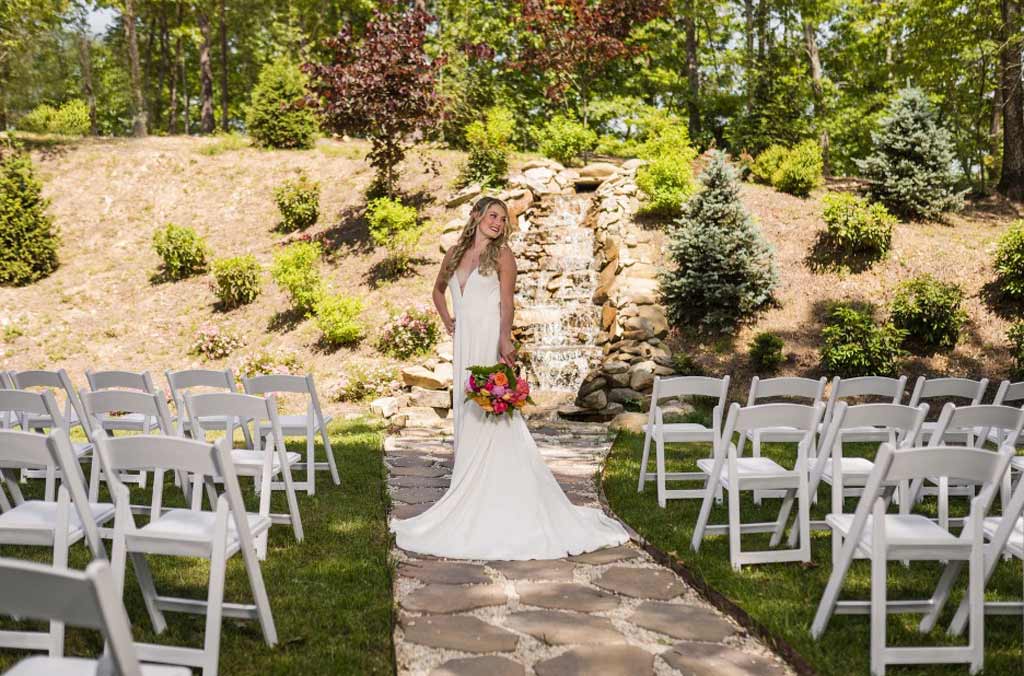 Large Banquet Room for reception: Remove some of the wedding day travel hassles by keeping the reception and ceremony at the same location! If you'd like a switch of scenery and would rather not use your venue for the post-nuptial celebration, you can always reserve our beautiful and welcoming banquet room! This space comes equipped with a designated dance floor, in-house sound system, dimmable lights, a bar with kegerator, a catering kitchen with a full-size refrigerator and everything else you need to throw a fantastic reception.
Stunning Views: The panoramic views of the Smoky Mountains are world famous for good reason, but during the autumn season, these vistas are particularly stunning. Take advantage of the striking yellow and auburn foliage during the fall months for a truly unforgettable wedding experience.
Fantastic Photo Opportunities: As mentioned before, The Great Smoky Mountains are renowned for the breathtaking beauty they possess. Your wedding photographer can utilize various spots at the Resort that are perfect for capturing and celebrating the love you have for each other, while featuring the rustic charm of this gorgeous region. Still can't find that special shot you're looking for? Well, you can take a quick drive just outside the resort for more stunning backdrops (this can be done while the reception is getting geared up) that will provide exactly what you're looking for.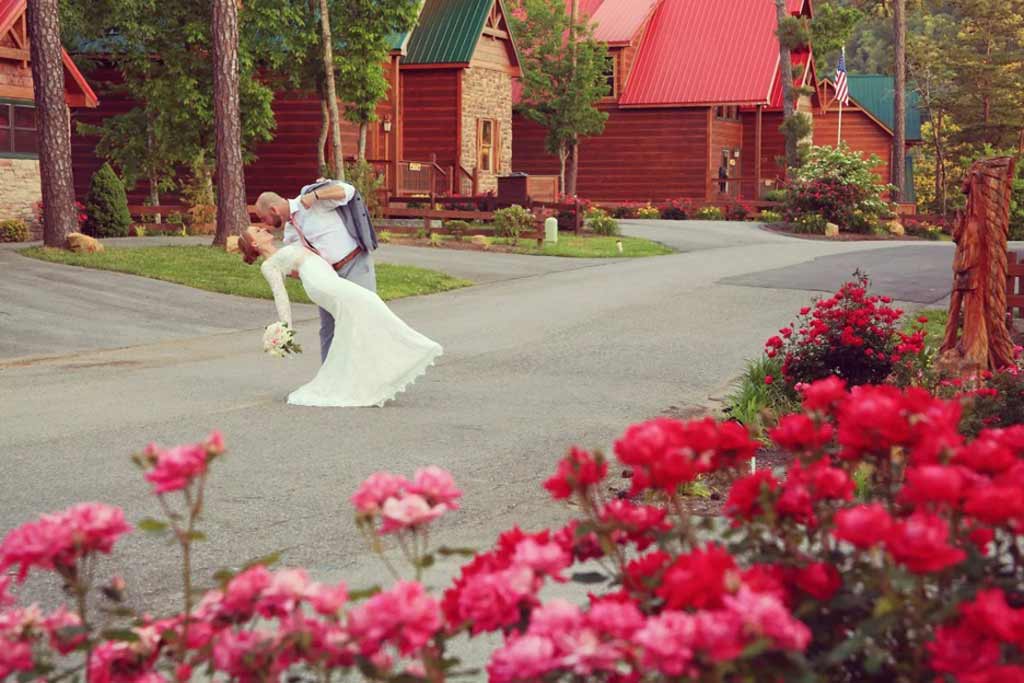 Wonderful On-Site Accommodations: At Parkside, we have wonderful luxury cabins that can sleep anywhere from one person to over fifty! No matter how large you're wedding party is, they can all stay at the same place, if not under the same roof! Make more memories and spend more time with all those important to you during this very special occasion.
Unbeatable Amenities: Here at Parkside Resort, we have more on-site amenities than any other luxury resort in the area. This means that there are plenty of activities and mini adventures to keep all your guests (especially the younger ones) satisfied and entertained during the in-between hours. From impromptu pool parties, to mini golf, to in-home movie marathons and even an arcade, there's plenty to choose from, for even the most particular guests.
Outside Vendors Permitted: Tying the knot in Pigeon Forge means you have a fantastic selection of vendors to choose from in the area. Outside vendors are totally welcome but don't worry if you can't decide on your own, we have recommendations we can make for you, in all departments. Our kitchens and venues are also fully-equipped and set up for easy navigation for unfamiliar vendors visiting our site for the first time.
Unbeatable Wedding Packages: We are proud to say that Parkside Resort offers some of the best wedding packages available in and around Pigeon Forge. Our packages are customizable based on your needs and vary depending on which venue you choose and the length of your stay with us. Our full wedding packages include multiple day access to the venue (no worrying about when the next wedding party will be arriving and if you have enough time to wax poetic during your vows or bust one last move on the dance floor) as well as a night in our gorgeous honeymoon cabin.
Expert Reservationists And Event Coordinator: Remove the stress of trying to get all of your ducks (and if we're being honest, everyone else's ducks as well) in a row, by allowing our experts to figure out the logistics of your special day and stay with us. Our event coordinator (if you don't already have a wedding planner of your own) will ensure that the big day resembles the wedding of your dreams, and our reservationists will take the guest work out of booking. It can be hard selecting just one of our fabulous cabins to stay in, let alone finding lodging for the whole group! Our immaculately trained reservationists will ensure that the best cabin or cabins for your party and their needs are reserved, simplifying the whole process.
Event Rental Items Available: Need help adding those last finishing touches to your ceremony or reception? Well, no worries! We have a selection of event rental items you can utilizes. From the basics like tables and chairs to more personalized touches like aisle décor, premium linens and curtains for draping and tea lights to add a whimsical air to the whole affair. Ask us ahead of time to see what items we currently have onsite for your use, and rest easy knowing that if a chair breaks or a curtain magically goes missing (as things are prone to do during crazy, high-energy moments), we've got you covered!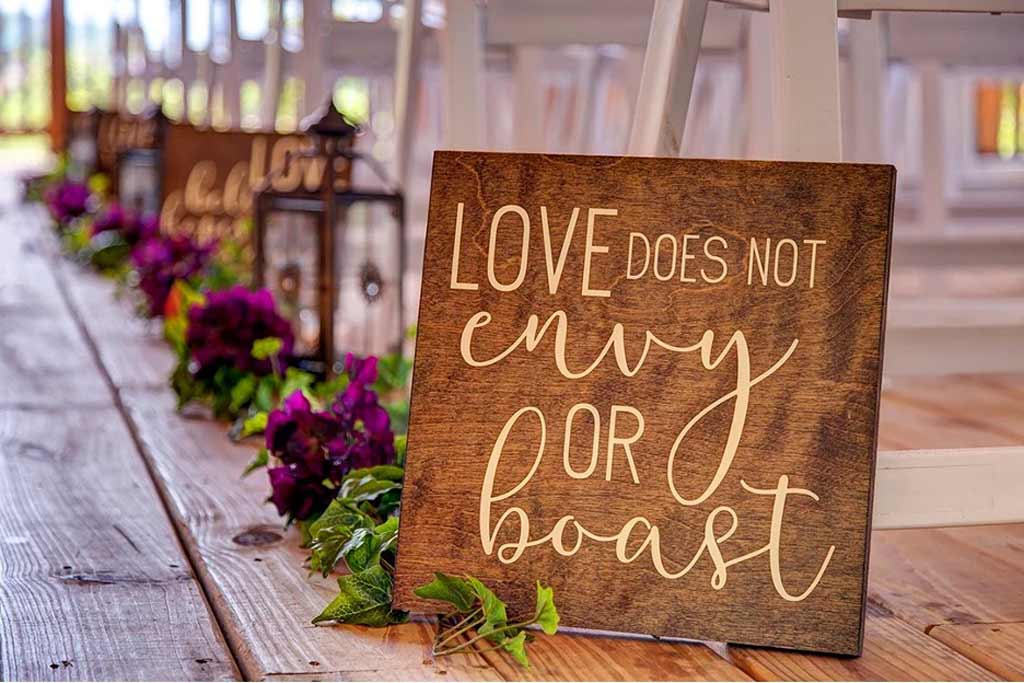 Bridal Shuttle: Everyone knows getting to the wedding on time can be a bit of a struggle for some guests (Hollywood has capitalized on the frantically late wedding party member for comedic effect, time and time again) so we've made it simple. Available upon special request, our bridal shuttle service can pick up your gaggle of onsite guests and deliver them to your venue before the nuptials begin. This ensures that your uncle that always loses track of time and the free-spirit of the family that has an aversion to alarm clocks, arrive when and where they are supposed to! Please note that this service is only available to guests who are residing at Parkside during the time of your wedding.
Combine the Wedding and Honeymoon experience: One of the many perks of having your wedding in the Smoky Mountains is the endless array of amazing adventures you can partake in after you've tied the knot. Spend your first night together as a married couple in our stunning honeymoon cabin as the perfect finishing touch to the end of a perfect day (only available with our full wedding packages, read on to learn more). When you wake up the next day, there are a countless number of adventures you can take with your special person to pass the time. If you're having an autumn wedding, taking a scenic drive or hike in the Great Smoky Mountains National Park to fully appreciate those fall colors, is an absolute must. On your way back, fully immerse yourselves in the autumn spirit by partaking in the annual Smoky Mountain Harvest Festival. Every year, starting in September through Thanksgiving, businesses across the cities of Pigeon Forge, Gatlinburg and Sevierville get all dolled up in their harvest and spook-tacular cheer. Meander, hand-in-hand, down the festive city streets, checking out the impressive displays and enjoying the holiday-exclusive treats and artisan goods. If you still have energy after that, head over to Dollywood to partake in their charming Great Pumpkin LumiNights, an incredible Halloween themed illuminated hideaway full of countless glowing jack-o-lanterns and harvest treats. Really, the possibilities for a one-of-a-kind honeymoon experience are endless out here!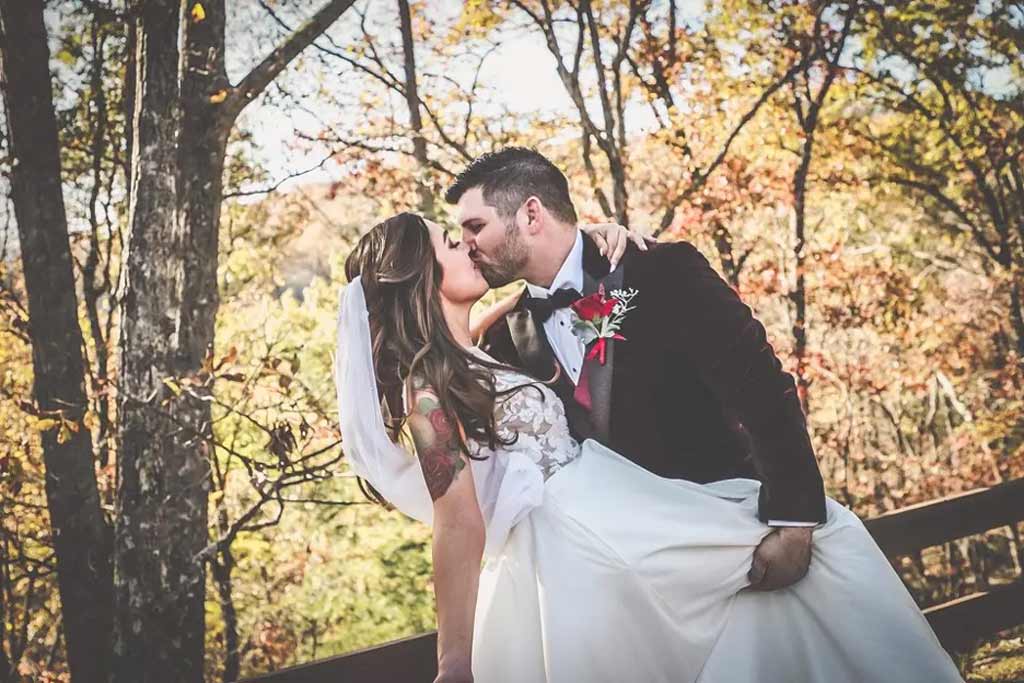 Need help planning your special day? Parkside Resort is here to help! Visit our events website to learn more about our amazing venues or give us a call at (888) 908-6066 to get started!