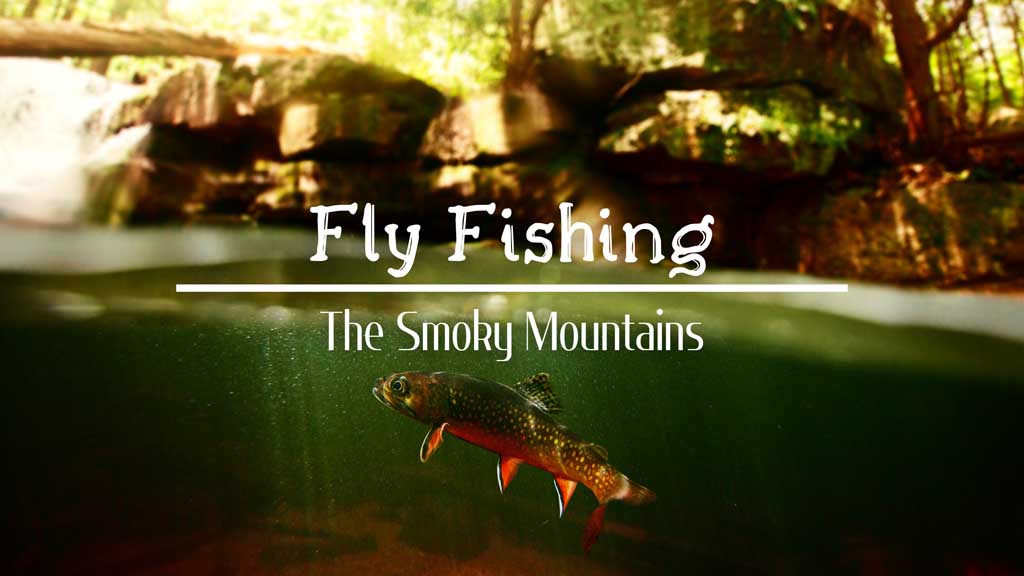 Imagine, it's a mild spring morning deep in the heart of the Smokies, the sun is shining and a soft breeze gently musses your hair. There's a glistening on the water as you cast your line into the babbling mountain stream before you – the splash of your lure breaking the water's surface is one of the only sounds you hear. There's nothing but you, your reel and the pure unadulterated Appalachian wilderness surrounding you as you wait for something to bite. You close your eyes to listen to the birdsong and revel in the blissful, tranquility of your fisherman's haven.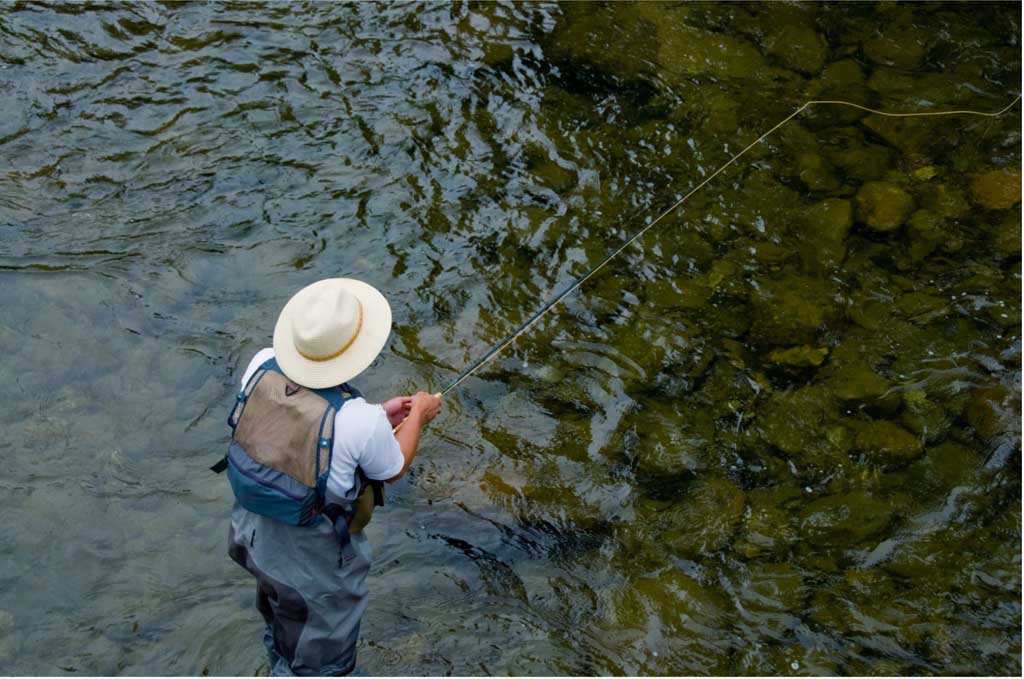 If you think the scene described above sounds like the epitome of an angler's dream-come-true, you aren't alone. Every year, fly fisherman from all over the world flock to the Great Smoky Mountains National Park and the surrounding regions to enjoy some of the most lucrative and diverse fishing in the country. With over 700 miles of fantastic fishing, including over 300 trout streams, it's not hard to imagine why the park is considered a fly-fishing treasure. Beyond exceptional fly-fishing conditions, the Smokies also offers anglers with breathtaking landscapes, diverse wildlife and other outdoor adventures to be enjoyed. So, whether you are a fly-fishing pro or a novice just picking up a pole for the first time, continue reading to discover exactly why the Smokies make for the perfect fly-fishing destination.
Why Fly-Fish The Smoky Mountains?
The Great Smoky Mountains National Park is home to roughly 2,900 miles of streams with approximately 20% of them being large enough to support healthy trout populations. In addition to headwater trout streams, there are plenty of large, cool water smallmouth bass streams to fish, along with many other angling experiences to enjoy in the park. Due to the ample fish population and the park's conservation efforts, fishing is permitted year-round with a successful catch relying on water currents and technique rather than environmental factors. However, spring is a particularly popular
season for fly fishing in the Smokies, for a myriad of reasons.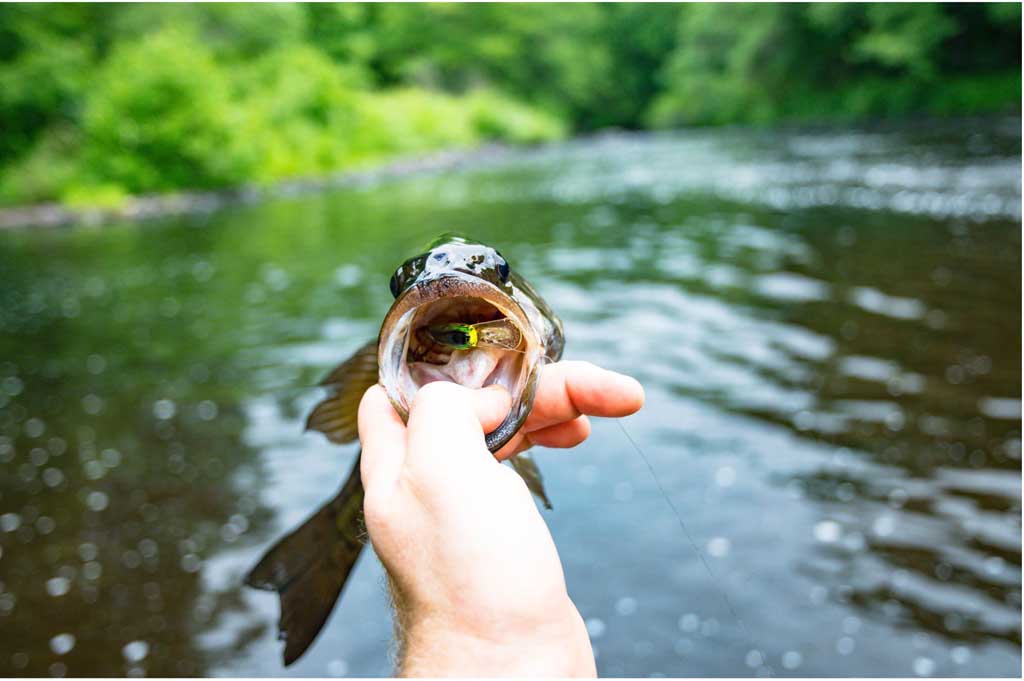 After a few months of winter (that will range anywhere from balmy to artic depending on where you are in the park), the average temperature starts to climb, rousing the surrounding mountains and waterways. As things get warmer, insects and other food sources start to appear, forcing the fish to the water's surface to feed. Springtime is considered to be the easiest time of the year for fly fishing trout in the Smoky Mountains. Depending on the weather and water levels, some days will be easier than others to land a catch. However, thanks to the parks wide variety of fishing conditions, a simple change in scenery might be the difference between a lackluster day and a successful one. If it's too chilly for trout, it might be time to make your way to a smallmouth bass stream to test your luck again. In fact, the park is host to over 60 different species of fish including but not limited to:
Rainbow and Brown Trout
Brook Trout
Smallmouth and Largemouth Bass
Rock and Spotted Bass
Black Crappie
Walleye
Flathead Catfish
Redear and Longear Sunfish
Readbreasted and Green Sunfish
Bluegill
And so many more!
With more chance of landing a catch than not, all you need to do is pick your preferred location (more on that in a second), grab your gear and start casting your line!
Where To Cast Your Line
Now that we've discussed the different types of fish and fishing conditions you may encounter, it's time to explore some of the spots in the park cherished by fly-fishers all over the world. Depending on your experience levels and familiarity with Great Smoky Mountains National Park, hiring a guide to help you along your fishing adventure might be a smart idea. An experienced fishing guide will use their expansive knowledge of the local streams to lead you to the best spots in the park, while passing on their expertise and being the ideal fishing companion. If you already have the perfect fishing buddy or prefer to go it alone, then be sure to make your way to some of these popular watersheds: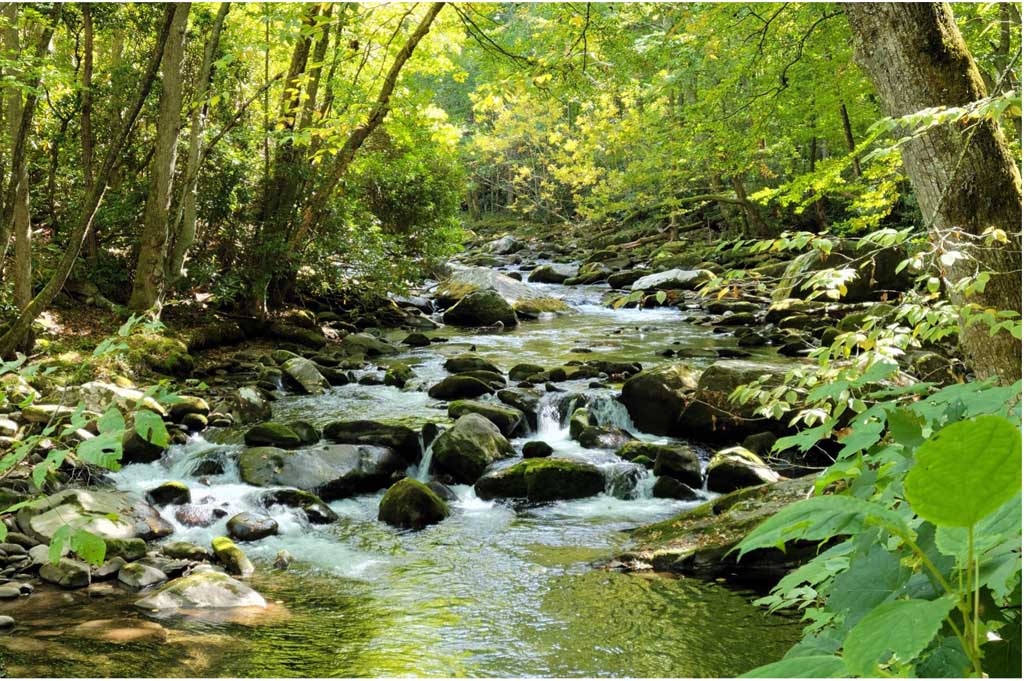 One of the larger watersheds in the park due to several smaller streams converging into one, the first 18 miles of the Little River can be found in the Smoky Mountains. This popular fishery has been deemed one of the best fly-fishing spots for trout in the entire country, and offers anglers some breathtaking scenery as you work. The main section of this river, sometimes referred to as the East Prong, is teeming with brown, rainbow and brook trout during the cooler months with each prong offering its own unique fishing experience. Besides the great fishing, a good portion of the river can be reached by vehicle, making the trek to get there much easier. However, due to the easy accessibility of these fishing holes, they tend to become quite crowded during peak seasons. Also note that during the heat of summer, anglers have to compete for space with kayakers and innertubes, resulting in many only fishing the Little River during the off-season.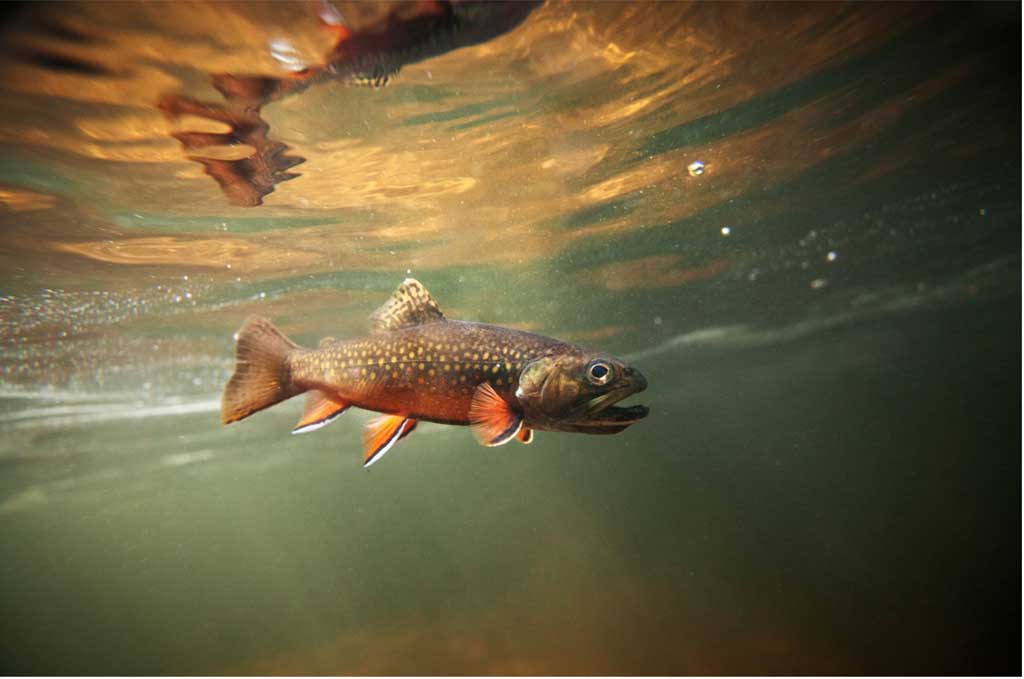 Continuing with another Little River recommendation, the west prong of the river is perfect for fly-fishermen who prefer small stream fishing and some solitude. Regardless of whether you stay along the lower section of the stream, located by Laurel Creek Road, or take the short hike via The West Prong Trail to access the upper part of the stream, you're unlikely to encounter many other anglers. Due to the heavy foliage covering the stream as well as some difficult-to-access fishing spots, this fishing hole doesn't seem to be as frequented as other watersheds we've discussed. You can find rainbow trout of decent size throughout the stream and brook trout (the only native salmonid in the park) at the stream's headwaters.
Middle Prong Little Pigeon Forge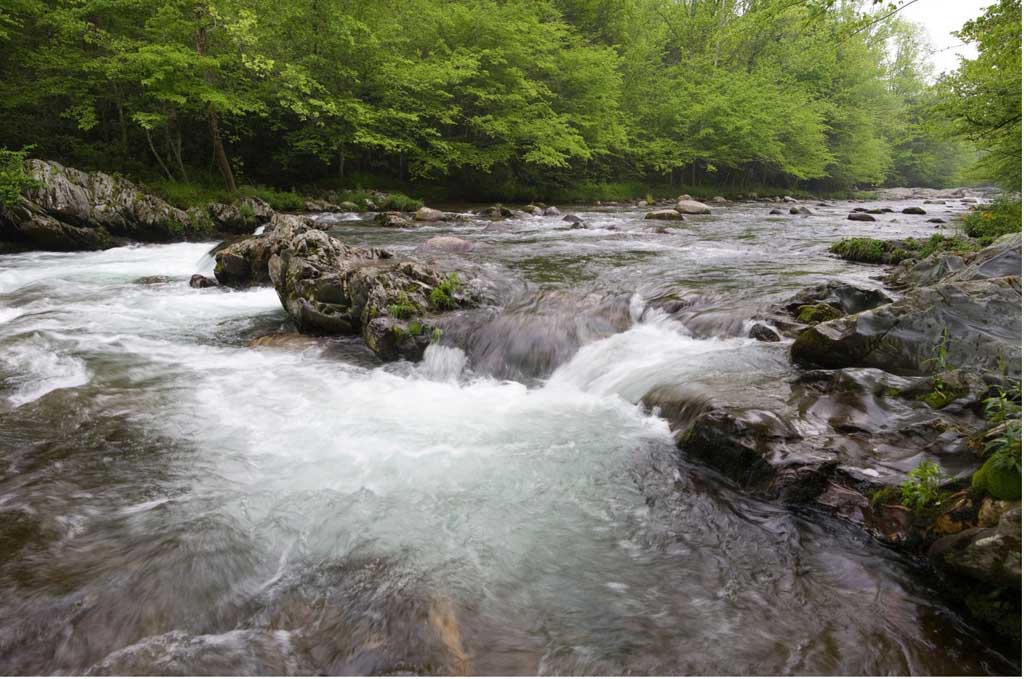 Known as "Greenbrier" to locals, this somewhat overlooked fishing stream is far more difficult to get to then compared to others on the list and requires a certain level of physical prowess in order to access deeper waters. Part of your trek to get to Middle Prong will include several miles on dirt roads and then a couple more miles of hiking and scrambling over some moss-covered boulders. But due to its remote nature, you're far more likely to have this fishing hole all to yourself. Please note that for the next couple of months, this stream cannot be accessed from Greenbrier Road nor the Ramsey Cascades Trail due to severe flood damage, resulting in road and trail closures. Check the NPS website for updates about the construction project.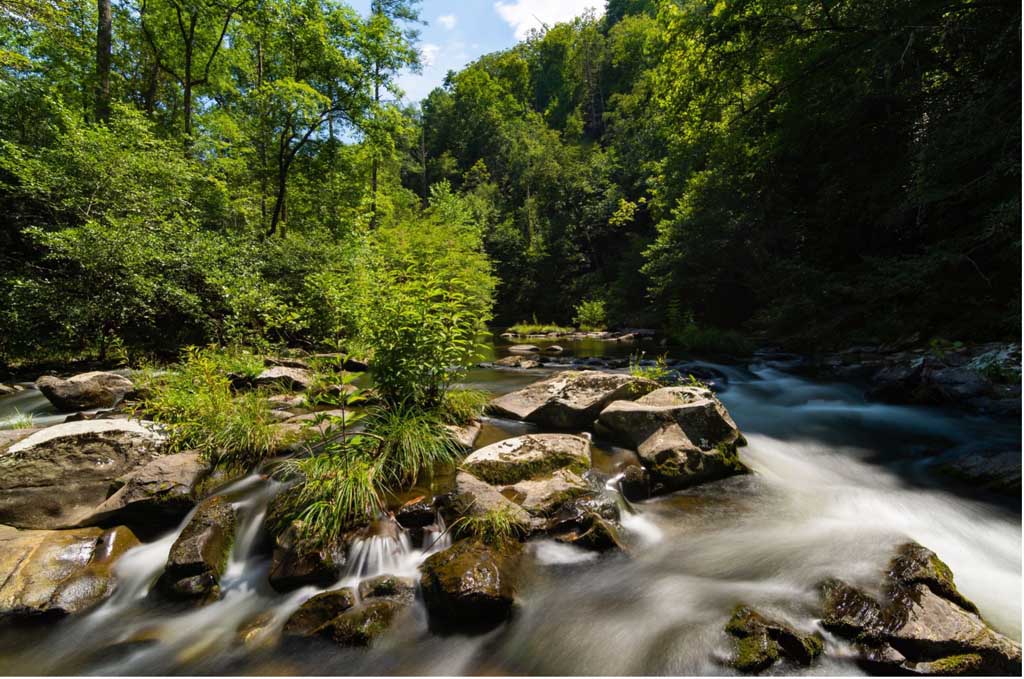 Considered to be one of the most bountiful and beautiful fly-fishing locations in the park, Abrams Creek is well worth the trek to get there. Due to its unique situation, Abrams Creek spends a good portion of its length underground among the rare, sub-surface limestone formations found under Cades Cove. After reemerging, the limestone spring creek has a higher pH level and is infused with rich, live-providing nutrients. In addition to excellent chemistry, Abrams Creek has one of the highest flow volumes in the park due to the several cold spring water runoffs that are absorbed along it
The creek can be accessed from the Abrams Fall Trail, who's trailhead is located at Abrams Falls Road, just off of the Cades Cove Loop. From Smallmouth bass to rainbow trout (some of the biggest you can find in the park, especially if you go far enough up stream), depending where you fish in this expansive creek, the catches will vary. Keep in mind, however, that thanks to its popular location and the number of historical and natural attractions in the nearby area, this fishing hole can become very crowded, very quickly. It is recommended that, for the best fishing, you either go off trail and plan on spending at least one night in the backcountry (Little Bottoms #17 backcountry campsite is conveniently located downstream from Abram Creek Falls) or wait until summer to explore the area during the periods of time when motor vehicles are prohibited in Cades Cove. Due to the amount of off-trailing required to access the most pristine spots, it is recommended you pack plenty of food and water as well as ensuring you have any and all navigation tools you need, such as an updated park map.
Please note that regardless of where you fish in the park, fishing is allowed from a half hour before official sunrise to a half hour after official sunset. In addition to time restraints, you are also required to possess a valid Tennessee or North Carolina fishing license in order to lawfully fish in the park (if you plan on testing your angling skills in Gatlinburg or Cherokee, special permits will be necessary). These permits can be purchased in the neighboring towns and cities. As for daily possession limits, each angler is allowed "five (5) brook, rainbow or brown trout, smallmouth bass, or a combination of these, each day or in possession… Twenty (20) rock bass may be kept in addition… A person must stop fishing immediately after obtaining the limit".
Once The Fish Are Sleeping
After the fishing excursion of a lifetime, several photo opportunities and, hopefully, a couple of nice catches in your cooler, it's time to gather your fishing tackle and head out. Create the perfect ending to your already perfect day full of successful casts, taut lines, and the thrill of the catch by finishing your day at Parkside Resort. Parkside Resort is host to the most luxurious accommodations in the Smokies, providing guests with their own private cabin, fantastic amenities, unbeatable location and top-tier customer service. Spend your nights stargazing on the back porch while daydreaming about your next fishing trip or frying up your latest catch for the freshest of fish dinners! You'll have everything you need, all in one central location, meaning the only thing you have to worry about while staying at Parkside Resort, is figuring out what you want to catch first on your Smoky Mountain fly fishing adventure of a lifetime!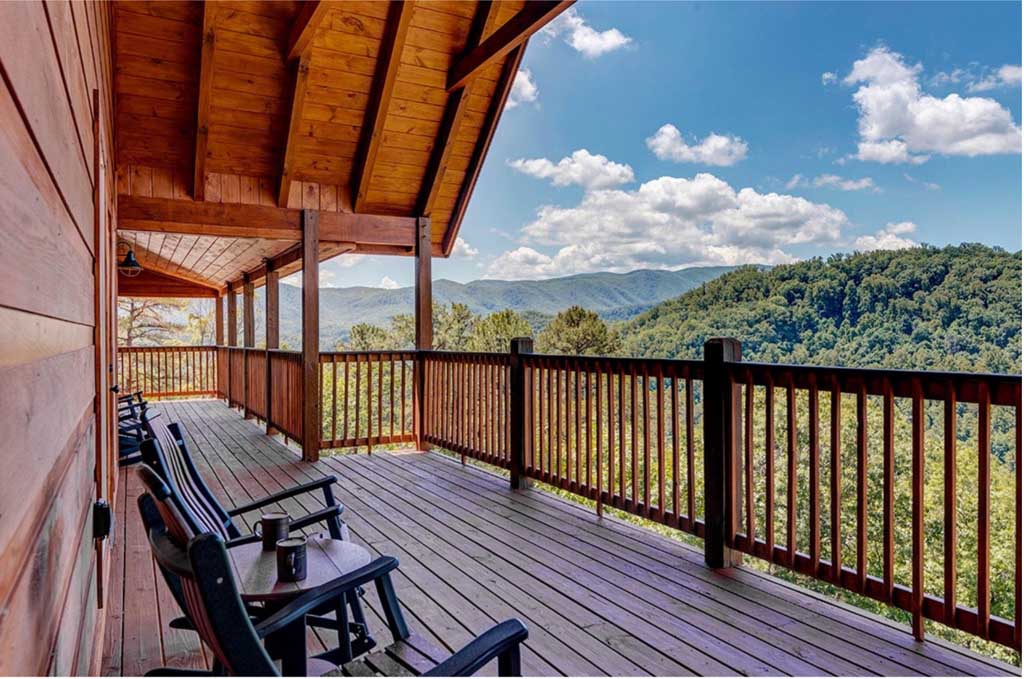 Call us today at 888-908-6066 or visit our website to learn more about our amazing accommodations!